Paramount Builders of Virginia Beach, VA, has received GAF's 2017 President's Club Award. A GAF Master Elite(R) contractor since 2012, it has become the Mid-Atlantic's leading roofer and exterior remodeler, with seven locations statewide.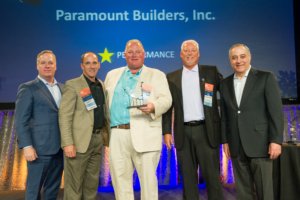 Virginia Beach, VA – May 25, 2017 –
Paramount Builders, Inc., of Virginia Beach, Virginia, has received the most prestigious contractor award GAF offers: The GAF President's Club Award. This highly coveted award recognizes Paramount Builders as one of the "elite of the elite" residential roofing contractors in the United States.
GAF is North America's largest roofing manufacturer, and only GAF Master Elite(R) Contractors can compete for its residential President's Club Award. To qualify for this award, a residential roofing contractor must meet specific criteria in at least one out of three different pathways: the Performance pathway, where contractors focus on giving their property owners the best possible service, quality, and protection; the Reliability pathway, where the contractor has a long history of offering their customers the best quality and protection; and the Service pathway, where contractors consistently offer their customers the best protection available in the marketplace.
Paramount Builders has been a GAF Master Elite(R) Contractor since 2012; the company received the President's Club Award due to its excellent performance in 2016. To become a Master Elite(R) Contractor–a status that less than 2% of roofing contractors nationwide are able to achieve–a candidate must demonstrate proper licensing, maintain insurance (in states that require it), have a proven reputation, and show commitment to ongoing professional training.
Paramount Builders is a classic "local boy makes good" story. In 1991, owner Ed Augustine started the company from his apartment. "He grew the business as he saw fit," according to sales and marketing assistant Katie Wylie. "He borrowed a small amount of money, and started the company," adds Bob Shackford, vice president of operations. "Ed was working for another remodeling company at the time but didn't like the way they did things–he wanted to set a higher standard. And Paramount Builders was born. He chose that name because he wanted it to be the pinnacle of the industry."
Since then, Paramount has grown into a multimillion-dollar company with seven locations in Virginia. "We're the largest home-improvement company in the state," says Shackford. "Having multiple locations enables us to cover a vast territory. We have the name recognition and relationships with the customers–they know they can call us, and we'll still be around down the road. We have longevity as a business and an established management team, including several employees that have been with us from day one."
Paramount is deeply involved in organizations across the state. "The owner makes it a priority to give back to the community," says Wylie. "For example, we did a social media drive in 2014–we gave away $5,000 to five charities selected by fan votes on our Facebook page. We donated to the Virginia Wounded Warrior program, the Wish-a-Fish Foundation in Tidewater, Hope Charitable Services in Portsmouth, Children's Hospital of The King's Daughters hospital in Norfolk, and NAMI." Also supporting local churches, homeless shelters, and children's sports teams, Paramount has provided a new scoreboard and jerseys for the Lynnhaven Little League.
The company is involved with professional organizations, including the National Association of Home Builders, the National Association of the Remodeling Industry, Virginia Association of Professional Roofers the Home Building Association of Richmond, and the Tidewater Builders Association. At all locations, Paramount maintains an A+ accreditation from the Better Business Bureau; it has been recognized as "Best Place to Work" in Hampton Roads and has won multiple "Best of the Beach" awards.
The future looks bright for Paramount, with continued growth and expansion into new territories. "We're looking into the western part of Virginia, and we're growing in the northern part of the state," says Shackford. He concludes: "We went into this business with a goal, all those years ago. We were babes in the woods, but we continued to do the right things and learned to make the wrong things right. We've continued to grow since then, because of our employees, installers, and relationships with established manufacturers."
About Paramount Builders
The Mid-Atlantic's leading provider of replacement windows, vinyl siding, trim, roofing and doors, Paramount Builders maintains the goal of establishing the highest standard of excellence in the industry. Not only does Paramount sell the finest exterior remodeling products, but its family, its reputation, its commitment to excellent customer service–before, during, and after installation–and its products are backed by the best warranties in the industry.
Paramount Builders, Inc.
501 Central Drive
Virginia Beach, VA 23454
(757) 340-9000
Toll-free: (888) 340-9002
http://www.paramountbuilders.com
Facebook: https://www.facebook.com/ParamountBuilders
Twitter: https://twitter.com/ParamountBuild
YouTube channel: https://www.youtube.com/user/ParamountBuildersInc
About GAF:
Founded in 1886, GAF is the largest roofing manufacturer in North America. The Company is an operating subsidiary of Standard Industries.
GAF products include a comprehensive portfolio of roofing systems for residential and commercial properties, which are supported by an extensive national network of factory-certified contractors. Its success is driven by its commitment to Advanced Quality, Industry Expertise, and Solutions Made Simple. GAF was the first roofing manufacturer to offer a Lifetime limited warranty on all of its laminated shingles, which then evolved with the introduction of the GAF Lifetime Roofing System by extending the Lifetime coverage beyond just the roofing shingles.
With a focus on social responsibility, GAF developed Advanced Protection(R) Shingle Technology, providing excellent durability and wind resistance while reducing the use of natural resources. The Company has also developed single-ply and asphaltic roofing membranes with excellent durability and high reflectivity to meet the most rigorous industry standards while helping commercial property owners and designers reduce energy consumption.
GAF also supports the roofing industry through CARE, the Center for the Advancement of Roofing Excellence(TM), which has provided education to over 230,000 professionals. CARE's mission is to help professional contractors and distributors build their businesses through sales and management education, and to provide product and installation training to contractors, distributors, architects, property owners, and related industry personnel.
For more information about GAF, visit: gaf.com
About Standard Industries:
Standard Industries is a privately-held, global, diversified holding company with interests in building materials, aggregates, and related investment businesses in public equities and real estate. With over 7,500 employees and operations in more than 80 countries, Standard maintains a team-oriented culture of meritocracy and operational excellence, and a passionate focus on investing in its people.
Media Contact
Company Name: Paramount Builders, Inc.
Contact Person: Amber Thebarge
Email: athebarge@paramountbuilders.com
Phone: (757) 340-9000
Address:501 Central Drive
City: Virginia Beach
State: VA
Country: United States
Website: http://www.paramountbuilders.com