The global whey protein (powder and concentrate) market has witnessed a steady growth in recent years. The major factors which have helped in driving the market growth are its applications in various industries, nutritional properties and health benefits.
The latest report by IMARC Group titled, "Whey Protein (Powder and Concentrate) Market – Global Industry Trends, Share, Size, Growth, Opportunity and Forecast 2017-2022", finds that the global whey protein market reached a volume of around 3 Million Tons in 2016, growing at a CAGR of nearly 4% during 2009-2016. Whey protein is a by-product of whey which is obtained during the cheese or casein production process. It is a rich source of amino-acids, proteins, minerals and vitamins, particularly vitamin B2. Apart from this, it is also considered as an excellent source of branched-chain amino acids, or BCAA, which are used to stimulate protein synthesis. As a result of this, it finds a number of applications in the manufacturing of various products in the food and beverage, and pharmaceuticals industries. Some of the products with whey protein include soft drinks, ice creams, frozen desserts, personal care, nutritional, infant food, etc.
Request sample of the report: http://www.imarcgroup.com/request?type=report&id=717&flag=B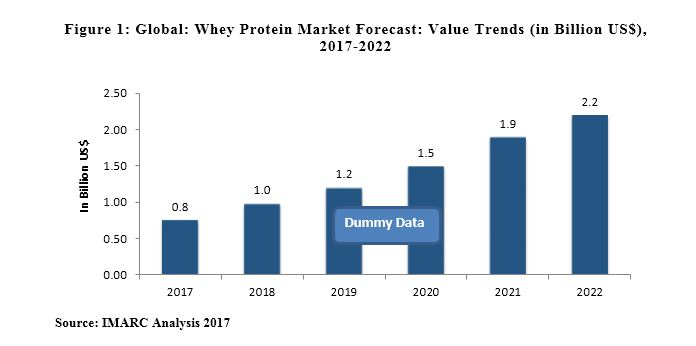 Highlights of the global whey protein market:
The market is mainly driven by its antimicrobial and antiviral properties.
The European Union represents the largest market for whey protein.
The market is expected to reach a volume of more than 5 Million Tons by 2022.
The market is driven by the antimicrobial and antiviral properties of whey protein due to which it helps in providing several health benefits. Whey protein aids muscle growth and boosts protein synthesis in the body which helps body builders and athletes perform high energy tasks. An adequate consumption of whey protein also helps in preventing and curtailing the dissemination of a number of diseases such as inflammatory bowel diseases, cancer, cardiovascular diseases, type 2 diabetes, etc. Additionally, whey protein assists in reducing anger, fighting obesity and improving the immune system. Some of the other factors contributing in the market growth include increasing health concerns among the consumers, changing dietary habits and rising demand from emerging markets. According to the report, the market is further expected to reach a volume of more than 5 Million Tons by 2022.
Browse full report with TOC: http://www.imarcgroup.com/whey-protein-powder-and-concentrate-market
The market is segmented on a regional basis with some of the major markets being the European Union, North America, Oceania, Eastern Europe and Latin America. Amongst these, the European Union represents the largest market for whey protein, accounting for more than half of the total global share. An evaluation of the competitive landscape provides the details of the key players operating in the market. Some of the major players are Fonterra, FrieslandCampina, Danone, Arla Foods and Glanbia Plc.
The study, which has been done by one of the world's leading research and advisory firms, covers all the requisite aspects of the whey protein market. This ranges from macro overview of the market to micro details of the industry performance, manufacturing requirements, project cost, project funding, project economics, expected returns on investment, profit margins, etc. This report is a must-read for entrepreneurs, investors, researchers, consultants, business strategists, and all those who are planning to foray into the whey protein (powder and concentrate) industry in any manner.
The report has examined the global whey protein (powder and concentrate) market on the basis of:
Key Regions:
European Union
North America
Oceania
Eastern Europe
Latin America
Key Player:
Fonterra
FrieslandCampina
Danone
Arla Foods
Glanbia Plc
Browse related reports:
Ice Cream Market: http://www.imarcgroup.com/ice-cream-market
Flavoured Milk Market: http://www.imarcgroup.com/flavoured-milk-market
About Us
IMARC Group is a leading market research company that offers management strategy and market research worldwide. We partner with clients in all sectors and regions to identify their highest-value opportunities, address their most critical challenges, and transform their businesses.
IMARC's information products include major market, scientific, economic and technological developments for business leaders in pharmaceutical, industrial, and high technology organizations. Market forecasts and industry analysis for biotechnology, advanced materials, pharmaceuticals, food and beverage, travel and tourism, nanotechnology and novel processing methods are at the top of the company's expertise.
Media Contact
Company Name: IMARC Group
Contact Person: Jim Clarke
Email: sales@imarcgroup.com
Phone: +1-631-791-1145
Country: United States
Website: http://www.imarcgroup.com/