As a result of the role it plays in the construction sector, cement represents a vital commodity for the development of a country. One of the major factors currently driving the growth of the global cement market is the increase in construction activities in both the developed and emerging regions.
A recently published report by IMARC Group, titled, "Cement Market: Global Industry Trends, Share, Size, Growth, Opportunity and Forecast 2017-2022", finds that the global cement market exhibited a CAGR of around 7% during 2009-2016, reaching a volume of around 4.6 Billion Tons in 2016. Cement is a grey coloured, inorganic powdery substance made by calcining lime and clay. It has excellent hydraulic binding properties and results in a rock-like substance when mixed with sand, gravel, water, etc. It is used in the production of concrete, stucco, mortar, grouts, etc. which find numerous applications in various construction activities. The easy availability of the raw materials used for producing cement coupled with its low-cost make it one of the most popular construction materials used worldwide. As a result of the role it plays in the construction sector, cement represents a vital commodity for the development of a country. According to the report, the consumption of cement is projected to reach a volume of 5.8 Billion Tons by 2022, growing at a CAGR of around 4% during 2017-2022.
Request sample of the report: http://www.imarcgroup.com/request?type=report&id=525&flag=B
The global cement market is currently being driven by the reviving construction sector in both developed and emerging markets. In the last few years, there has been a strong growth in the demand for cement in the construction of residential and commercial buildings and other infrastructural projects such as dams, bridges, tunnels, etc. A continuous population growth along with an increase in the number of nuclear families, rising disposable incomes and rapid urbanisation are also fuelling the demand for shelter and infrastructure particularly in the emerging regions. Moreover, other uses of cement such as stabilization or solidification techniques for the management and disposal of hazardous wastes and stabilizing substandard soils to form a base for airport runways, roadways and buildings, have also augmented the demand for cement worldwide.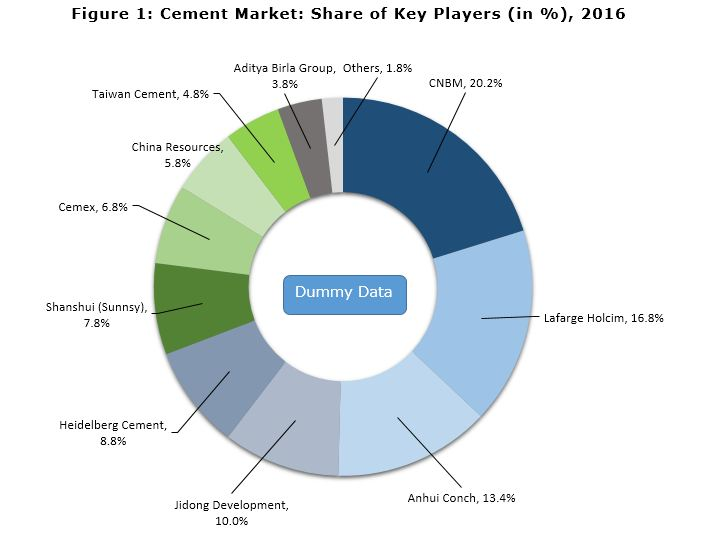 The report has analysed the global cement market on a geographical basis. China currently represents the largest consumer of cement accounting for the majority of the total global consumption. Other major consumers include Iran, Brazil, United States, India, etc. The report has also analysed the competitive landscape of the market and finds that China National Building Materials (CNBM) represents the largest cement producer. Some of the other key players operating in the market include Heidelberg Cement, Jidong Development, Lafarge-Holcim and Anhui Conch.
Browse full report with TOC: http://www.imarcgroup.com/cement-manufacturing-plant
The report gives a detailed roadmap for setting up a cement manufacturing plant. The study covers all the requisite aspects of the cement market and provides an in-depth analysis of the industry performance, processing and manufacturing requirements, project cost, project funding, project economics, expected returns on investment, profit margins, etc. It also offers SWOT, Value Chain and Porter's Five Forces analysis and regional segmentation followed by an analysis of the competitive landscape. This report is a must-read for entrepreneurs, investors, researchers, consultants, business strategists, and all those who are planning to foray into the cement industry in any manner.
Browse related reports:
White Cement Market: http://www.imarcgroup.com/global-white-cement-market
Ceiling Tiles Market: http://www.imarcgroup.com/mineral-wool-ceiling-tiles-market
About Us
IMARC Group is a leading market research company that offers management strategy and market research worldwide. We partner with clients in all sectors and regions to identify their highest-value opportunities, address their most critical challenges, and transform their businesses.
IMARC's information products include major market, scientific, economic and technological developments for business leaders in pharmaceutical, industrial, and high technology organizations. Market forecasts and industry analysis for biotechnology, advanced materials, pharmaceuticals, food and beverage, travel and tourism, nanotechnology and novel processing methods are at the top of the company's expertise.
Media Contact
Company Name: IMARC Group
Contact Person: Jim Clarke
Email: sales@imarcgroup.com
Phone: +1-631-791-1145
Country: United States
Website: http://www.imarcgroup.com/