Matrix Roofing Systems of New Britain, PA, has received GAF's 2017 President's Club Award. A GAF Master Select(TM) contractor since 2007, it is a roofing and waterproofing firm that replaces, retrofits, and repairs roofs and facades.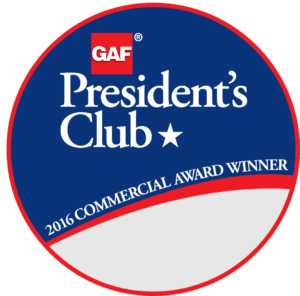 New Britain, PA – June 10, 2017 –
Matrix Roofing Systems, Inc., of New Britain, Pennsylvania, has received the most prestigious contractor award GAF offers: The GAF President's Club Award. This highly coveted award recognizes Matrix Roofing Systems as one of the "elite of the elite" commercial roofing contractors in the United States.
GAF is North America's largest roofing manufacturer, and only GAF Master Select(TM) Contractors can compete for its commercial President's Club Award. To qualify for this award, a commercial roofing contractor must meet specific criteria in at least one out of three different pathways: the Performance pathway, where contractors focus on giving their property owners the best possible service, quality, and protection; the Reliability pathway, where the contractor has a long history of offering their customers the best quality and protection; and the Service pathway, where contractors consistently offer their customers the best protection available in the marketplace.
Matrix Roofing Systems has been a GAF Master Select(TM) Contractor since 2007; the company received the President's Club Award due to its excellent performance in 2016. To become a Master Select(TM) Contractor–a status that less than 1% of roofing contractors nationwide are able to achieve–a candidate must demonstrate proper licensing, maintain insurance (in states that require it), have a proven reputation, and show commitment to ongoing professional training.
A small or unnoticeable roof leak can turn into an expensive and disastrous problem, but Matrix Roofing Systems has a solution. "Clients can enroll in our Preventative Maintenance Program," according to president Jeff Hartsock. "It's an important part of a customer's asset management. Our program is designed to maximize roof life expectancy, lowering costs and increasing return on investment. It minimizes potential property damage, mitigates risk and liability, and limits disruptions to business operations."
The company's experienced inspectors leave no stone unturned while performing their in-depth surveys of customer roofs. Faulty conditions are documented and photographed, enabling Matrix to submit customized repair and maintenance recommendations. Areas of inspection include the field of the roof, flashings, penetrations, drainage areas, gutters and downspouts, masonry, insulation, and the roof deck.
Matrix also checks for roof problems that don't originate within the roof itself. "Many leaks originally perceived as roof leaks are not the results of roof deficiencies," explains Hartsock. "Water may enter through part of a building's masonry, such as coping stones, joints, and cornices. Our inspectors can diagnose these problems. We can perform appropriate repairs to caulking, coping stones, and brick and stone pointing; we also do masonry waterproofing."
"Our dedication to staying abreast of technical advancements within the industry allows us to continually strengthen our expertise and deliver exceptional service," says Hartsock. Having extensive experience with commercial, industrial, institutional, and multifamily buildings, Matrix is certified by major materials manufacturers and is licensed, registered, insured, and OSHA-compliant. The company is a member of the National Roofing Contractors Association and holds an A+ accreditation with the Better Business Bureau.
With its ongoing commitment to providing value-engineered solutions and offering superior products, Matrix has developed a respected reputation. "Our team understands that roofing issues don't happen only during business hours. We've seen it all," concludes Hartsock. "We've got a track record for reliability and quality, and we work at a reasonable cost. That's why we're the top choice of hundreds of business in our area."
About Matrix Roofing Systems
Matrix Roofing Systems is an independent roofing and waterproofing contracting firm engaged in the replacement, retrofit, and repair of roofs and external building facades. With a variety of clients throughout the Mid-Atlantic region, Matrix inspects, evaluates, and solves customer problems. The company's client base ranges from single-building owners to nationally known corporations, and all are treated with the same high level of integrity and respect. The entire Matrix team is committed to consistently operating on a solid foundation of unwavering ethics, pride in workmanship, and total customer satisfaction.
Matrix Roofing Systems, Inc.
956 Town Center
New Britain, PA 18901
(267) 327-4680
http://www.matrixroofing.com
About GAF:
Founded in 1886, GAF is the largest roofing manufacturer in North America. The Company is an operating subsidiary of Standard Industries.
GAF products include a comprehensive portfolio of roofing systems for residential and commercial properties, which are supported by an extensive national network of factory-certified contractors. Its success is driven by its commitment to Advanced Quality, Industry Expertise, and Solutions Made Simple. GAF was the first roofing manufacturer to offer a Lifetime limited warranty on all of its laminated shingles, which then evolved with the introduction of the GAF Lifetime Roofing System by extending the Lifetime coverage beyond just the roofing shingles.
With a focus on social responsibility, GAF developed Advanced Protection(R) Shingle Technology, providing excellent durability and wind resistance while reducing the use of natural resources. The Company has also developed single-ply and asphaltic roofing membranes with excellent durability and high reflectivity to meet the most rigorous industry standards while helping commercial property owners and designers reduce energy consumption.
GAF also supports the roofing industry through CARE, the Center for the Advancement of Roofing Excellence(TM), which has provided education to over 230,000 professionals. CARE's mission is to help professional contractors and distributors build their businesses through sales and management education, and to provide product and installation training to contractors, distributors, architects, property owners, and related industry personnel.
For more information about GAF, visit: gaf.com
About Standard Industries:
Standard Industries is a privately-held, global, diversified holding company with interests in building materials, aggregates, and related investment businesses in public equities and real estate. With over 7,500 employees and operations in more than 80 countries, Standard maintains a team-oriented culture of meritocracy and operational excellence, and a passionate focus on investing in its people.
Media Contact
Company Name: Matrix Roofing Systems, Inc.
Contact Person: Jeff Hartsock
Email: jeff@matrixroofing.com
Phone: (267) 327-4680
Address:956 Town Center
City: New Britain
State: PA
Country: United States
Website: http://www.matrixroofing.com