Kodiak Roofing & Waterproofing Co. of Roseville, CA, has received GAF's 2017 President's Club Award. A GAF Master Select(TM) contractor since 2004, it provides high-quality roofing and waterproofing solutions throughout the western states.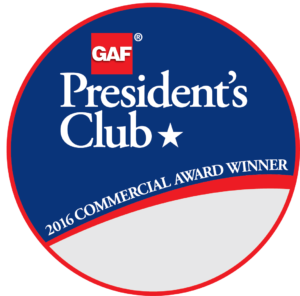 Roseville, CA – June 10, 2017 –
Kodiak Roofing & Waterproofing Co. of Roseville, California, has received the most prestigious contractor award GAF offers: The GAF President's Club Award. This highly coveted award recognizes Kodiak Roofing & Waterproofing as one of the "elite of the elite" commercial roofing contractors in the United States.
GAF is North America's largest roofing manufacturer, and only GAF Master Select(TM) Contractors can compete for its commercial President's Club Award. To qualify for this award, a commercial roofing contractor must meet specific criteria in at least one out of three different pathways: the Performance pathway, where contractors focus on giving their property owners the best possible service, quality, and protection; the Reliability pathway, where the contractor has a long history of offering their customers the best quality and protection; and the Service pathway, where contractors consistently offer their customers the best protection available in the marketplace.
Kodiak Roofing & Waterproofing has been a GAF Master Select(TM) Contractor since 2004; the company received the President's Club Award due to its excellent performance in 2016. To become a Master Select(TM) Contractor–a status that less than 1% of roofing contractors nationwide are able to achieve–a candidate must demonstrate proper licensing, maintain insurance (in states that require it), have a proven reputation, and show commitment to ongoing professional training.
When Kodiak Roofing & Waterproofing Company was founded, single-ply roofing technologies were emerging as a new standard for energy-efficient, clean, lightweight roofing systems. The company found its strength as a single-source installer for the entire protective envelope of a building. Because many different components of a building envelope must work together to keep it watertight, the company expanded to work with all of those different technologies. Today, Kodiak handles architectural sheet metal, building wraps, below-grade waterproofing, expansion and seismic joints, and caulking, coordinating them to form a comprehensive roofing and waterproofing solution.
The company maintains separate divisions for low-slope roofing, metal roofs and walls, steep-slope roofs, waterproofing, service, and green roofing. Kodiak offers services in reroofing, tenant improvements, coating applications, leak detection and repair, rehabilitation and replacement of architectural metal flashings, waterproofing, chemical grout injection for below-grade repair and restoration, integration of structural supports for rooftop solar arrays, and new energy-efficient roofing solutions.
The name "Kodiak" has become synonymous with service, as clients have come to rely on the company for timely remediation of urgent and emergency roofing issues. As a certified installer for many large roofing material manufacturers, the company often can make repairs and improvements while maintaining a client's existing manufacturer's warranty. Kodiak can assess and identify many types of roofing problems, including building and roof movement, clogged drains and scuppers, damage from foot traffic or prior contractors, deck deflections and ponding, defective flashings and penetrations, problems in HVAC ductwork, rooftop contaminants, vandalism, and damage from severe weather.
Active in the community, the company has sponsored or made contributions to Children's Receiving Home of Sacramento, the Sacramento Area Chapter of the Freedoms Foundation, and local Little League teams. Kodiak is a member of the National Roofing Contractors Association, Associated Roofing Contractors of Northern California, RCI Incorporated, and the Western States Roofing Contractors Association.
With a mission to provide clients with real asset protection through high quality and competitive pricing, Kodiak Roofing & Waterproofing continues to evolve. Partnering with its clients to achieve their goals and exceed their visions, the company strives to become the best at what it does and always stay ahead of customers' needs. No matter how big or small the job, Kodiak Roofing is synonymous with quality and excellence in the commercial roofing industry.
About Kodiak Roofing & Waterproofing Co.
An award-winning commercial roofing and waterproofing contracting firm, Kodiak Roofing & Waterproofing offers a variety of services for both new and reroof projects, including single-ply, built-up, metal, shingle, tile, and green roofing, as well as metal and aluminum composite wall panels. The company provides 24-hour emergency roof services and has an entire department dedicated to roof maintenance. For more than 20 years, Kodiak has proudly provided the highest-quality roofing and waterproofing solutions throughout the western United States.
Kodiak Roofing & Waterproofing
8825 Washington Blvd., Suite 100
Roseville, CA 95678
(916) 253-1900
Toll-free: (866) 530-BEAR
http://kodiakroofing.com
Facebook: https://www.facebook.com/KodiakRoofingAndWaterproofing
Twitter: https://twitter.com/KodiakRoofing
LinkedIn: http://www.linkedin.com/company/1015445
YouTube channel: https://www.youtube.com/channel/UCbeYOmOw1ybW529dqJRY4Mw
About GAF:
Founded in 1886, GAF is the largest roofing manufacturer in North America. The Company is an operating subsidiary of Standard Industries.
GAF products include a comprehensive portfolio of roofing systems for residential and commercial properties, which are supported by an extensive national network of factory-certified contractors. Its success is driven by its commitment to Advanced Quality, Industry Expertise, and Solutions Made Simple. GAF was the first roofing manufacturer to offer a Lifetime limited warranty on all of its laminated shingles, which then evolved with the introduction of the GAF Lifetime Roofing System by extending the Lifetime coverage beyond just the roofing shingles.
With a focus on social responsibility, GAF developed Advanced Protection(R) Shingle Technology, providing excellent durability and wind resistance while reducing the use of natural resources. The Company has also developed single-ply and asphaltic roofing membranes with excellent durability and high reflectivity to meet the most rigorous industry standards while helping commercial property owners and designers reduce energy consumption.
GAF also supports the roofing industry through CARE, the Center for the Advancement of Roofing Excellence(TM), which has provided education to over 230,000 professionals. CARE's mission is to help professional contractors and distributors build their businesses through sales and management education, and to provide product and installation training to contractors, distributors, architects, property owners, and related industry personnel.
For more information about GAF, visit: gaf.com
About Standard Industries:
Standard Industries is a privately-held, global, diversified holding company with interests in building materials, aggregates, and related investment businesses in public equities and real estate. With over 7,500 employees and operations in more than 80 countries, Standard maintains a team-oriented culture of meritocracy and operational excellence, and a passionate focus on investing in its people.
Media Contact
Company Name: Kodiak Roofing & Waterproofing
Contact Person: Dwayne Nash
Email: dnash@kodiakroofing.com
Phone: (916) 253-1900
Address:8825 Washington Blvd., Suite 100
City: Roseville
State: CA
Country: United States
Website: http://kodiakroofing.com