"The Gig Solution: How Boomers Can Earn Executive Fees Doing Project Work" is about teaching people a proven process finding and landing business projects in a world with limited worthwhile jobs.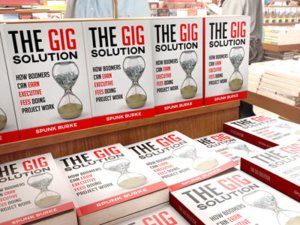 Spunk Burke released the electronic version of his newest book which raced to the Number One Bestseller position in several categories on Amazon.
In his book, Spunk discusses how the shift in the job market left behind millions of Boomers who found themselves unwanted or unable to compete in new marketplaces.
"More and more, business professionals over the age of 50 learn their services are no longer required by their employer. They no longer have a job to report to and it soon becomes painfully clear that their prospects for re-employment diminish with each passing day." Spunk states, "The book teaches people a proven process designed to work in a world without conventional full-time jobs."
A variety of topics are discussed in the book, including why Gig work is more secure than a conventional job and why companies prefer to "buy" solutions from contractors who deliver results on a project basis.
Spunk adds, "I'm very excited at the response my book got and it's fantastic to be at number one on Amazon, but what made this book even more special is that I am able to help empower mature business professional to become entrepreneurial gig workers by teaching self-sufficiency in landing a succession of worthwhile projects and earning the professional fees they rightly deserve."
For information on Spunk Burke and his book and programs, visit www.GigExecs.com
About Spunk Burke
Spunk Burke is a 25 year staffing industry veteran who has worked with thousands of available candidates, introducing them to scores of businesses have objectives worth achieving but neither the time nor expertise to get them done. Burke knows there is a bounty of good work once you understand that companies generally opt to buy solutions rather than more staff.
Media Contact
Company Name: Efluential Publishing
Contact Person: Cliff Pelloni
Email: cliff@efluentialpublishing.com
Phone: 7705709901
Country: United States
Website: http://www.efluentialpublishing.com