Sela Roofing Commercial Division of White Bear Lake, MN, has received GAF's 2017 President's Club Award. A GAF Master Select(TM) contractor since 2003, it offers comprehensive service to fit customers' project budgets and time frames.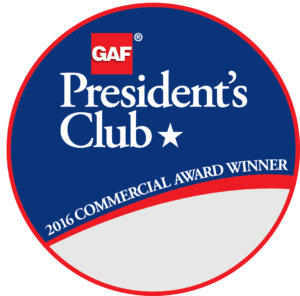 White Bear Lake, MN – June 27, 2017 –
Sela Roofing Commercial Division of White Bear Lake, Minnesota, has received the most prestigious contractor award GAF offers: The GAF President's Club Award. This highly coveted award recognizes Sela Roofing Commercial Division as one of the "elite of the elite" commercial roofing contractors in the United States.
GAF is North America's largest roofing manufacturer, and only GAF Master Select(TM) Contractors can compete for its commercial President's Club Award. To qualify for this award, a commercial roofing contractor must meet specific criteria in at least one out of three different pathways: the Performance pathway, where contractors focus on giving their property owners the best possible service, quality, and protection; the Reliability pathway, where the contractor has a long history of offering their customers the best quality and protection; and the Service pathway, where contractors consistently offer their customers the best protection available in the marketplace.
Sela Roofing Commercial Division has been a GAF Master Select(TM) Contractor since 2003; the company received the President's Club Award due to its excellent performance in 2016. To become a Master Select(TM) Contractor–a status that less than 1% of roofing contractors nationwide are able to achieve–a candidate must demonstrate proper licensing, maintain insurance (in states that require it), have a proven reputation, and show commitment to ongoing professional training.
As the largest roofing company in its market, Sela Commercial Roofing Division offers complete, comprehensive service to fit customers' project budgets and time frames. Committed to quality and service and working with all commercial roofing styles and materials, the company is backed by the best labor and material warranty in the industry. To ensure detailed project control, Sela Roofing employs its own crews and management; its professional craftsmen do the job efficiently, with careful regard for property and a meticulous cleanup at job completion.
The company works on industrial, retail, and office buildings, government and school buildings, correctional facilities, and multi-housing, condo, and apartment properties. Sela Roofing Commercial Division's full range of services includes commercial and residential roofing, roof repairs, siding, windows, skylights, gutters, epoxy coatings, decorative concrete, masonry work, and exterior expansions. It also provides services in snow and ice removal, mitigation of water intrusion, and storm damage repair. Preventative maintenance programs are available.
Sela Roofing Commercial Division has received several professional certifications from GAF. The Asphaltic Certification indicates that the contractor specializes in installing asphaltic roofing systems, and the Single-Ply Certification indicates a specialization in installing single-ply roofing systems. With the Topcoat Certification, Sela Roofing Commercial Division is recognized for specializing in the installation of GAF's TOPCOAT(R) products–liquid-applied roofing restoration systems formulated to stand up to the harshest of roof conditions and provide energy savings at a fraction of the cost of a new roof.
Active in the industry, the company is a member of the National Roofing Contractors Association, the Cedar Shake and Shingle Bureau, and the Minnesota Multi Housing Association. It also works with Habitat for Humanity, is a GAF Certified Green Roofer(TM), and is an EPA-certified lead-safe firm. Sela Roofing Commercial Division supports a number of civic and charitable endeavors, including Special Olympics, ICA Food Shelf, Shriners Hospitals for Children, Gillette Children's Specialty Healthcare, and local youth athletic teams.
A recipient of awards and certifications from GAF and other major manufacturers, the company continues to help its customers to avoid the costs associated with making bad roofing decisions. Its experienced team prevents the financial damage, destroyed equipment, hassle, and downtime caused by problematic roofing systems. Sela Roofing Commercial Division remains the best and safest choice for all of its customers' commercial roofing needs.
About Sela Roofing Commercial Division
Sela Roofing Commercial Division provides the right roofing solutions for customers' specific applications and the right protection for their investments. The company offers project planning and installation processes designed to identify and prevent problems before they happen.
Sela Roofing Commercial Division
1743 County Road F East
White Bear Lake, MN 55110
(612) 823-8046
http://www.selaroofing.com
Facebook: https://www.facebook.com/SelaRoofingCommercial/
About GAF:
Founded in 1886, GAF is the largest roofing manufacturer in North America. The Company is an operating subsidiary of Standard Industries.
GAF products include a comprehensive portfolio of roofing systems for residential and commercial properties, which are supported by an extensive national network of factory-certified contractors. Its success is driven by its commitment to Advanced Quality, Industry Expertise, and Solutions Made Simple. GAF was the first roofing manufacturer to offer a Lifetime limited warranty on all of its laminated shingles, which then evolved with the introduction of the GAF Lifetime Roofing System by extending the Lifetime coverage beyond just the roofing shingles.
With a focus on social responsibility, GAF developed Advanced Protection(R) Shingle Technology, providing excellent durability and wind resistance while reducing the use of natural resources. The Company has also developed single-ply and asphaltic roofing membranes with excellent durability and high reflectivity to meet the most rigorous industry standards while helping commercial property owners and designers reduce energy consumption.
GAF also supports the roofing industry through CARE, the Center for the Advancement of Roofing Excellence(TM), which has provided education to over 230,000 professionals. CARE's mission is to help professional contractors and distributors build their businesses through sales and management education, and to provide product and installation training to contractors, distributors, architects, property owners, and related industry personnel.
For more information about GAF, visit: gaf.com
About Standard Industries:
Standard Industries is a privately-held, global, diversified holding company with interests in building materials, aggregates, and related investment businesses in public equities and real estate. With over 7,500 employees and operations in more than 80 countries, Standard maintains a team-oriented culture of meritocracy and operational excellence, and a passionate focus on investing in its people.
Media Contact
Company Name: Sela Roofing Commercial Division
Contact Person: Troy Hughes
Email: saral@selaroofing.com
Phone: (612) 823-8046
Address:1743 County Road F East
City: White Bear Lake
State: MN
Country: United States
Website: http://www.selaroofing.com