Tecta America-CS of Lubbock, TX, has received GAF's 2017 President's Club Award. A GAF Master Select(TM) contractor, it is a firm specializing in various types of roofing, sheet metal, waterproofing, and roof-related specialties.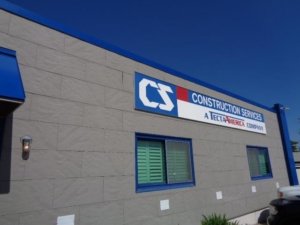 Lubbock, TX – June 27, 2017 –
Tecta America-CS of Lubbock, Texas, has received the most prestigious contractor award GAF offers: The GAF President's Club Award. This highly coveted award recognizes Tecta America-CS as one of the "elite of the elite" commercial roofing contractors in the United States.
GAF is North America's largest roofing manufacturer, and only GAF Master Select(TM) Contractors can compete for its commercial President's Club Award. To qualify for this award, a commercial roofing contractor must meet specific criteria in at least one out of three different pathways: the Performance pathway, where contractors focus on giving their property owners the best possible service, quality, and protection; the Reliability pathway, where the contractor has a long history of offering their customers the best quality and protection; and the Service pathway, where contractors consistently offer their customers the best protection available in the marketplace.
Tecta America-CS received the President's Club Award due to its excellent performance in 2016. To become a Master Select(TM) Contractor–a status that less than 1% of roofing contractors nationwide are able to achieve–a candidate must demonstrate proper licensing, maintain insurance (in states that require it), have a proven reputation, and show commitment to ongoing professional training.
Despite today's advanced, complex roofing systems, many common issues still arise; these include leaking, premature failure, roof assessments, and unexpected expenses. Having worked on the roofing projects of many organizations, Tecta America-CS empathizes with the roofing challenges that affect businesses and operations. The company prides itself on its ability to solve all manner of roofing problems, from the simple to the complex.
The company works with a variety of roofing types and systems, including built-up, metal, modified bitumen, single-ply membrane, and steep-slope roofs, as well as tapered insulation systems, waterproofing, roof coatings, and architectural sheet metal. Tecta America-CS's services include roof replacements, new construction, preventative maintenance, repairs, emergency response, roof asset management, historic restoration, skylight/smoke hatch combinations, and snow removal. It also provides solutions for daylighting and cool roof surfaces. Additionally, as a service to general contractors, architects, consultants, owners, and facility managers, Tecta America-CS provides assistance in preparation of specifications, drawings, schedules, and budgets.
Tecta America-CS is a member of the National Roofing Contractors Association and the Lubbock chapter of the Construction Specifiers Institute. The company is accredited by the Better Business Bureau and holds an A+ rating.
When evaluating roofing solutions, clients must choose from a wide range of available systems and materials. The right solution depends on the specific needs and budgets for a given facility and the owner's or user's expectations for performance. Because Tecta America-CS is certified with every major roofing manufacturer, it can work to select the absolute best roofing system for a facility. With the expertise and experience to tailor a specific roofing solution, no matter the size or complexity, Tecta America-CS is "roofing redefined."
About Tecta America-CS
Construction Services, incorporated in Texas in 1960, evolved from a similar company established in 1943. In 2000, Construction Services and nine other organizations with the same integrity and fortitude merged to form Tecta America Corporation, which is now one of the nation's largest roofing contractors. Tecta America-CS is a contracting firm specializing in various types of roofing, sheet metal, waterproofing, and roof-related specialties.
Tecta America-CS
5401 Acuff Road
Lubbock, TX 79403
(806) 747-8400
http://www.tectaamerica.com/tecta-america-cs-lubbock/
Facebook: https://www.facebook.com/TectaAmerica
Twitter: https://twitter.com/tectaamerica
LinkedIn: https://www.linkedin.com/company/tecta-america-corp
YouTube channel: https://www.youtube.com/user/TectaAmericaCorp
About GAF:
Founded in 1886, GAF is the largest roofing manufacturer in North America. The Company is an operating subsidiary of Standard Industries.
GAF products include a comprehensive portfolio of roofing systems for residential and commercial properties, which are supported by an extensive national network of factory-certified contractors. Its success is driven by its commitment to Advanced Quality, Industry Expertise, and Solutions Made Simple. GAF was the first roofing manufacturer to offer a Lifetime limited warranty on all of its laminated shingles, which then evolved with the introduction of the GAF Lifetime Roofing System by extending the Lifetime coverage beyond just the roofing shingles.
With a focus on social responsibility, GAF developed Advanced Protection(R) Shingle Technology, providing excellent durability and wind resistance while reducing the use of natural resources. The Company has also developed single-ply and asphaltic roofing membranes with excellent durability and high reflectivity to meet the most rigorous industry standards while helping commercial property owners and designers reduce energy consumption.
GAF also supports the roofing industry through CARE, the Center for the Advancement of Roofing Excellence(TM), which has provided education to over 230,000 professionals. CARE's mission is to help professional contractors and distributors build their businesses through sales and management education, and to provide product and installation training to contractors, distributors, architects, property owners, and related industry personnel.
For more information about GAF, visit: gaf.com
About Standard Industries:
Standard Industries is a privately-held, global, diversified holding company with interests in building materials, aggregates, and related investment businesses in public equities and real estate. With over 7,500 employees and operations in more than 80 countries, Standard maintains a team-oriented culture of meritocracy and operational excellence, and a passionate focus on investing in its people.
Media Contact
Company Name: Tecta America-CS
Contact Person: Jason Weems
Email: jweems@tectaamerica.com
Phone: (806) 747-8400
Country: United States
Website: http://www.tectaamerica.com/tecta-america-cs-lubbock/