Best Roofing of Fort Lauderdale, FL, has received GAF's 2017 President's Club Award. A GAF Master Select(TM) contractor since 2004, Best Roofing provides roof services for South Florida's commercial, industrial, and condominium markets.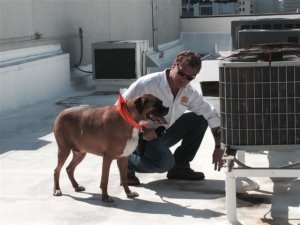 Fort Lauderdale, FL – Aug 14, 2017 –
Best Roofing of Fort Lauderdale, Florida, has received the most prestigious contractor award GAF offers: The GAF President's Club Award. This highly coveted award recognizes Best Roofing as one of the "elite of the elite" commercial roofing contractors in the United States.
GAF is North America's largest roofing manufacturer, and only GAF Master Select(TM) Contractors can compete for its commercial President's Club Award. To qualify for this award, a commercial roofing contractor must demonstrate an exceptional level of excellence in their business, especially in the areas of Installation Excellence, Consumer Protection, and Installer Training.
Best Roofing has been a GAF Master Select(TM) Contractor since 2005; the company received the President's Club Award due to its excellent performance in 2016. To become a Master Select(TM) Contractor–a status that less than 1% of roofing contractors nationwide are able to achieve–a candidate must demonstrate proper licensing, maintain insurance (in states that require it), have a proven reputation, and show commitment to ongoing professional training.
When your business name includes the word "best," your record and performance need to correspond. To Gregg Wallick, president and CEO of Best Roofing, it's a fitting description for the company. "We live by that. We track every project that we do–and 75% of our business comes from existing clients or referrals. We've been in business since 1978 in the South Florida market, so our reputation speaks for itself."
The attitudes and professionalism of the people at Best Roofing are key factors in the company's success. "We've got a really great culture of people who have been here for a long time," explains Wallick. "Culture is what takes over when I leave the place–those invisible values and attitudes and behaviors that just happen when the boss is not around."
Best Roofing's affiliation with GAF is a source of pride for Wallick. "When you're recognized by a company like GAF–especially when that's seen by potential new clients–it lends to our statement of credibility and trust. The President's Club Award is a beautiful thing for us to have. Additionally, we have a really great relationship with the local GAF representatives, and their efforts make a big difference in what we do. It's a terrific partnership."
Wallick is bullish on growth in the company's South Florida market. "We feel like we're really well-positioned," he says. "Our clients are growing. So the tide is rising with everybody, with the affiliates, with the type of clients that we work with–mostly commercial clients and property management groups. The economy in South Florida has been strong. We're looking forward to growth this year." Part of the growth that Wallick forecasts will be in Dade County, where the company has set up a satellite office to serve the Miami area.
Giving back to the community is part of Best Roofing's set of values. "I've got just a wonderful group of people that concentrate on helping non-profits with whatever helps that we can do," states Wallick. "We do a lot of pro bono roofing work for them, helping them with roof leaks and roof replacements on different kinds of facilities. Every quarter, we set aside a certain percentage of the company profits into what we call Best Cares, a formalized process in which somebody in the company or some non-profit makes a request. We vet the requests and decide who we're going to provide funding or work for. We've made contributions and pro bono work to different charities. We have a great process."
"We're very trusted in the community," concludes Wallick. "And that's crucial. There's nothing like a reputation, and there's nothing like a relationship."
About Best Roofing
Since 1978, Best Roofing provides roof repairs, restorations, and replacements for South Florida's commercial, industrial, and condominium markets. Best Roofing has become one of Florida's most respected commercial roofing contractors by upholding a customer service philosophy that makes customers want to do repeat business with the company.
Best Roofing
1600 NE 12 Terrace
Fort Lauderdale, FL 33305
(954) 941-9111
http://www.bestroofing.net
Facebook: http://www.facebook.com/bestroofing
Twitter: https://twitter.com/best_roofing
LinkedIn: http://www.linkedin.com/company/bestroofing
YouTube channel: https://www.youtube.com/channel/UCbDmt-armQRNd1hisPVtIPQ
About GAF:
Founded in 1886, GAF is the largest roofing manufacturer in North America. The Company is an operating subsidiary of Standard Industries.
GAF products include a comprehensive portfolio of roofing systems for residential and commercial properties, which are supported by an extensive national network of factory-certified contractors. Its success is driven by its commitment to Advanced Quality, Industry Expertise, and Solutions Made Simple. GAF was the first roofing manufacturer to offer a Lifetime limited warranty on all of its laminated shingles, which then evolved with the introduction of the GAF Lifetime Roofing System by extending the Lifetime coverage beyond just the roofing shingles.
With a focus on social responsibility, GAF developed Advanced Protection(R) Shingle Technology, providing excellent durability and wind resistance while reducing the use of natural resources. The Company has also developed single-ply and asphaltic roofing membranes with excellent durability and high reflectivity to meet the most rigorous industry standards while helping commercial property owners and designers reduce energy consumption.
GAF also supports the roofing industry through CARE, the Center for the Advancement of Roofing Excellence(TM), which has provided education to over 230,000 professionals. CARE's mission is to help professional contractors and distributors build their businesses through sales and management education, and to provide product and installation training to contractors, distributors, architects, property owners, and related industry personnel. For more information about GAF, visit gaf.com.
About Standard Industries:
Standard Industries is a privately-held, global, diversified holding company with interests in building materials, aggregates, and related investment businesses in public equities and real estate. With over 7,500 employees and operations in more than 80 countries, Standard maintains a team-oriented culture of meritocracy and operational excellence, and a passionate focus on investing in its people.
Media Contact
Company Name: Best Roofing
Contact Person: Gregg Wallick
Email: gwallick@bestroofing.net
Phone: (954) 941-9111
Address:1600 NE 12 Terrace
City: Fort Lauderdale
State: FL
Country: United States
Website: http://www.bestroofing.net