Fem Moguls, an empowerment initiative that supports women of color in business, has just announced they will be releasing a new book series specifically for multi-cultural women called, the "Women of Color Blueprint." The first book in the series will be, "Mogulistas™ Making Moves, 30 Downloads and Success Stories from Women of Color in Business."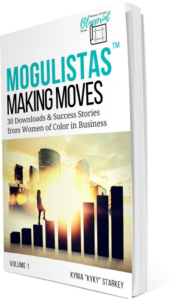 A new book series is on the horizon called the "Women of Color Blueprint" and the first book in the series will be, "Mogulistas™ Making Moves, 30 Downloads and Success Stories from Women of Color in Business." The book is set to publish and be available in the fourth-quarter of 2017, just in time for the holidays. "Mogulistas™ Making Moves" will highlight multi-cultural women making moves in their industries and share their journeys in business – in career and/or entrepreneurship.
According to Lisa Williams, Co-Founder of Fem Moguls, "Female entrepreneurship is at an all-time high which was stated in the 2016 State of Women-Owned Business Report and women of color are the fastest-growing segment of entrepreneurs right now. We feel it's important to showcase women of color while also making a resource available to the large number of multi-cultural women who are making considerably less (non-minority women-owned firms averaging $201,948 in annual revenues and minority women-owned firms averaging $68,982) than their non-women of color counterparts and offer them some encouragement and support."
The book series aims to highlight the many women who are, in spite of challenges unique to women of color, moving toward becoming Female Moguls.
Williams' partner and Co-Founder of Fem Moguls, Kynia Starkey, had this to say, "Mogulistas™ Making Moves is very timely. I will be joined by women of color that are making positive moves in their business while extracting valuable nuggets of wisdom from their journey. The book will also offer content to multi-cultural woman who are at earlier stages in their career to help them achieve greater success in their business and life through additional content that will be available at the end of each chapter."
Starkey is currently identifying women who will be featured in the upcoming book. Explaining her search process for the women who will be invited to contribute, Starkey states, "I will be engaging women who understand leverage and are willing to giving back and, in the process, look forward to receiving some valuable exposure that will further the growth of their business endeavors."
Williams added, "several influential women have expressed interest in being part of the book series" and she and Starkey expect to make an announcement revealing the women who have been selected to contribute in August 2017.
The books will be written in a conversational tone and each chapter will also offer valuable mentoring nuggets to inspire and encourage other women of color in business. A number of the books will be donated to female college students and women early in their business career and entrepreneurial pursuits.
Fem Moguls has pledged 100 percent of the retail royalties to be donated to a soon to be announced non-profit. The women who participate will also be asked to give back as well and spread the word about this socially responsible project.
Starkey closed by saying, "I am inviting women entrepreneurs, change makers, c-suite executives and professionals to join me on the road to becoming a Made Mogulista™ (a secure and savvy female mogul) and share how you navigated difficult situations while building business success and together leave a legacy for other women of color."
To learn more about the project visit, www.femmoguls.com.
About the Women of Color Blueprint Book Series
The Women of Color Blueprint Book Series will be a resource to highlight, encourage, empower and equip multi-cultural women in business through the downloads and stories shared from the contributors. The books will deal with challenges that are specific to women of color such as a lack of mentors, being first generation entrepreneurs and lacking important resources. The book series will have multiple volumes and will include books specifically for different groups of women of color.
Fem Moguls
"Fem Moguls" is a company that is launching a movement to help women of color raise their business profile, stand out in their industries, make more money while working less and make moves toward becoming female moguls. Fem Moguls is on a mission to help 300,000 female Mogulistas™, design the business they desire and journey with them to become MADE Mogulistas™ – powerful or rich women with multi streams of income who dominate an enterprise or industry.
Media Contact
Company Name: Fem Moguls
Contact Person: Kynia Starkey
Email: info@femmoguls.com
Phone: 866-386-2636
Country: United States
Website: http://femmoguls.com