Bayside Exteriors of Lewes, De, has received GAF's 2017 President's Club Award. A GAF Master Elite(R) contractor since 2011, it pursues excellence and focuses on service quality as a professional, caring, and skillful roofing contractor.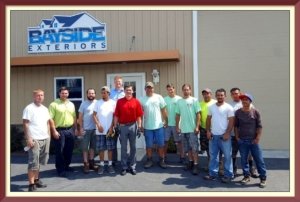 Lewes, DE – August 21, 2017: Bayside Exteriors
Bayside Exteriors of Lewes, Delaware, has received the most prestigious contractor award GAF offers: The GAF President's Club Award. This highly coveted award recognizes Bayside Exteriors as one of the "elite of the elite" residential roofing contractors in the United States.
GAF is North America's largest roofing manufacturer, and only GAF Master Elite(R) Contractors can compete for its residential President's Club Award. To qualify for this award, a residential roofing contractor must meet specific criteria in at least one out of three different pathways: the Performance pathway, where contractors focus on giving their property owners the best possible service, quality, and protection; the Reliability pathway, where the contractor has a long history of offering their customers the best quality and protection; and the Service pathway, where contractors consistently offer their customers the best protection available in the marketplace.
Bayside Exteriors has been a GAF Master Elite(R) Contractor since 2011; the company received the President's Club Award due to its excellent performance in 2016. To become a Master Elite(R) Contractor–a status that less than 2% of roofing contractors nationwide are able to achieve–a candidate must demonstrate proper licensing, maintain insurance (in states that require it), have a proven reputation, and show commitment to ongoing professional training.
Family-owned and -operated, Bayside Exteriors has years of industry experience in offering complete roofing and exterior services for both residential and commercial roofing applications. "We offer professional roofing services and high-quality products," according to project estimator Craig Cameron. "Complete services are available in both Delaware and Maryland. In fact, we've opened a new location in Salisbury, Maryland, as of August 2017."
"We supply metal roofing, made in our shops, for homes and commercial businesses," explains Cameron. The company is a supplier through a subsidiary, Bayside Metal Roofing. In addition to roofing, Bayside Exterior's offerings include installation and repair of siding, gutters, skylights, windows, and doors. Other services include repair and replacement of soffits and fascia, storm-damage repairs, roof maintenance and inspections, and dumpster rentals through subsidiary Bayside Property Management.
Bayside Exteriors takes pride in its strong community presence. "We receive business from many client referrals from past customers who rely on our services," says Cameron. A GAF Certified Green Roofer(TM), the company also participates in the nationwide No Roof Left Behind(TM) program. A member of the National Roofing Contractors Association, Bayside Exteriors is a recipient of the Angie's List Super Service Award and is accredited by the Better Business Bureau with an A+ rating.
Going forward, Bayside Exteriors looks to expand its customer base in the Maryland service area. "Our company holds our customers to the highest standards," concludes Cameron. "We believe in prompt response, dependable service, and a professional experience. We focus on individual needs by providing honest and affordable services. By guaranteeing that we will exceed expectations, we deliver the workmanship and respect that customers deserve."
About Bayside Exteriors
A roofing and siding contractor, Bayside Exteriors specializes in metal roofing, asphalt shingles, flat roofing, and cedar shakes. By pursuing excellence and focusing on service quality, the company has grown rapidly, reinforcing its reputation as a professional, caring, and skillful contractor. Bayside Exteriors is built upon a foundation of client focus and high-quality craftsmanship.
Bayside Exteriors
32295 Nassau Rd
Lewes, DE 19958
(302) 200-7663
https://www.baysideexteriors.net
Facebook: https://www.facebook.com/BaysideExteriors
Twitter: https://twitter.com/BaysideLewesDE
LinkedIn: https://www.linkedin.com/company/bayside-exteriors
YouTube channel: https://www.youtube.com/channel/UCZSlV5coKx2S6NWj4_ietwQ
About GAF:
Founded in 1886, GAF is the largest roofing manufacturer in North America. The Company is an operating subsidiary of Standard Industries.
GAF products include a comprehensive portfolio of roofing systems for residential and commercial properties, which are supported by an extensive national network of factory-certified contractors. Its success is driven by its commitment to Advanced Quality, Industry Expertise, and Solutions Made Simple. GAF was the first roofing manufacturer to offer a Lifetime limited warranty on all of its laminated shingles, which then evolved with the introduction of the GAF Lifetime Roofing System by extending the Lifetime coverage beyond just the roofing shingles.
With a focus on social responsibility, GAF developed Advanced Protection(R) Shingle Technology, providing excellent durability and wind resistance while reducing the use of natural resources. The Company has also developed single-ply and asphaltic roofing membranes with excellent durability and high reflectivity to meet the most rigorous industry standards while helping commercial property owners and designers reduce energy consumption.
GAF also supports the roofing industry through CARE, the Center for the Advancement of Roofing Excellence(TM), which has provided education to over 230,000 professionals. CARE's mission is to help professional contractors and distributors build their businesses through sales and management education, and to provide product and installation training to contractors, distributors, architects, property owners, and related industry personnel. For more information about GAF, visit gaf.com.
About Standard Industries:
Standard Industries is a privately-held, global, diversified holding company with interests in building materials, aggregates, and related investment businesses in public equities and real estate. With over 7,500 employees and operations in more than 80 countries, Standard maintains a team-oriented culture of meritocracy and operational excellence, and a passionate focus on investing in its people.
Media Contact
Company Name: Bayside Exteriors
Contact Person: Andrew Lewandowski
Email: baysideexteriors@gmail.com
Phone: (302) 200-7663
Country: United States
Website: https://www.baysideexteriors.net