Global Blister Packaging Equipment Market: Snapshot
The demand in the global blister packaging equipment market is projected to increment at a notable CAGR of 5.4% during the forecast period of 2017 to 2025, gaining traction from a number of factors such as growing need for intelligent modernization of manufacturing facilities to enhance production efficiency and reduce product changeover time, high degree of automation in the packaging line, and increasing adoption of blister equipment in production lines. On the other hand, reluctance of the pharmaceutical industry to adopt new methods as they deal with sophisticated products, is hindering the ideal prosperity of the global blister packaging equipment market.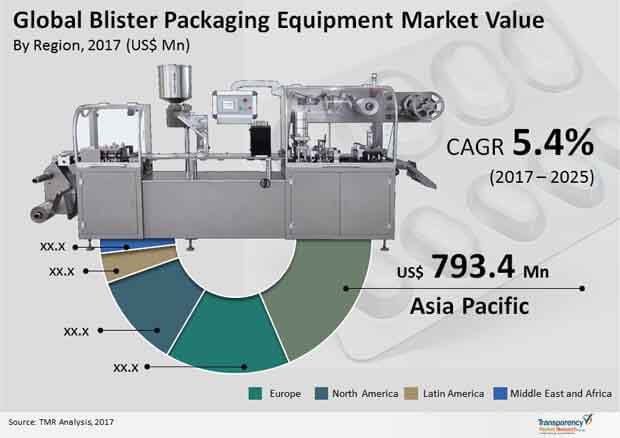 Solid Product Packaging In-demand Segment
Based on product type, the global blister packaging equipment market has been segmented into solid, semi-solid, and liquid. Globally, solid packaging equipment segment for blister packaging equipment dominates the market, with an estimated share of a little over 83%, by value. Solid products are easier to fill and more suitable than liquid and semi-solid products. Liquids and semi-solid products are preferred to be packaged in bottles and ampoules over blisters as minute leakage are probable due to shocks or load experienced by the blisters. By process type, automatic segment contributes with more than two third of market share by value, while the rest belongs to manual and semi-automatic. The increasing automation decreases the human involvement and also the skill requirement of the operator. This indirectly reduces the possibility of errors in manufacturing of blisters.
For more information on this report, fill the form @ http://www.transparencymarketresearch.com/sample/sample.php?flag=B&rep_id=9275
On the basis of end-use industry, the blister packaging equipment market has been segmented into food industry, pharmaceutical, cosmetics & personal care, consumer electronics and other manufacturing. Among these, pharmaceutical segment is expected to dominate the market with around three fourth of market share by value. Based on equipment type, the inline filler equipment market is projected to register a solid CAGR of 5.6%, in terms of value, over the forecast period. By technology, the blister packaging equipment market has been classified into cold sealing, heat sealing, thermoforming, and ultrasonic sealing. Heat sealing can be further bifurcated into card-to-card, plastic-to-card and plastic-to-plastic. Currently, thermoforming category is dominating the global blister packaging equipment market with share of around half of the market, followed by heat sealing.
Asia Pacific to Sustain Strong Demand until 2025
Asia Pacific currently dominates the global blister packaging equipment market, both in terms of value and volume. In 2017, the Asia Pacific blister packaging equipment market was valued at US$793.4 bn. One of the major contributing factors for this, is growth in the demand of packaging in various application such as food, consumer goods, and pharmaceuticals, especially in the emerging economies, owing to shift in consumer preference towards convenience and aesthetic packaging. Europe and Asia Pacific are major producers of packaging machinery, particularly with countries like Italy, Germany, and Japan representing export of machinery globally. According to Italian Packaging Machinery Manufacturers Association, Italy and Germany account for nearly half of the automatic packaging machinery sold globally. This strong position of Italy can be attributed to several factors, such as high level of customization and high degree of competitiveness between small and medium sized manufacturers.
Some of the key companies currently holding notable positions in the global blister packaging equipment market are Uhlmann Pac-Systeme GmbH & Co. KG, Bosch Packaging Technology, Sonoco Products Company, Marchesini Group S.p.A., IMA Industria Macchine Automatiche S.p.A., Körber AG, Fabrima Maquinas Automaticas Ltda, Gebo Cermex, Romaco Pharmatechnik GmbH, and CAM Packaging Solutions.
Media Contact
Company Name: Transparency Market Research
Contact Person: Mr.Sudip.S
Email: sales@transparencymarketresearch.com
Phone: 8665523453
Country: United States
Website: http://www.transparencymarketresearch.com