Financial advisor, Alan Porter, spoke to a select group of thought leaders from around the world held at the Business Expert Forum at the Harvard Faculty Club, Cambridge, MA July 27 – 30th, 2017.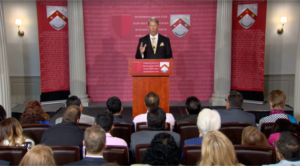 Porter, CEO of Strategic Wealth Strategies, shared the stage with world-renowned actress and business women Suzanne Somers. The event was part of the Business Expert Forum held at the Harvard Faculty Club, an event that brings cutting edge leadership innovation to entrepreneurs and other thought leaders.
Suzanne Somers is an American actress, author, singer, businesswoman, and health spokesperson; best known for her television roles as Chrissy Snow on Three's Company and as Carol Foster Lambert on Step by Step.
Somers later became the author of a series of best-selling self-help books, including Ageless: The Naked Truth About Bioidentical Hormones (2006), about bioidentical hormone replacement therapy. She has released two autobiographies, four diet books, and a book of poetry.
Porter is a retired Army Blackhawk Instructor Pilot. This experience in conjunction with a couple of life tragedies makes him a no-nonsense unconventional financial planner. He takes a personal approach compared with other financial planners by helping his clients find money that they are transferring away unknowingly and unnecessarily through significant wealth transfers by the way they are paying taxes, school loans, their mortgages, capital expenditures, and by the way they fund their retirement plans.
Porter is on a mission to defend his clients from the enemy, excessive taxes and wealth killing financial strategies. In this regard, he is praised and appreciated by his clients for being on their side. The audience was spell bound as though they were about to do a reconnaissance mission. He exclaimed, "I have crossed over into the terrain of the wealthy and powerful, and I guide clients on how to use legal obscure financial strategies. I broke the insider's financial code and I'm out to share the secrets the wealthy and the financial institutions use to protect, retain and increase wealth. I want each to become their personal bank to pay themselves instead of the banks."
Porter disclosed a series of life changing events that thrust him into the insurance and financial industry, namely desperation. He wished he had a financial guide with this intelligence on his side, in his darkest hour. His downfall is the driving force that gives Porter the passion for his new career. He explained, "My son Todd, at age 35, contracted a debilitating disease and is now 100% disabled. Three years after that, Todd's wife Lynn called my wife and me to tell us her diagnosis, stage 4 pancreatic cancer. She died a year later, leaving two little girls, my granddaughters to be raised by my disabled son. WE WERE DEVASTATED."
Porter went on to say, "How would you like to sell your business and pay little to NO taxes on it? How would you like a financial vehicle that is guaranteed by contract to never have a loss due to a market downturn How about a financial vehicle that will give you a tax deduction going in, it grows tax-free, and your distributions are tax-free? And protects you from lawsuits, liens, and judgments? IT doesn't GET ANY BETTER!"
To find out more about Alan and his company go here.
Media Contact
Company Name: The Authority Syndicate Group
Contact Person: T. Allen Hanes
Email: info@theauthoritysyndicate.com
Phone: 281-910-8728
Country: United States
Website: http://theauthoritysyndicate.com