On Monday, September 11th, 81 year old Joyce Mathie, known as the "Queen of Clean", launched her newest business venture and previewed her new book at a VIP event in Salt Lake City.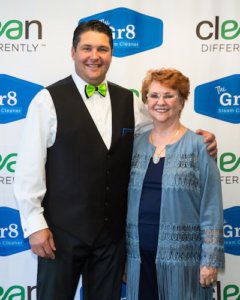 The room was a buzz of energy and anticipation as Mrs. Mathie, was introduced by her business partner Matt Gibbons to talk about her vision for their new company, Clean Differently.
Joyce Mathie has become known as the "Queen of Clean" because of her steadfast dedication to teaching the world how to clean virtually anything with steam.
Joyce's mission is a simple one. Teach everyone in the world how to eliminate cleaning chemicals from their home, while simultaneously saving massive amounts of time, stress and money.
Joyce stated confidently Monday night, "I want people to know that they can have a beautifully clean home or business in a fraction of the time it currently takes them and be much more healthy to boot."
Mrs. Mathie has an infectious attitude, and it was on full display, during the VIP launch party. She captivated the room of over sixty guests with the story of her humble beginnings almost 25 years ago in the steam cleaning industry to where she is now, launching her custom designed machine with its variety of time and energy saving attachments.
During the launch party Joyce also announced the Gr8 Steam Cleaner will be available on Amazon. Over the coming weeks they intend to have the Gr8 available in many of the big box stores. Mrs. Mathie also previewed her new book, "The Real Dirt on Clean," which should launch on Amazon in early 2018.
Matt Gibbons lead off and finished the event with joyous emotion and kept the night flowing from beginning to end.
"Taking part in the Gr8 Steam Cleaner project has been the journey of a lifetime, I am grateful to be working with Joyce on her vision," Stated Matt Gibbons.
If you would like more information about Joyce or the Gr8 Steam Cleaner you can visit www.thegr8steamcleaner.com or call the corporate office 385-347-0802.
Media Contact
Company Name: Total Success Business Solutions
Contact Person: Brett Lechtenberg
Email: info@brettlechtenberg.com
Phone: 801-899-0330
Country: United States
Website: www.brettlechtenberg.com