Orthopedic surgeon Dr. Deb Lees is working with anthology publisher Debbie Horovitch to create a book series featuring the personal stories of women in male-dominated STEM careers, to encourage conversations for young women & girls around the world.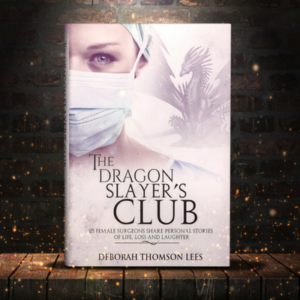 Together the women are launching their global search for female surgeons to be included in Volume 1 of The Dragon Slayers Club, a book that will benefit a yet to be named female STEM organization.
The likely sponsors for supporting "The Dragon Slayers Club: 25 Female Surgeons Share Personal Stories of Life, Loss, and Laughter", are organizations that encourage females to consider STEM careers, and hope to contribute to a future where globally, women are at least 50% of all leadership positions.
About The Dragon Slayers Club
When asked why it's important for her to undertake this project now, Dr. Lees shared "The DSC is not about waiting for rescue, but giving voice to all women who are deserving of their place as an equal in both the workplace and society who are celebrated for their accomplishments so they in turn can light the path for those that follow.
"The DSC is about empowering women regardless of the Dragons that they face. It's for the woman who needs to build her strength and courage, and who knows there are Dragons skulking, but is yet to find her battle cry. For the woman who takes on that Dragon regardless of its size, stares it fully in the eyes despite the fact her knees are shaking and her voice feels very small, but who still steps up to the challenge regardless, knowing that she has an experienced sisterhood in reserve. It's about developing a common community spirit designed to elevate rather than crush and a place to cherish the successes, no matter how small."
Qualified coauthors for The Dragon Slayers Club book, all female surgeons, will be recruited from UK, Australia, Canada, the United States, and South Africa in English.
Equally important to this publication, the publisher and Dr. Lees will also be encouraging women in other countries to participate, by submitting their story in their language spoken at home, and then having it published in both languages, creating a bigger and better platform for everyone involved.
The Dragon Slayers Club website will be launching soon and the Facebook group is already active!
About Dr. Deb Lees
Deborah Thomson Lees is an orthopedic spinal surgery fellow currently at Princess Alexandra Hospital in Brisbane, Queensland Australia. She has also volunteered in Iraq to provide specialized orthopedic care and training to support neglected population in post-war areas.
Dr. Deb Lees, as she's known online and in social media, has maintained a written blog about her daily experiences as an orthopedic surgeon, often highlighting the most humorous and ironic situations she witnesses.
She previously published the first in a series of illustrated childrens' books, aimed at increasing health awareness and accountability for kids. The series features the adventures of the children of the McSlee family, Ben and his younger sister Rosie, Mom and Dad McSlee, along with doctors like Mr. Pea, an orthopedic ER doctor who is presented as a perceived superhero – a "Cast Commander" who fixes broken bones. These books deal with common childhood experiences with medical professionals, and encourages the behaviors to help keep them healthy; the remaining books will publish soon.
About The Recruitment Process and Debbie Horovitch – Publishing Fairy Godmother
Social Sparkle & Shine Publishing confirmed they have officially launched a search for globally female surgeons around the world, to be featured in the book, "The Dragon Slayers Club: 25 Female Surgeons Share Personal Stories of Life, Loss, and Laughter."
Explaining the search process, Horovitch said, "This is an important book for us, so we will be reaching out to a select group of female surgeons around the world we feel are true advocates for the success of women & girls globally in the community, while at the same time committing to support a female STEM NFP organization."
Scheduled for release in Summer 2018, The Dragon Slayers Club book will spotlight each of the female surgeons around the world selected from this search, sharing their unique personal insights and real experience considering STEM career choices for women.
Horovitch said, "The female surgeons we select are passionate about helping girls and women globally. They'll share answers to the most common questions and reveal the reasons why so many women struggle with choosing a STEM career.
"The Dragon Slayers Club: 25 Female Surgeons Share Personal Stories of Life, Loss, and Laughter" will cover a lot information that's rarely talked about, including why school-age girls should consider medicine and more specifically surgery, as a career."
With several organizations expressing interest in participating, the publisher and Dr. Deb Lees are expected to announce the final list of contributing coauthors and sponsors in early February 2018.
Find out more about this project at http://thedragonslayersclub.com
Media Contact
Company Name: Social Sparkle & Shine
Contact Person: Debbie Horovitch
Email: debbie.horovitch@gmail.com
Phone: 647-633-9950
Country: Canada
Website: http://theSparkleAgency.com