Joann Yost, cancer survivor and Gold Star Spouse in Fayetteville NC, embodies many traits of a successful entrepreneur. Her story reveals the circumstances where she displayed them and she has shared that story over a variety of local venues.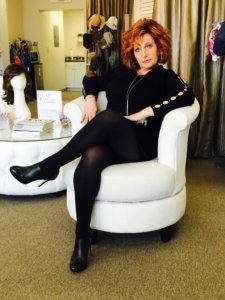 Talk with most professionals speakers and they will confirm, one of the things crucial to presenting a speech in public, is having a great message. If that was the only criteria, Joann Yost would be a professional speaker instead of a boutique owner.
Joann is a breast cancer survivor, a Gold Star Surviving Spouse, a mother of two, a budding entrepreneur and because of what she has experienced in her life so far, a public speaker.
Her journey through breast cancer is at the core of her business. Joann's vision came to her while sitting in a chemo chair over her many treatment sessions. It occurred to her that discomfort and anxiety should have been enough, but then she began to lose her hair. It was at this point that she began her 130 page business plan.
Her boutique is named Perruque Boutique and neither its name or the business itself is what one might think. The word Perruque is French for 'wig' and is pronounced 'pear*reek'. So the basis for Perruque Boutique is high-quality, fashionable wigs of many different styles and shades of color. The display is remarkable and Joann refers to the stylishly coiffed mannequins as 'her girls'.
Yost explains her vision this way, "After sitting in that chair, I decided to do more with the life I have been blessed to live. I want to provide a private place and time for people to redefine their outward expression of themselves. I've been there and I appreciate what they are going through. I found that this method helped me and it will help them too."
In addition to wigs, the boutique carries head covers of many designs and colors, Italian silk pre-tied scarves lined with cotton, chemo shawls, wig accessories, stylish hats, hats-with-hair, and much more.
Undergoing chemotherapy and opening a new business are daunting tasks, each providing their own unique challenges, and they are only part of the story.
Paraphrasing an old song, Joann has been 'stepped on, lied to, cheated on and treated like dirt", but she has persevered. Her husband was killed in action in Iraq. She finally married again and then was diagnosed with breast cancer. Her husband at the time was less than supportive, and there is much more.
Joann will have to provide the remaining details. She tells it better anyway.
She has shared her story in many local venues including presentations to the Cumberland County Business Network about developing her business, The Honor Society, Phi Theta Kappa, Alpha Tau Phi Chapter at FTCC about resiliency, the Association of Bragg Spouses about advocacy for women and medical issues. Joann has also been featured on the radio show, Pink Conversations, hosted by Tameka Bright of Christian Radio WCLN 107, and interviewed by local talk show host Omega Jones.
Joann is scheduled to present at the One Million Cups event at FTCC and the Business Builders Network breakfast at Select Bank.
While her business was started to advocate for women with medical issues, the principles of her success, resiliency, determination, faith, hope, courage and more are universal. Call 910-758-8644 to schedule Joann to speak at your event. For more information about Perruque Boutique, visit the website at www.wigsfayettevillenc.com
Perruque Boutique
3037-F Ste 2 Boone Trail Ext
Fayetteville NC 28304
(910) 758-8644
Media Contact
Company Name: Perruque Boutique
Contact Person: Joann Yost
Email: jojoyost@gmail.com
Phone: 910-758-8644
Country: United States
Website: https://www.wigsfayettevillenc.com