The Cryptocurrency Card is helping investors keep track of the fast-moving digital currency world.
With the Cryptocurrency world worth more than $300 billion with more than three million investors making $8 billion transactions per day the digital currency world is a fast-moving environment. Trying to keep up to date with what an investment is worth and how much currency an investor has can be time-consuming. Thanks to Butler Cards who have launched the Cryptocurrency Live Valuation Card with an e-link screen, an investor can keep an eye on the fast-moving currency world without the need for a laptop.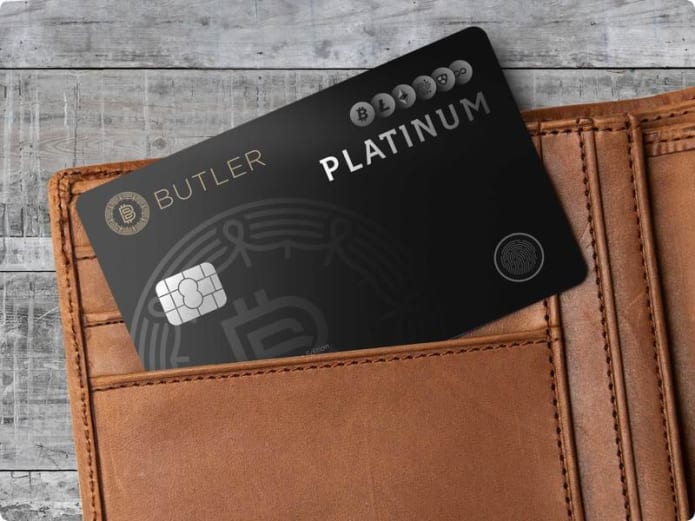 Butler Cards has gained worldwide exposure for their unique Cryptocurrency Live Valuation Card which is currently available through a crowdfunding campaign (https://www.indiegogo.com/projects/butler-live-cryptocurrency-card-for-btc-eth-ltc-money-cards#/). The stylish card which is the same size as most bank cards come with two easy to read screens. One screen allows the user to see what currency they currently have while the other screen allows them to see the current value of the digital currency with other currency around the world including the USD, the EURO, and other currencies including the value of gold.
The Cryptocurrency Card (www.butler.cards) is a vital tool for those that are investing in the Cryptocurrency world. It provides all the latest information and as well as being easy to carry around, it provides vital information when required.
A spokesman for Butler said: "Our Cryptocurrency Card saves people a lot of time by allowing them to find out important financial information when they need it. Instead of waiting until they are at home or at home, our card gives them the information on the Cryptocurrency on the go."
There are two Butler Cryptocurrency Cards available at a huge discount. These cards are available on the crowdfunding page and come with free shipping and a free wireless charger. However, the campaign is only available for a limited time and once the crowdfunding campaign is over, the cards will go back to their normal price.
The Black Cyber Card is very stylish, while the Butler Foundation Edition is a limited edition and really stands out in anyone's wallet. For those wanting to get their hands on the limited edition, they will have to be quick as these cards are only available on the crowdfunding page.
For more information on the new Cryptocurrency Live Valuation Card and to take advantage of the special offers available, please visit https://www.indiegogo.com/projects/butler-live-cryptocurrency-card-for-btc-eth-ltc-money-cards#/
Media Contact
Company Name: Butler Cards
Contact Person: Can Baydas Uzuner
Email: contact@butler.cards
Phone: +1 (305) 307-5176
Country: United States
Website: http://www.butler.cards