Summers Roofing Co. of Alpharetta, GA, has received GAF's 2018 President's Club Award. A GAF Master Select(TM) contractor since 2002, it is one of the Southeast's oldest and most well-established commercial and industrial roofing companies.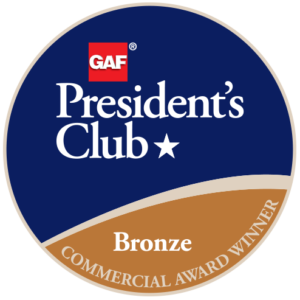 Alpharetta, GA – May 16, 2018 – Summers Roofing Co., Inc., of Alpharetta, Georgia, has received the most prestigious contractor award GAF offers: The GAF President's Club Award. This highly coveted award recognizes Summers Roofing Co. as one of the "elite of the elite" commercial roofing contractors in the United States.
GAF is North America's largest roofing manufacturer, and only GAF Master Select(TM) Contractors can compete for its commercial President's Club Award. To qualify for this award, a commercial roofing contractor must meet specific criteria in at least one out of three different pathways:
• Performance pathway – where contractors focus on giving their property owners the best possible service, quality, and protection
• Reliability pathway – where the contractor has a long history of offering their customers the best quality and protection
• Service pathway – where contractors consistently offer their customers the best protection available in the marketplace.
Summers Roofing Co. has been a GAF Master Select(TM) Contractor since 2002. To become a Master Select(TM) Contractor–a status that less than 1% of roofing contractors nationwide are able to achieve–a candidate must demonstrate proper licensing, maintain insurance (in states that require it), have a proven reputation, and show commitment to ongoing professional training.
"We value our certified contractors for raising the industry standard year after year by installing the best roofing products and systems. Our President's Club award recognizes only those contractors who have distinguished themselves by the highest standards of excellence, customer satisfaction, and dependability," says Jim Slauson, GAF's VP of Certified Program & Services.
For more than 75 years, Summers Roofing Co. has delivered exceptional commercial and industrial roofing and sheet-metal services in metropolitan Atlanta and in other locations in Georgia and the Southeast. The company offers a complete line of services, including new roof installations, roofing replacements, waterproofing, maintenance, repairs (both routine and from storm damage), and sheet-metal fabrication and installation.
As a licensed roofing contractor for most major material manufacturers, Summers Roofing provides customers with superior quality service for almost all types of roofing systems. With years of experience, the company's estimators and technicians can recommend the ideal service plan for numerous roofing types, including built-up, coal tar, modified bitumen, TPO, and EPDM. Summers Roofing also installs metal standing seam, slate, and tile roofs and can work to repair a roof while preserving the customer's existing manufacturer warranty.
Summers Roofing's full-service roof repair and restoration division works with clients to develop customized roofing maintenance programs. The company also offers 24/7 emergency response service, when immediate repairs are needed.
The company was certified as a Woman-Owned Business in 2002 and received Women's Business Enterprise certification in 2007. A family-owned and family-operated company, Summers Roofing has established a reputation for reliability and integrity that has allowed it to prosper. Fully bonded, insured, and licensed, Summers Roofing delivers superior workmanship and quality customer service for all commercial and industrial roofing needs.
About Summers Roofing Co., Inc.
One of the Southeast's oldest and most well-established roofing companies, Summers Roofing Co. specializes in commercial and industrial roofing installation, roof repairs, roof replacement, sheet-metal fabrication and installation, and waterproofing. With more than 75 years of commercial roofing experience, the Alpharetta-based roofing experts at Summers Roofing proudly provide commercial roof services throughout metro Atlanta, Georgia, Alabama, North Carolina, and South Carolina.
Summers Roofing Co.
135 Mauldin Dr.
Alpharetta, GA 30004
(770) 663-4211
http://www.summersroofing.com
Facebook: https://www.facebook.com/Summers-Roofing-Co-Inc-235675499866192
About GAF:
Founded in 1886, GAF is the leading roofing and waterproofing manufacturer in North America. As a member of the Standard Industries family of companies, GAF is part of the largest roofing and waterproofing business in the world. The company's products include a comprehensive portfolio of roofing and waterproofing solutions for residential and commercial properties as well as for civil engineering applications. The full GAF portfolio of solutions is supported by an extensive national network of factory-certified contractors. GAF continues to be the leader in quality and offers comprehensive warranty protection on its products and systems. The company's success is driven by a commitment to empowering its people to deliver advanced quality and purposeful innovation.
For more information about GAF, visit http://www.gaf.com
Media Contact
Company Name: Summers Roofing Co.
Contact Person: Brian Bick
Email: Send Email
Phone: (770) 663-4211
Address:135 Mauldin Dr.
City: Alpharetta
State: GA
Country: United States
Website: http://www.summersroofing.com