Roofco, Inc., of Maplewood, NJ, has received GAF's 2018 President's Club Award. A GAF Master Select(TM) contractor since 2002, Roofco is fully equipped with all the necessary technology to expedite and complete clients' projects on time.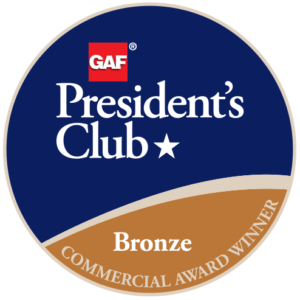 Maplewood, NJ – May 16, 2018 – Roofco, Inc., of Maplewood, New Jersey, has received the most prestigious contractor award GAF offers: The GAF President's Club Award. This highly coveted award recognizes Roofco as one of the "elite of the elite" commercial roofing contractors in the United States.
GAF is North America's largest roofing manufacturer, and only GAF Master Select(TM) Contractors can compete for its commercial President's Club Award. To qualify for this award, a commercial roofing contractor must meet specific criteria in at least one out of three different pathways:
• Performance pathway – where contractors focus on giving their property owners the best possible service, quality, and protection
• Reliability pathway – where the contractor has a long history of offering their customers the best quality and protection
• Service pathway – where contractors consistently offer their customers the best protection available in the marketplace.
Roofco has been a GAF Master Select(TM) Contractor since 2002. To become a Master Select(TM) Contractor–a status that less than 1% of roofing contractors nationwide are able to achieve–a candidate must demonstrate proper licensing, maintain insurance (in states that require it), have a proven reputation, and show commitment to ongoing professional training.
"We value our certified contractors for raising the industry standard year after year by installing the best roofing products and systems. Our President's Club award recognizes only those contractors who have distinguished themselves by the highest standards of excellence, customer satisfaction, and dependability," says Jim Slauson, GAF's VP of Certified Program & Services.
One of New Jersey's most respected roofing contractors, Roofco is a full-service company that specializes in commercial and industrial roofing. Approved by most major manufacturers, the company has a full complement of the latest equipment, allowing Roofco to install new roofs with quality while maintaining the safety and comfort of clients and occupants alike.
With GAF Asphaltic, Topcoat, and Single-Ply certifications, Roofco is a specialist in installing and restoring multiple types of roofs. The company works with TPO/PVC, asphalt built-up, green roofs, copper, slate, and EPDM roofing systems. Other services include inspections, repair, and maintenance. Roofco also educates its employees and customers on the benefits of renewable-energy systems.
Roofco continues to gain referrals without advertising. The company has many loyal repeat customers because it does more than just install roofs; it works with customers on maintenance to avoid costly problems later. As a GAF Certified Maintenance Professional, Roofco can offer its customers the GAF WellRoof Guarantee Extension, a 25% warranty extension, because of the preventative maintenance required under the program.
About Roofco, Inc.
Roofco is a commercial and industrial roofing company that has been in business since 1992. With a staff having a combined 90 years of experience, Roofco is fully equipped with all the necessary technology to expedite and complete clients' projects on time.
Roofco, Inc.
221 Rutgers Street
Maplewood, NJ 07040
(973) 762-0042
http://roofcoinc.com
About GAF:
Founded in 1886, GAF is the leading roofing and waterproofing manufacturer in North America. As a member of the Standard Industries family of companies, GAF is part of the largest roofing and waterproofing business in the world. The company's products include a comprehensive portfolio of roofing and waterproofing solutions for residential and commercial properties as well as for civil engineering applications. The full GAF portfolio of solutions is supported by an extensive national network of factory-certified contractors. GAF continues to be the leader in quality and offers comprehensive warranty protection on its products and systems. The company's success is driven by a commitment to empowering its people to deliver advanced quality and purposeful innovation.
For more information about GAF, visit http://www.gaf.com
Media Contact
Company Name: Roofco, Inc.
Contact Person: Gregg Dunleavy
Email: Send Email
Phone: (973) 762-0042
Address:221 Rutgers Street
City: Maplewood
State: NJ
Country: United States
Website: http://roofcoinc.com