Precision Roofing Corp. of Hialeah, FL, has received GAF's 2018 President's Club Award. A GAF Master Select(TM) contractor since 2003, it prioritizes customer satisfaction, ensuring clean, precise work that upholds top industry standards.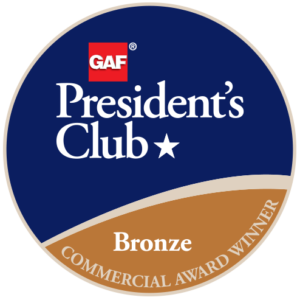 Hialeah, FL – May 16, 2018 – Precision Roofing Corp. of Hialeah, Florida, has received the most prestigious contractor award GAF offers: The GAF President's Club Award. This highly coveted award recognizes Precision Roofing as one of the "elite of the elite" commercial roofing contractors in the United States.
GAF is North America's largest roofing manufacturer, and only GAF Master Select(TM) Contractors can compete for its commercial President's Club Award. To qualify for this award, a commercial roofing contractor must meet specific criteria in at least one out of three different pathways:
• Performance pathway – where contractors focus on giving their property owners the best possible service, quality, and protection
• Reliability pathway – where the contractor has a long history of offering their customers the best quality and protection
• Service pathway – where contractors consistently offer their customers the best protection available in the marketplace.
Precision Roofing has been a GAF Master Select(TM) Contractor since 2003. To become a Master Select(TM) Contractor–a status that less than 1% of roofing contractors nationwide are able to achieve–a candidate must demonstrate proper licensing, maintain insurance (in states that require it), have a proven reputation, and show commitment to ongoing professional training.
"We value our certified contractors for raising the industry standard year after year by installing the best roofing products and systems. Our President's Club award recognizes only those contractors who have distinguished themselves by the highest standards of excellence, customer satisfaction, and dependability," says Jim Slauson, GAF's VP of Certified Program & Services.
Homeowners in South Florida, no strangers to heavy rain and unpredictable weather, find it a requirement to ensure the integrity and functionality of their roofs. Precision Roofing Corp. helps homeowners and businesses to protect their roofing investments. The company guarantees its workmanship and offers products and warranties from top manufacturers in the roofing industry.
To protect residential homes, Precision Roofing utilizes any of several different types of roofing technologies. The company installs and maintains roofs with shingles (composition or dimensional/architectural), wood shakes, clay or concrete tile, standing-seam metal, and slate (natural or synthetic). For conventional flat roofs, Precision Roofing works with built-up, modified bitumen, and TPO roofing. The company's technicians assist customers in choosing the system that is appropriate and most suitable for their homes; they also advise on the possible need for gutter replacements and repairs.
The company also has years of experience working in the commercial and industrial side of the industry. Precision Roofing's skilled and knowledgeable estimators offer several industrial roofing solutions for large office buildings, malls, shopping centers, and comparable structures. Manufacturer-certified to install extended, non-prorated warranties covering both labor and materials for periods of up to 30 years, Precision Roofing ensures that customers can count on a durable, long-lasting roofing system that is backed by the manufacturers. The company is certified to apply FPL reflective roof coatings, which can save money on energy costs and help to keep structures cool. Precision Roofing specializes in numerous types of construction projects, including convention centers, education facilities, municipal properties, industrial warehousing, libraries, multi-family residential facilities, parking structures, and office and general commercial structures.
Precision Roofing has received several professional certifications from GAF. The Asphaltic Certification indicates that the contractor specializes in installing asphaltic roofing systems, and the Single-Ply Certification indicates a specialization in installing single-ply roofing systems. With the Topcoat Certification, Precision Roofing is recognized for specializing in the installation of GAF's TOPCOAT(R) products–liquid-applied roofing restoration systems formulated to stand up to the harshest of roof conditions and provide energy savings at a fraction of the cost of a new roof. The company is accredited by the Better Business Bureau and holds an A+ rating.
With more than 20 years of experience, the folks at Precision Roofing Corp. work with top manufacturers in the roofing industry to offer excellent product warranties. Whether customers are residential, commercial, or industrial, Precision Roofing stands ready to provide quality workmanship the first time around, for all of their roofing needs.
About Precision Roofing Corp.
Family-owned and family-operated since 1994, Precision Roofing Corp. makes customer satisfaction its priority, ensuring work that is clean, precise, and upholding top industry standards. The company services Miami-Dade, Broward, and Palm Beach Counties. Fully licensed, insured, and bonded, Precision Roofing assures that every job, no matter how large or small, will get done right the first time.
Precision Roofing
2646 West 77th Place
Hialeah, FL 33016
(305) 822-9969
http://precision-roofing.com
About GAF:
Founded in 1886, GAF is the leading roofing and waterproofing manufacturer in North America. As a member of the Standard Industries family of companies, GAF is part of the largest roofing and waterproofing business in the world. The company's products include a comprehensive portfolio of roofing and waterproofing solutions for residential and commercial properties as well as for civil engineering applications. The full GAF portfolio of solutions is supported by an extensive national network of factory-certified contractors. GAF continues to be the leader in quality and offers comprehensive warranty protection on its products and systems. The company's success is driven by a commitment to empowering its people to deliver advanced quality and purposeful innovation.
For more information about GAF, visit http://www.gaf.com
Media Contact
Company Name: Precision Roofing
Contact Person: Joanna Tallet
Email: Send Email
Phone: (305) 822-9969
Address:11903 E. Old Lone Jack Lee's Road
City: Lee's Summit
State: MO
Country: United States
Website: http://precision-roofing.com