Perry Roofing Contractors of Gainesville, FL, has received GAF's 2018 President's Club Award. A GAF Master Select(TM) contractor since 2002, it has grown to become one of the largest full-service roofing companies in north central Florida.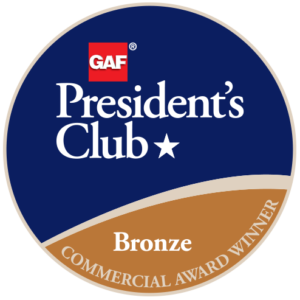 Gainesville, FL – May 16, 2018 – Perry Roofing Contractors of Gainesville, Florida, has received the most prestigious contractor award GAF offers: The GAF President's Club Award. This highly coveted award recognizes Perry Roofing Contractors as one of the "elite of the elite" commercial roofing contractors in the United States.
GAF is North America's largest roofing manufacturer, and only GAF Master Select(TM) Contractors can compete for its commercial President's Club Award. To qualify for this award, a commercial roofing contractor must meet specific criteria in at least one out of three different pathways:
• Performance pathway – where contractors focus on giving their property owners the best possible service, quality, and protection
• Reliability pathway – where the contractor has a long history of offering their customers the best quality and protection
• Service pathway – where contractors consistently offer their customers the best protection available in the marketplace.
Perry Roofing Contractors has been a GAF Master Select(TM) Contractor since 2002. To become a Master Select(TM) Contractor–a status that less than 1% of roofing contractors nationwide are able to achieve–a candidate must demonstrate proper licensing, maintain insurance (in states that require it), have a proven reputation, and show commitment to ongoing professional training.
"We value our certified contractors for raising the industry standard year after year by installing the best roofing products and systems. Our President's Club award recognizes only those contractors who have distinguished themselves by the highest standards of excellence, customer satisfaction, and dependability," says Jim Slauson, GAF's VP of Certified Program & Services.
As a full-service roofing company, Perry Roofing Contractors has extensive experience completing complex projects. The company provides homeowners with quality work on roofs, gutters, insulation, and ventilation; for business customers, it services industrial, commercial, and government buildings, offering roof maintenance, repairs, and reroofs in one package.
Residential customers benefit from the company's skill working with multiple roofing types, including shingle, metal, concrete, clay, and slate roofs, as well as single-ply and built-up roofs. Perry Roofing Contractors also offers the latest in green roofing and specializes in cool-roof technologies.
For its commercial customers, Perry Roofing develops business solutions to save time and money. The company services roofing systems that include built-up, modified bitumen, single-ply, EPDM, and metal roofs. It also offers online account management, allowing managers and owners to track their roofs in one convenient place. Perry Roofing's 24/7 service department assists in budget planning, offers infrared scans and preventative maintenance programs, and keeps detailed records of its commercial customers' roof systems and warranties. The company's full-service sheet-metal shop provides customers with fabrication and installation of most metal components, including gutters, flashings, leader heads, downspouts, and specialty fabrications.
The company takes great pride in serving the community by working with organizations such as House of Hope, Habitat for Humanity, and Boys & Girls Clubs. Perry Roofing is a member of the National Roofing Contractors Association, the Florida Roofing and Sheet Metal Contractors Association, RoofConnect, the Builders Association of North Central Florida, the Central Florida Hotel & Lodging Association, and the Ocala/Marion County Chamber of Commerce.
With an intense focus on employee safety and training, product and installation quality, and exceptional customer service, the company excels at preventing problems and exceeding expectations. Perry Roofing strives to have the best-trained, most knowledgeable workforce in its market area. Growing its business by giving customers the best value for their dollars, Perry Roofing works hard to provide the best roofing solutions, cementing its 40-year reputation for superior safety standards, materials, and workmanship.
About Perry Roofing Contractors
Founded as a one-man operation in 1976, Perry Roofing Contractors has grown to become one of the largest full-service roofing companies in north central Florida. With offices in Gainesville and Jacksonville, the company meets the needs of both commercial and residential customers. The company hires and trains the highest-quality craftsmen to safely and expertly install the best roofing solutions available. Perry Roofing Contractors takes pride in providing its clients with the best possible roofing experience.
Perry Roofing Contractors
2505 NW 71st Place
Gainesville, FL 32653
(352) 373-2724
Toll-free: (800) 487-6637
http://www.perryroofing.com
Facebook: https://www.facebook.com/PerryRoofing
LinkedIn: https://www.linkedin.com/company/perry-roofing
YouTube video: https://www.youtube.com/watch?v=oi5X2dbbSb8
About GAF:
Founded in 1886, GAF is the leading roofing and waterproofing manufacturer in North America. As a member of the Standard Industries family of companies, GAF is part of the largest roofing and waterproofing business in the world. The company's products include a comprehensive portfolio of roofing and waterproofing solutions for residential and commercial properties as well as for civil engineering applications. The full GAF portfolio of solutions is supported by an extensive national network of factory-certified contractors. GAF continues to be the leader in quality and offers comprehensive warranty protection on its products and systems. The company's success is driven by a commitment to empowering its people to deliver advanced quality and purposeful innovation.
For more information about GAF, visit http://www.gaf.com
Media Contact
Company Name: Perry Roofing Contractors
Contact Person: Danielle Childers
Email: Send Email
Phone: (352) 373-2724
Country: United States
Website: http://www.perryroofing.com