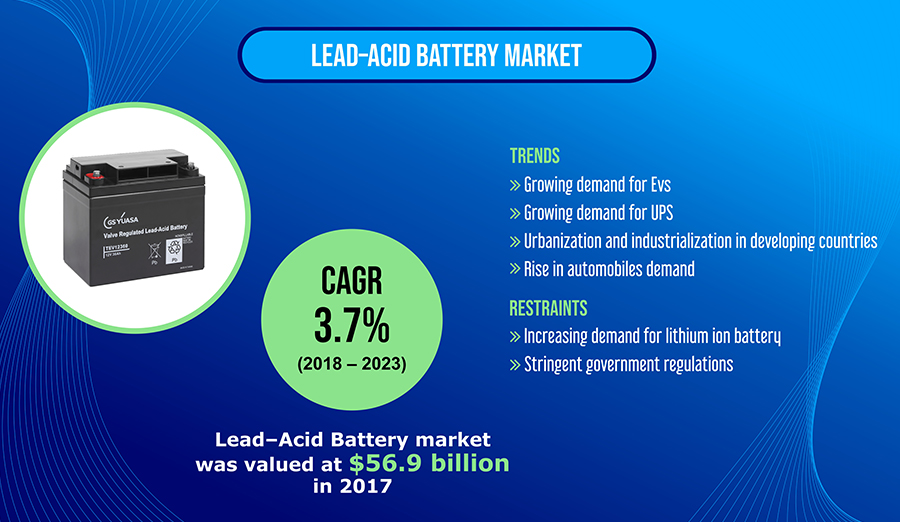 The global lead-acid battery market is projected to reach $70.7 billion by 2023, registering a revenue CAGR of 3.7% during the forecast period 2018–2023 .
Growing use of uninterrupted power supply (UPS) systems in industrial setups, increasing demand for electric vehicles, and rapid industrialization in developing countries are some key factors aiding the growth of the domain. Lead-acid battery is a rechargeable cell, which converts chemical energy into electric power. It consists of plates of lead and lead oxide that are immersed in a sulfuric acid solution. Because of the presence of the oxide component, the lead plates get oxidized, generating electric current during the discharge cycle. These batteries have diverse uses, such as in domestic inverters, motorcycles, sailboats and even off-grid power systems.
Request to get the report sample pages at : https://www.psmarketresearch.com/market-analysis/lead-acid-battery-market/report-sample
Based on the construction segment, the lead-acid battery market is divided into valve regulated lead–acid (VRLA) and flooded. In the historical period 2013–2017, the flooded lead-acid battery held the larger share in the market, recording more than 51.0% unit sales. The reason for this was its cost-effectiveness for entry-level start-stop vehicles over its VRLA counterpart. Increasing application of flooded lead-acid batteries in marine applications is expected to further increase its sales volume in the coming years.
Talking about the application segment of the lead-acid battery market, it is categorized into construction, telecommunication, automotive, utilities, leisure, marine, oil and gas, uninterrupted power supply (UPS), and others which includes military and mining applications. The automotive industry dominated the market in 2017, holding the largest sales volume share (65.0%). Lead–acid batteries help automobiles in starting, lighting, and ignition, and provide power to accessories, such as air conditioners, wipers, radios, and charging plugs. The future demand for these batteries from the automobile industry is likely to rise with increasing vehicle production across the world.
Explore Full Report With TOC: https://www.psmarketresearch.com/market-analysis/lead-acid-battery-market
Lead–acid batteries are quite cost-effective and easily rechargeable power devices, hence, play an important role in backup power generation in developing nations, such as India, Mexico, Indonesia, South Korea, Thailand, and Vietnam. Moreover, healthcare, chemicals, manufacturing, and oil and gas industries need an uninterrupted electricity supply to attain proper functioning of plants and machinery. The growing use of UPS in these sectors, coupled with regulatory support and private investments, is predicted to drive the lead-acid battery market during the forecast period.
The market is estimated to witness the fastest growth in the Asia-Pacific region in terms of sales volume with 4.2% CAGR during the forecast period. The increasing demand for lead-acid batteries for telecommunication networks and the automotive sector is expected to contribute to the growth. Furthermore, increased use of UPSs in industrial sectors, such as chemical, oil and gas, manufacturing, and healthcare, have opened the door of opportunities for the lead-acid battery market players in the region, including Exide Technologies, Fujian Quanzhou Dahua Battery Co. Ltd., Yokohama Industries Berhad, and Hitachi Chemical Energy Technology Co. Ltd.
Thus, it is clear that the market will steadily progress, owing to the growing demand for uninterrupted power in developing countries.
Related Reports
Lithium–Ion Battery Market
The global lithium–ion battery market is projected to reach $106,493 million by 2024, registering a CAGR of 21.8% during the forecast period. The demand for lithium–ion batteries is primarily driven by the growing electric vehicle market, falling battery prices, and presence of monetary and non-monetary government subsidies.
https://www.psmarketresearch.com/market-analysis/lithium-ion-battery-market
About P&S Intelligence
P&S Intelligence is a provider of market research and consulting services catering to the market information needs of burgeoning industries across the world. Providing the plinth of market intelligence, P&S as an enterprising research and consulting company, believes in providing thorough landscape analyses on the ever-changing market scenario, to empower companies to make informed decisions and base their business strategies with astuteness.
Media Contact
Company Name: P&S Intelligence
Contact Person: Abhishek
Email: Send Email
Phone: +1-347-960-6455
Country: United States
Website: https://www.psmarketresearch.com/market-analysis/lead-acid-battery-market