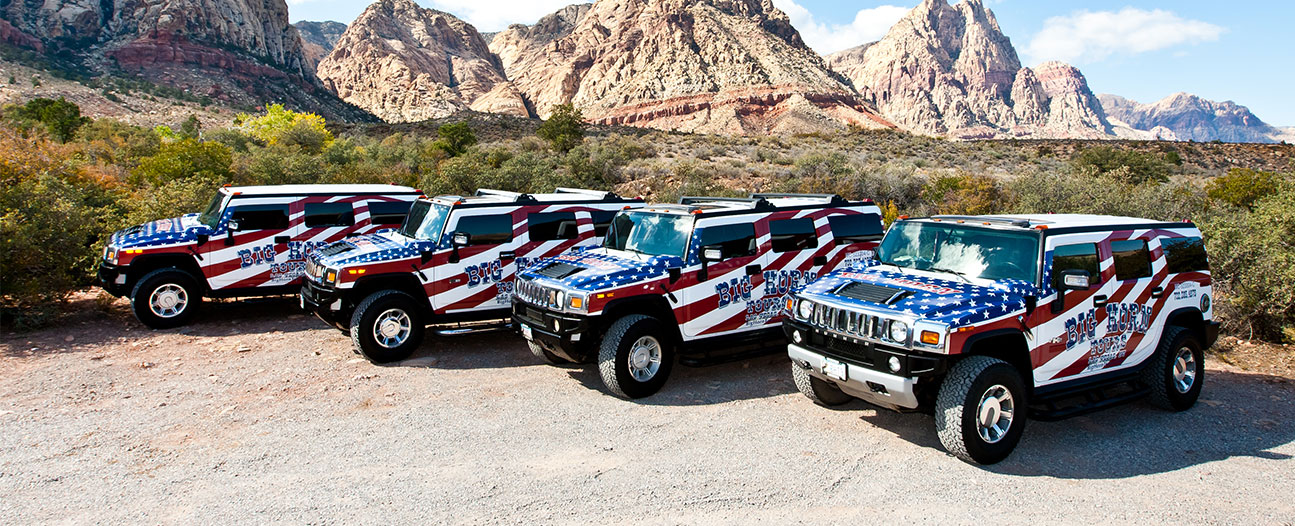 "Las Vegas to Grand Canyon Hummer Tours. Unforgettable Grand Canyon Hummer Tours from Vegas in luxurious H2 Hummers and by helicopter. Book the Grand Canyon adventure of a lifetime now!"
The luxurious Hummer H2's at this famous location have access to areas that no other Las Vegas ground tour has which is to the heart of the Mohave Desert and Joshua Tree Forest. Tour with them and you'll get an experience you'll never forget.
Everyone knows that there's a lot of fun to be had in Las Vegas. Indeed, the many casinos, restaurants, shows, and all-around atmosphere have rightly made it one of the best tourist destinations in the States. But if you're going to visit the City That Never Sleeps, then you might want to look beyond the bright lights of downtown. Why? Because you're within easy reaching distance of one of the world's most spectacular natural sights! While there are many ways you can travel to the Grand Canyon from Las Vegas, the best way, in our book, is with a hummer tour. Take a read of why you might just want to consider this choice next time you're in town.
Riding in Style
If you're going to go anywhere, you should do so on in style. But when you're going to one of the world's most magnificent sights? Then it's of utmost importance that you're traveling in style. With a hummer tour, it'll be about the journey just as much (OK, nearly as much) as the destination. There's nothing more Las Vegas than jumping in a hummer and journeying to the Grand Canyon with your friends by your side. You'll be doing Las Vegas the right way.
You See More
You'll love the ride for other reasons, too — you see much more. There's a lot to be said for a helicopter tour, but the fact of the matter is that you're high above the ground — there'll be so much stuff on the way to the Grand Canyon that you miss. When you're in a hummer, you'll be riding in style and also seeing more than you would if you went via other means. Lake Mead and the Hoover Dam, for example, will be an up close and personal experience.
Off the Beaten Path
No-one ever regrets taking the road less traveled! That's where the magic happens. If you're looking at Grand Canyon tours from Vegas, then why not take the option that'll give you a unique experience? It's a no-brainer. When you're in a hummer, you'll have many more parts of the route open to you. This is a vehicle that has no problem crossing difficult terrain! There aren't too many tours that can provide an off-road adventure into Joshua Tree Forest, but a hummer tour can.
It's Different

The best thing about Las Vegas (or one of them at least) is that it's an individual experience. However you want to do things, you'll find you can in this city. In that spirit of doing things your own way are hummer Grand Canyon tours. Many people take a bus or drive themselves, or take to the skies in a helicopter. You'll be doing things your own way.
It's Comfortable

Finally, let's remember that Vegas is all about indulgence. A hummer vehicle is right up there when it comes to living well! On your journey to the Grand Canyon, you won't be sitting uncomfortably, just hoping to arrive. You'll be living it up in comfort, perfect!
Media Contact
Company Name: Big Horn Wild West Tours
Contact Person: Bill C
Email: Send Email
Phone: 702.385.4676
Address:2657 Windmill Parkway, 357
City: Henderson
State: Nevada
Country: United States
Website: http://bighornwildwesttours.com