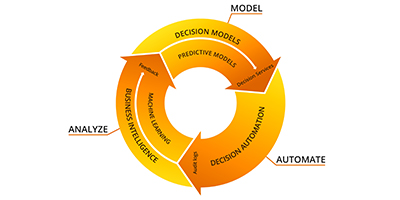 Trisotech introduces features for leveraging actionable business intelligence
Montreal, QC, Canada – August 14th, 2019 – Trisotech (http://www.trisotech.com) today announced that it now enables organizations to integrate predictive analytics in decision modeling using Decision Model and Notation (DMN) in its Decision Management Suite.
Trisotech's Decision Management Suite is an easy-to-use visual modeling environment that combines Decision Management with various Predictive Analytics techniques to enable better, faster, and more accurate decisions for organizations. "This powerful combination ensures that automated business decisions are always explainable, auditable, and traceable. As a result, our clients benefit from actionable Business Intelligence provided by dashboards based on meaningful business decisions and sub-decisions," says George Barlow, Chief Sales Officer at Trisotech.
The Decision Management Suite uses Predictive Markup Modeling Language (PMML) to integrate predictive models directly into a DMN model. PMML is an XML-based predictive model interchange open standard which encapsulates various types of predictive models such as R, Python, and SPSS. DMN is a standard for modeling and executing business decisions using a Friendly Enough Expression Language (FEEL) which is suitable for both business and IT users. It allows business rules to be defined for manual or automated decision making, provides a robust and executable model for decision making within organizations, and generates decision models that are scalable across organizations.
The Suite enables collaborative participation for both technical and non-technical users to take advantage of Predictive Analytics. Business people can now publish decision models that include PMML as decision services with one click, allowing them to leverage predictive models without having to learn the backend, which is maintained by technical resources. Moreover, the latter can obtain configurable audit logs, including submitted inputs and obtained results and use Machine Learning to discover correlations on decision automation results. Using the same decision traces, business users can also obtain actionable business intelligence from dashboards based on business decisions outcomes. This product innovation enables both technical and non-technical resources to continuously improve consistency and quality of business decisions.
About Trisotech
Trisotech is a global leader in digital enterprise transformation solutions, offering innovative and easy-to-use software tools that allow customers to visualize, innovate, transform and improve their digital enterprise processes and business decisions. Trisotech customers use The Digital Enterprise Suite to provide new and revolutionary ways for their knowledge workers to collaborate and succeed in an increasingly global, connected and competitive world. Trisotech products are providing digital transformation help to financial, healthcare, agriculture, manufacturing, insurance, government, and many other types of organizations.
Trisotech is a privately held company.
Website: http://www.trisotech.com
Media Contact
Company Name: Trisotech
Contact Person: Jonathan Lecuyer
Email: Send Email
Phone: 15149906639 x501
Address:3100 Boulevard de la Cote-Vertu, Suite 420
City: Montreal
State: QC
Country: Canada
Website: Trisotech.com