"The recent merger of Apex Biosciences and Slyngshot Health is the first of its kind, combining companies with novel agricultural science and leading medical practice to bring innovative products to market that various customer segments can benefit from."
Los Angeles, California – Apex Biosciences and Slyngshot Health have announced the completion of a merger of all infrastructure to form The Anthos Group. The newly formed company owns various assets and intellectual property that is poised to disrupt the hemp and cannabinoid industry.

Apex Biosciences operation facilities are in Eugene, OR and they specialize in agricultural science and hemp cultivation. Through the development of novel agricultural programs, Apex Biosciences has passed numerous inspections by regulatory bodies to assure the compliance of their products and practices. As a result, Apex Biosciences became a desirable partner for Slyngshot Health, based out of Chicago, IL, which was a medically focused company that specialized in technology, education, and Personalized Medicine. As the company grew, their large network of healthcare providers requested more education around cannabinoids, particularly cannabidiol (CBD).
"As we researched the CBD industry to bring education to our healthcare partners, we realized that many products were not of high quality and were actually dangerous due to different contaminants. This provided an opportunity to bring a high purity product to market that our healthcare providers could comfortably recommend for their patients," said Badal Shah, CEO of The Anthos Group.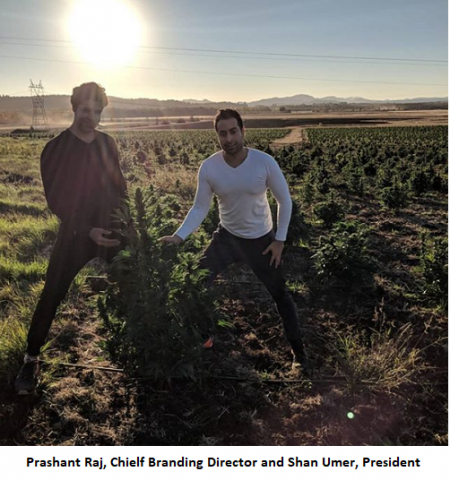 Shah and Shan Umer, President of The Anthos Group, explained that the only way to truly guarantee quality of a final product is to control every step in its production, the true definition of seed to shelf. "Based on what we had seen in the industry, we knew that we could make a superior product by simply focusing on the pure science of cultivation. Our farms employ organic practices and nurture products that are non-GMO, pesticide free, and are consistently high in CBD yield through our hemp cloning programs," said Umer.
Natural, organic products are a priority for The Anthos Group, whom also employs physicians and pharmacists of various therapeutic areas to assure products are safe and effective for customers. This enables the company to launch product lines in the cosmetic, medical, lifestyle, and fitness segments, reaching a wide span of customers that may find benefits in these natural product lines.
The cannabinoid/CBD market is projected to be upwards of $20 Billion over the next five years, and The Anthos Group is amid Series A funding to support their growth within the industry. The Anthos Group is headquartered in Los Angeles, CA and sports an impressive portfolio of consumer brands and private label partners.
For more information, please visit: www.theanthos.com
About
Apex Biosciences and Slyngshot Health have merged to form The Anthos Group, offering a unique seed to shelf transparency injected with agricultural expertise and clinical guidance. The company is focused on cultivating and bringing organic, high quality hemp products to market through the launch of three dynamic brands, all originating from Anthos Group facilities in Oregon.
Media Contact
Company Name: The Anthos Group
Contact Person: Cohin Kakar
Email: Send Email
Phone: (888) 424-0029
City: Los Angeles
State: CA
Country: United States
Website: www.theanthos.com