The trends of the bridesmaid dresses are different every year. According to the weddings held in the first half year, the modest bridesmaid dresses has become the trend of 2019.
It is all know that the wedding is the most important moment in a girl's lifetime and it is the only one star in the wedding. And the bridesmaids are the best dressed women in a wedding only after the bride. So the brides and the bridesmaid will have to do a lot of work in choose a bridesmaid dress that will be perfect for the wedding. But it is hard to follow the fashion of the bridesmaid dresses as it changes constantly.
According to the research on the wedding market in the first half year, people are more likely to choose a modest bridesmaid dresses to attend a wedding. A modest bridesmaid dress is perfect for ladies who are a bit shy or are more comfortable with skin coverage. But there are not a great collections for the modest bridesmaid dresses for the choice and most of them are too revealed in the front, back or arms. So it is really hard to find a best modest bridesmaid dress for the wedding.
BMbridal is a fashion-forwarded global company, specializing in designing and manufacturing the bridesmaid dresses. They did a lot of research on the bridesmaid market and find the situation of lack of the modest bridesmaid dresses. So they create and release a new section of the bridesmaid dresses, which is aiming to meet the need of the bridesmaids.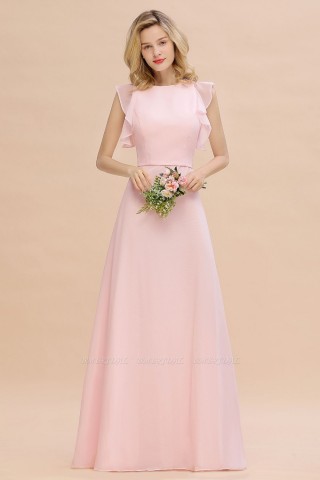 Simple Jewel Sleeveless Bridesmaid Dress
This pink bridesmaid dress has a simple style. The floor-length and the jewel neckline add to the modesty of this dress. Pair it with silver heels and a cherry-red lips to highlight the dress. With this dress, the bridesmaid is sure to add glamour to the bride's entourage.
BMbridal is a really friendly to the customers. With a simple navigation, it will only take a few minutes for the bridesmaids to find the right dress in BMbridal web store. They also have swatches on the site so that the bridesmaids can order fabric swatches to help them make an decision on the exact color and material. The bridesmaid could also find the promotions run through the store which will save them some good money. Flexible payment methods and quick shipping make it even relaxing to shop on BM bridal.
Media Contact
Company Name: BM Bridal Co., Ltd.
Contact Person: Drue Fitzgerald
Email: Send Email
Phone: 1-510-598-5158
Address:4982 Bayview Dr
City: Stockton
State: CA
Country: United States
Website: https://www.bmbridal.com