Video Converter by Wondershare Announced A New Brand and Identity "Uniconverter". The Wondershare Uniconverter is the first of its kind all-inclusive video converter designed to work as a compressor, editor, and burner, allowing anyone and everyone to format a video to their desired format. Uniconverter is particularly designed to ensure that users get the best possible from any video formation regardless of their video editing skills, without requiring them to break the bank or spend long hours formatting videos.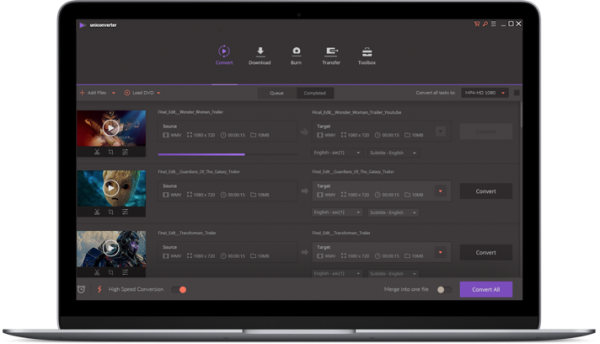 Formating videos can be sometimes stressful and time-consuming. This can be true for individuals that are not very conversant with the use of the different software applications available on the market. While the plethora of applications offers users an opportunity to select from a long list of applications, many of such video editing solutions do not meet the needs of users. This is where the Wondershare Uniconverter is particularly unique and helpful to all classes of video editors – professional or amateur.
The UniConverter has been described as "the best video conversion solution," converting any video to more than 1,000 formats, including MP4, MOV, MKV, M4V, FLV, DIVX, AVI, and a host of others. The application converts videos for practically any kind of devices, including Apple devices, Android devices, VR, game consoles with 30X Faster Video Conversion Speed that converts videos with zero quality loss or video compression.
The Wondershare Uniconverter is designed to create outstanding videos that will wow the viewers or audience as the case may be. It also has a unique "saving feature" that allows users to save videos from more 10,000 sites with one click.
The Powerful DVD toolkit also helps users to create and edit DVD files in an easy way, Transfer Videos to Devices and External Hard Drives, Video Compressor, Image Converter, Screen Recorder, Fix Video Metadata, GIF Maker, VR Converter, DVD to Video Converter, and CD Burner.
With more than 500,000 new users every month, there is the motivation to understand the potential video converter market and build a high-value software to meet the huge demand from it. "Our belief – what makes us the best, is to provide a high standard solution to all video lovers who are keen on a quality result from video converter," said Kai Young, Director of Uniconverter.
More information about the Wondershare Uniconverter can be found on their website – https://videoconverter.wondershare.com/.
About Uniconverter
All-in-one video converter, compressor, editor, burner, Uniconverter is the "best Video Converter" on the market. The application was launched by Wondershare Technology to address the needs of video editors and other such users of video editing applications. Wondershare is a listing company in China that aims to create simple, innovative, solutions to everyday challenges and committing to enriching people's lives through technology.
Media Contact
Company Name: Wondershare
Contact Person: Taylor Lei
Email: Send Email
Phone: +86-755-8939-9107
Country: China
Website: https://videoconverter.wondershare.com/