HOUSTON, TEXAS – August 20, 2019 – G-Squared Events is excited to announce their upcoming event entitled the "Louisville Soul Music Festival" with Keith Sweat, Anthony Hamilton, Angie Stone, and Joe. This night of soulful music will take place on Saturday, November 9, 2019, at the KFC Yum! Center in Louisville, Kentucky.
Doors are scheduled to open at 7:00PM and the event will take place at 8:00PM. Presale begins Friday, August 23, 2019, at 10AM on Ticketmaster.com and at the KFC Yum! Center Box Office. Tickets will go on sale to the general public starting Monday, August 26, 2019, at 10 AM. Ticket prices for the event range from $42.50 – $125.00.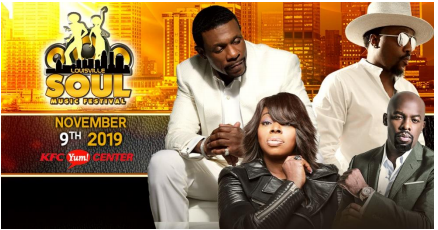 Keith Sweat is a Harlem, New York, born songwriter, record producer, vocalist, actor, and radio personality, with a career that spans over 24 years of record breaking and trail blazing contributions to the Pop and R&B genre. He is coined the genius behind the New Jack Swing phenomenon of the late 1980's. Keith Sweat's timely transition to the R&B mecca of Atlanta in 1992 added "label impresario" to his roster of talents. Keith has dominated the Pop and R&B worlds with an undeniable presence. His debut and now classic album "Make It Last Forever" sold more than three million copies, producing four R&B hit singles, including "I Want Her," which also landed at #5 on the Pop charts. Keith Sweat has delivered five straight #1 albums, selling a worldwide total of 25 million records. His self-titled 1996 effort "Keith Sweat" gained quadruple platinum status. His critically acclaimed collaboration with fellow superstars Gerald Levert and Johnny Gill on the double platinum LSG was launched a decade after he first landed in the music business.
On the cusp of his third decade in the spotlight, Sweat has almost become a genre unto himself, his pleading ballads a mainstay of radio's "Quiet Storm" format. As if in acknowledgement of that, Sweat hosts the #1-nighttime nationally syndicated radio show, "The Sweat Hotel." The live call-in program boasts 3 million listeners exchanging dialogue with Keith about matters of the heart. Keith Sweat garners an impressive fan base in the fickle genre of Pop R&B and continues to redefine boundaries.
Proclaimed a "national treasure" by the Los Angeles Times, GRAMMY® Award winning singer, songwriter, producer, and actor Anthony Hamilton has achieved global sales of over 50 million albums. The North Carolina Music Hall of Fame inductee notably performed for President Barack Obama and First Lady Michelle, cementing his place in the history books as the "narrator of love." He appeared in "American Gangster" and lent his voice to "Freedom" from the Academy® Award-nominated Django Unchained. Additionally, he became the first R&B artist to sell an album at Cracker Barrel.
Hamilton's decorated catalog includes his 2003 debut "Comin' From Where I'm From" (which carried the hit title track), 2005's "Ain't Nobody Worryin'" among other efforts. He has earned several Grammy nominations, like "Po' Folks," the 2002 Nappy Roots collaboration that earned a nod for best rap/sung collaboration, and won his first trophy in 2009 for best traditional R&B vocal performance for his duet with Al Green on "You've Got The Love I Need." He has also lent his vocals to a variety of talent including Nas, Rick Ross, Carlos Santana, Jill Scott, Tupac, and Al Green to name a few. His album "What I'm Feelin" released in 2016 received Grammy nomination for the title song.
Angie Stone is an American singer, songwriter, actress, and record producer. She rose to fame in the late 1970's as member of the hip hop trio The Sequence. Soon after, Stone began working with futuristic rap group Mantronix and singer Lenny Kravitz. In the early 1990's, she became a member of the R&B trio Vertical Hold. In 1999, Stone released her solo debut "Black Diamond" on Arista Records, which was certified gold and spawned the R&B number-one hit "No More Rain (In This Cloud)." After transitioning to J Records, she released another gold-seller, "Mahogany Soul (2001)," which included the hit single "Wish I Didn't Miss You" followed by "Stone Love" (2004) and "The Art of Love & War" (2007), her first number-one album on the US Billboard Top R&B/Hip-Hop Albums chart.
Stone ventured into acting in the 2000's, making her film debut in the comedy film "The Hot Chick" (2000) and her stage debut in 2003, in the role of Big Mama Morton in the Broadway musical "Chicago." She has since appeared in supporting roles in films and television series as well as several musical productions, including VH1's "Celebrity Fit Club" and TV One's "R&B Divas" and movies such as "The Fighting Temptations" (2003), "Pastor Brown" (2009) and "School Gyrls" (2010). A three-time Grammy Award nominee, she has two Soul Train Lady of Soul Awards.
Veteran R&B crooner Joe Thomas, better known simply as "Joe", whose career spans over two decades and 12 albums, is a great example of an artist whom uses his musical prowess for the better good. Since his debut in 1993 with hits like "I Wanna Know" and the Top 5 R&B/Top 40 pop hit "Don't Wanna Be a Player," the multi-Grammy nominated crooner has been curing broken hearts, saving relationships, and providing the airways with certified R&B love songs.
About G-Squared Events
Based in Houston, Texas, G-Squared Events produces high-quality live entertainment experiences with some of the world's biggest performers including Charlie Wilson, B2K, Tyrese, Steve Harvey, Keith Sweat, and Brian McKnight. For over 20 years, G-Squared Events has leveraged data-driven insights with our event production expertise to deliver world-class events while earning enduring loyalty from our patrons, artists, and venue partners. G-Squared Events was recently recognized as one of the top independent promoters, at No. 30 on Pollstar's Q2 '19 Worldwide Top 100 Promoters chart.
To learn more, visit www.GSquaredEvents.com

Follow:
https://www.facebook.com/gsquaredevents
https://twitter.com/gsquaredevents
https://www.instagram.com/gsquaredevents/
Media Contact
Company Name: Tara Thomas Agency
Contact Person: Tara Thomas
Email: Send Email
Phone: 812-558-8882
Country: United States
Website: https://www.tarathomasagency.com/