"One of Nigeria's BEST and HOTTEST female artist "TENI" will display her latest at the Nigerian Independence Day Parade on October 5. Come early so that you can see how she is taking NYC by the storm."
NYC NIGERIAN INDEPENDENCE DAY EVENTS
2019 DATES ANNOUNCED
October 3-5 Kicks Off Largest Three-Day Celebration of Nigerian Culture Outside the Homeland
NEW YORK, NY – Nigerians around the world are gearing up for the "largest gathering of Nigerians" in commemoration of the 59th anniversary of Nigeria's Independence Day. The three days event will showcase Nigeria's unique culture in New York City on October 3 – 5, 2019. Since its founding in 1991, the NYC Nigerian Independence Day celebration has become the largest observance of Nigeria's independence outside of Nigeria. Teni, the hottest female artist in Nigeria will cap the event at the park
On October 1, 1960 Nigeria gained its independence from Great Britain. The day has since been recognized as a public holiday in Nigeria and is celebrated in Abuja and in Nigeria's 36 states with dancing, singing and other festivities.
Now in its 28th year, the NYC Nigerian Independence Day Parade and Carnival is organized and presented by the Organization for the Advancement of Nigerians (OAN), and Nigerian Independence Day Committee, a coalition of Nigerian cultural, religious, professional, business, and civic groups committed to preserving, presenting and celebrating Nigeria's rich history and culture. The celebration is now a mainstay, contributing to the rich and diverse culture of New York City.
The 2019 NYC Nigerian Independence Day Parade and Festival events will include:
Welcome Party
Thursday, October 3, 2019
Festac Lounge
Brooklyn, NY.
Nigerian Cultural Night 2019
Friday, October 4, 2019, 7pm -12am
Tickets: $15 for students, $20 for nonstudents
Jamaica Performing Arts Center
153-10 Jamaica Avenue
Queens, NY 11432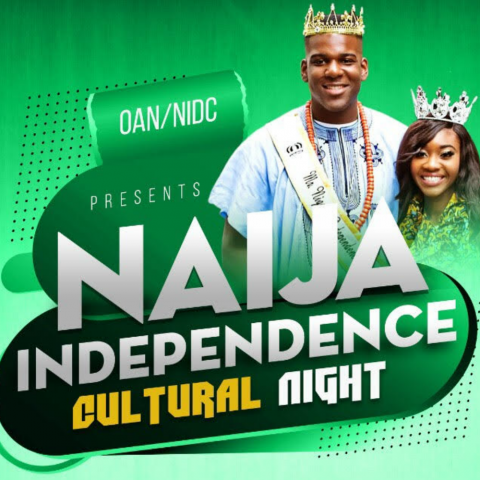 Buy Your Tickets @ https://oanculturalnight2019.eventbrite.com
An annual cultural celebration of creative fashion, music and fun where attendees of all ages are asked to wear their favorite cultural attires and be prepared to dance, sing and celebrate the night away. Nigerian DJs will be on-hand spinning the most popular Nigerian and afrobeat hits.
The Nigerian Independence Day Parade 2019
Saturday, October 5, 2019, 11am Sharp
Free and Open to the Public
Parade Route Begins at 2nd Ave and E. 54th Street and ends at E. 44th Street in NYC
Known as the largest celebration of Nigeria not happening in the homeland, the 27th annual Nigerian Independence Day Parade celebrates the very best of Nigeria's food, culture, music, and people. The route will end at Nigeria House, and will be followed by the Independence Day Carnival at Dag Hammarskjold Plaza near the United Nations Headquarters. The hottest female artist in Nigeria, Teni the Entertainer, as well as the No 1 DJ in Nigeria, and other artists will thrill the audience.
The Official NIDC After Party
Saturday, October 5, 2019, 10:00pm -4am
Tickets: https://www.instagram.com/coscanino/
About the Organization for the Advancement of Nigerians
The Organization for the Advancement of Nigerians (OAN) Inc. (the coordinator of the Nigeria Independence Day Celebration in NYC) was founded in 1989 by a group of concerned Nigerian to address the needs of the Nigerian community. Prior to OAN's formation, no organization existed that was committed to broader issues facing the Nigerian community in the United States.
Vist Us on Facebook: https://www.facebook.com/NIDPNYC/
Media Contact
Company Name: The Organization for the Advancement of Nigerians (OAN) Inc.
Contact Person: Francis James
Email: Send Email
Phone: 646 733 8201
Country: United States
Website: http://www.oanweb.org/