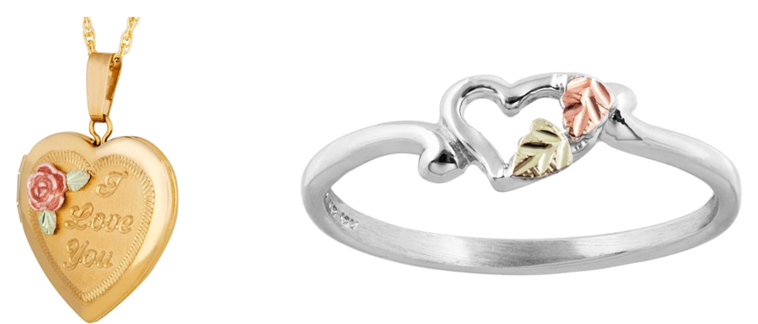 Anyone looking to get the perfect Valentine's Day gift for their sweetheart is being offered the chance to find the right locket, necklace, or ring by the staff at Jewelry Black Hills Gold. To celebrate this day, the jewelry retailer has discounts on many of its bestsellers.
The online jewelry retailer has discounts in place on several of the products it sells, such as a gold heart locket, glimmer diamond swirl necklace, and silver mystic fire ring.
In addition to providing discounts on many of its most romantic bestsellers, Jewelry Black Hills Gold also has a range of shipping options that should appeal to advance and last-minute shoppers.
The retailer offers a "need by date" option that allows shoppers who are down to the wire to make sure their gift arrives in time. Customers who want to take advantage of this service should call or email the company and let the staff there know the "need by date," and they will attempt to meet it.
Jewelry Black Hills Gold provides express shipping through the United States Postal Service or UPS. Shoppers with special shipping needs are encouraged by staff to contact them by phone or email.
For those who have a tough time choosing the right present for that special person, there's a gift card option that is available on the retailer's website. Amounts range from $50 to $250, and the cards are delivered by email.
The products offered by Jewelry Black Hills Gold are created with tri-color gold and silver that is from the Black Hills region in South Dakota. It is mined, designed, and handmade in the area. This jewelry has become known locally as the "South Dakota State Jewelry."
Call Jewelry Black Hills Gold at 814-810-8215 to learn more about the products they offer. To learn more about the company, shoppers can check out the detailed information available on their website. They serve customers across the United States.
Media Contact
Company Name: Jewelry Black Hills Gold
Contact Person: Amy Summey
Email: Send Email
Phone: (814) 810-8215
Country: United States
Website: https://www.jewelryblackhillsgold.com