Soniya Ahuja is a Staff Program Manager at Broadcom Inc. She is an Agile Guru and has lead agile transformations at multiple Fortune 500 companies. In her talk titled "The Art of Hypothesis" she spoke about the importance of Hypothesis in corporate settings and presented the different types of hypothesis that can formulated and evaluated. She is a SAFe Program Consultant and has many years of agile experience working with Scrum, Kanban and enterprise agile frameworks like Scaled Agile Framework.
Soniya Ahuja is a seasoned program manager with a background in development and entrepreneurship. She has lead many agile transformations and was invited to speak at the SAFe Summit at San Diego. Calling in her expertise on coaching many product maangement and program management teams, she spoke about "The Art of Hypothesis".
Soniya said, "Many products fail because they assume what a customer wants is what the VP wants without validating it. Hypothesis allows teams to learn fast and fail fast. It encourages agile teams to collect early feedback allowing teams to course correct or pivot early in the product development cycle at frequent intervals than waiting for a big bang failure."

Video Link: https://www.youtube.com/embed/1E1h5gE_ous
In her session on "The Art of Hypothesis" for agile product development Soniya spoke on the following topics
Lifecycle of Hypothesis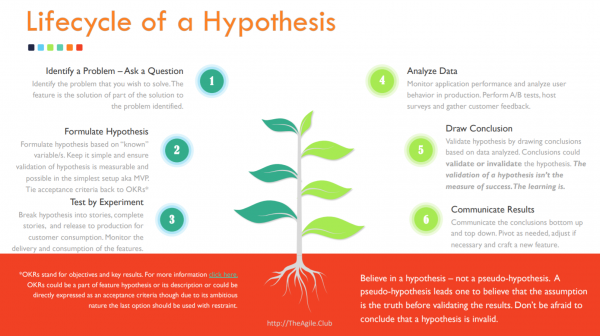 Soniya lead the audience through a round of thought provoking discussions around the lifecycle of a hypothesis. She was quoted saying, "A hypothesis is not a factual statement. Through experimentation you can evaluate a hypothesis and the evaluation could pass or fail. One should not be afraid to fail, instead one should be afraid of assuming a hypothesis as the ultimate truth without validation." She stressed the need of using hypothesis to validate or invalidate an idea. "Work should not be prioritized based on the request of a person who shouts the most or who boasts that finishing a feature will bring in additional revenue. The true measure of success is only customer validation and customer feedback must be gathered to determine how work should be prioritized and this same feedback can be used to evaluate a hypothesis." According to her many agile teams fail because they only adopt the concepts of agility at the surface without understanding the underlying principles. Hypothesis was one such concept which was mostly adopted at the surface without experimentation which made it an overhead than a value add to the agile teams' backlogs.
Types of Hypothesis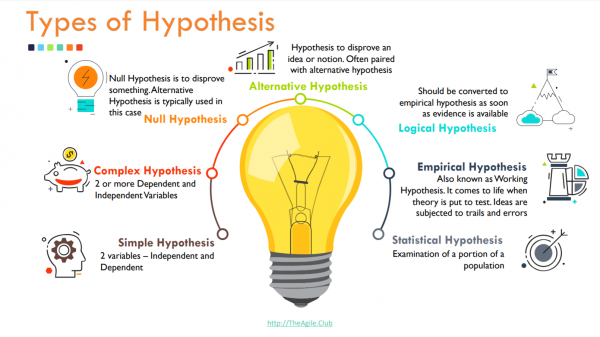 Soniya spoke of 7 different types of hypothesis
1. Simple Hypothesis – has a single pair of dependent and independent variable
2. Complex Hypothesis – has one or more dependent and independent variables that change in certain correlation to each other
3. Null Hypothesis – is used to disprove a supposition
4. Alternative Hypothesis – is used in conjunction with a Null Hypothesis to validate an alternative supposition
5. Logical Hypothesis – cannot be evaluated immediately due to lack of an environment for experimentation
6. Empirical Hypothesis – is the working hypothesis where theories are put to test
7. Statistical Hypothesis – is evaluated on a slice of a data that cuts across the actual dataset
She wrapped the session by concluding that hypothesis is a strong but often neglected component of product development due to prejudices and false sense of egos.
Her presentation can be downloaded from https://global.safesummit.com/?ddownload=7872
Soniya asked the audience members to register at http://theagile.club for more Agile resources and discussions
To connect with Soniya Ahuja you can visit her LinkedIn profile at https://www.linkedin.com/in/soniyaahuja/
Media Contact
Company Name: The Agile Club
Contact Person: Media Relations
Email: Send Email
Phone: 4259519770
Country: United States
Website: http://theagile.club