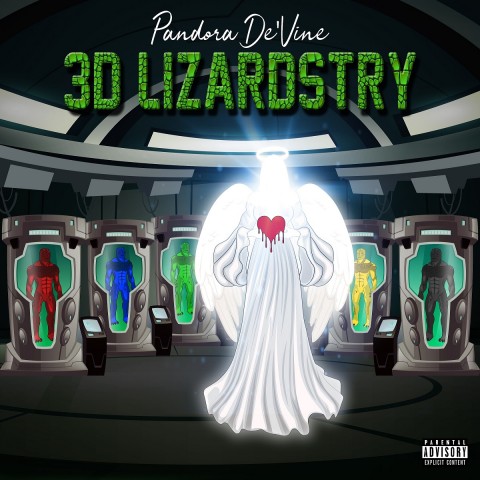 Pandora De'Vine is a talented new singer who recently entered the music scene with a bang, releasing her new single '3D Lizardstry', featuring amazing vocals by her, and groovy beats. Her single gives a sneak peek into the kind of unique, catchy and hard-hitting music she wishes to create. She says her mission is 'Love and light' and she wants to use music as a way to touch souls.
Interviewer: Give us a brief of your background.
Pandora: I'm a multi-dimensional soul doing a divine mission for the world. I'm a spiritual person, who wants to remove the darkness into the music industry with her light. I want to send a positive message through my music that inspires people to keep going, no matter what. I just want to say that follow your heart… look past what you think you know and follow what you know.
Interviewer: What inspired you to become a musician?
Pandora: PAIN, which is the dark; LOVE, which is the light. Growing up, I listened to a lot of Rap music and used to mug up all the lyrics and try to perform like the popular rappers. I'm really inspired by artists like JayZ, Kanye West, Nicki Minaj, and MIA.
Interviewer: What kind of music do you create?
Pandora: Music from the soul… The heart. My music is catchy, unique, and sure to make you think while not missing a beat. I feel, with my music I'll be able to groom the new generation coming in. That's what we all need in life… a little DE'VINE grooming and that's where PANDORA comes in.
Interviewer: Tell us about your latest single 3D Lizardstry' and the story behind its unique name?
Pandora: This single is a PSA to all upcoming artists who are trying to get signed to the dark music industry.
Interviewer: What are your upcoming projects?
Pandora: Only time will tell. I also have a documentary coming out soon that'll describe my journey into the music industry in detail.
Listen to her latest single on iTunes and Spotify.
Social medial links:
Instagram: @PANDORA_DEVINE
Media Contact
Company Name: G Media
Contact Person: Press Executive
Email: Send Email
Country: United States
Website: www.facebook.com/gmediasolutions