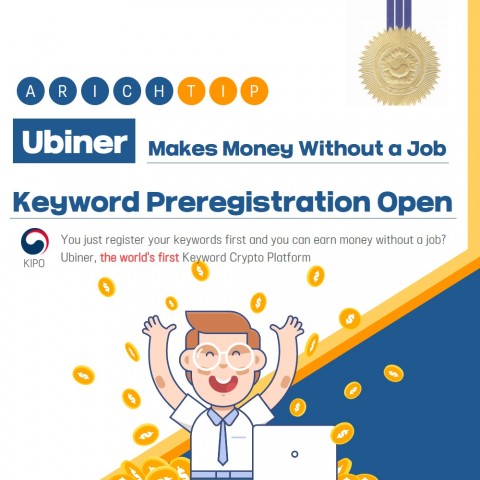 There is a company that makes users generate profits even though they have no jobs. Ubiner has developed and patented an innovative business model by connecting the Ubiner Keyboard Application and the Ubiner Platform, thereby allowing users to create their platform businesses if they register keywords on the platform.
This innovative business model is a "job-creating" blockchain system where anyone can create platforms free of charge by registering popular keywords.
While the life spans are longer and people need more income, jobs gradually decrease by ever developed technologies. It is a fact that this disparity in employment and income has already led to an increasing number of households living on their grandparents' pensions in many countries, including Italy.
To resolve this problem, Ubiner strived to develop the business model that connects keywords and platforms and now aims to help people create lasting income and to address the severe disparity in employment and income that all humankind will face in the future.
The keyword platform market is truly infinite, as countless people around the world are exchanging messages on their smartphones in everyday life. Anyone can automatically have their own platforms when they register keywords on the Ubiner Platform, and in particular, adults can start a new platform business free of charge.
With the installation of the Ubiner Keyboard App, people can generate profits every time themselves write text messages on their smartphone. And if they first register a text message on the app, they can also make additional profits whenever someone else writes the text message, and can have their own platform because the text message registered by they automatically creates a platform. This platform also allows users who use the text message to become the member for the platform automatically, and the number of members increases by itself. Therefore, an official of Ubiner explains that everyone can start a platform business and make lasting profits.
With the spreading of the news on Ubiner, the number of users, who try to register popular keywords in advance even before the official opening, is rapidly increasing, including coffee, cosmetics, travel, blockchain, and artificial intelligence.
The company operates a system called "free Keyword Gift" to increase the profits of members further, and any participant can provide a "popular keyword" as a gift to their family or friends free of charge. To be specific, this is a system where profits from the keyword and platform of the participant giving it to a member as a gift will be paid to the participant during life if the member registers the keyword on the platform. The company plans to launch Ubiner Keyboard App and Ubiner Platform in April.
If people want to register text messages (keywords) that are expected to be profitable in advance before the launch of the app, they can visit the website of Ubiner to register it.
Media Contact
Company Name: Ubiner
Contact Person: Kim In Young
Email: Send Email
Phone: +821093043893
Country: South Korea
Website: http://ubiner.com/