The new published report by Polaris Market Research, the Hydrogen Fuel Cell Vehicle (HFCV) Market is anticipated to reach $28.82 Billion By 2026 and growing at a CAGR of 41.2% from 2020 to 2026.
The global hydrogen fuel cell vehicle (HFCV) market size is expected to reach USD 28.82 billion by 2026 according to a new study by Polaris Market Research. The report "Hydrogen Fuel Cell Vehicle Market Share, Size, Trends, Industry Analysis Report By Technology (Proton Exchange Membrane Fuel Cell, Alkaline Fuel cell, Solid Oxide Fuel Cell); By Vehicle Type (Commercial Vehicle, Passenger Car); By Regions, Segments & Forecast, 2020 – 2026" gives a detailed insight into current market dynamics and provides analysis on future market growth.
In contrast to conventional gasoline, petrol or diesel vehicles, a hydrogen fuel cell incorporates oxygen and hydrogen, which in turn produce energy for the car. There are numerous factors affecting the forward momentum of the market. Developing varied technologies in the automotive industry generates new opportunities for growth. Furthermore, a hydrogen fuel cell vehicle's enhanced cargo capacity and longer range contribute to its growth. Since hydrogen fuel cell cars can generate their own energy, many eco-conscious clients opt for fuel cell vehicles over domestic electric cars. Growing environmental awareness is expected to increase the global HFCV market during the forecast period. This is because of decreased carbon emissions from HFCVs, unlike conventional vehicles operating on petrol, diesel or petrol.
Request A Sample Report At: https://www.polarismarketresearch.com/industry-analysis/hydrogen-fuel-cell-vehicle-market/request-for-sample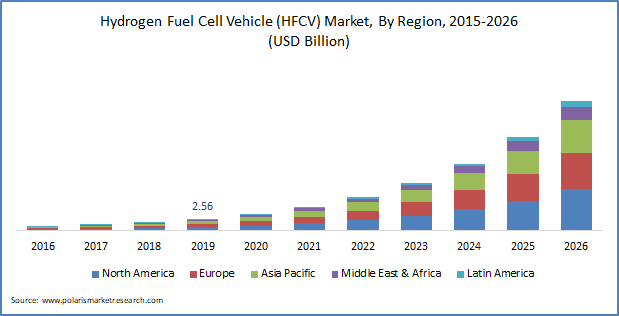 Many government organizations and concerned authorities and industry partners have initiated plans to such advanced infrastructure networks to spur the market at a global level. The leading automakers such as Toyota, Audi, and Honda have developed a range of hydrogen cell-based fuel cars for the global market.
Get Full Research Summary on Global Hydrogen Fuel Cell Vehicle (HFCV) Market Analysis Available At: https://www.polarismarketresearch.com/industry-analysis/hydrogen-fuel-cell-vehicle-market
Owing to an increase in electric vehicles, there is a large number of such fueling stations being established in the parts of North America, Europe, and Asia-Pacific. In 2017, there were over 330 hydrogen fueling stations operating across the globe, with over 50 each in California, Germany, and Japan. There is around 35 retail hydrogen fueling station being built in California and nearly 15 hydrogen-fueling stations are operating in the UK in 2017. Moreover, the government authorities such as the US Department of Energy (DOE) are investing public funds for the rollout of hydrogen fueling stations, is further augmenting the growth of the global market.
Furthermore, according to the International Energy Agency, Germany has around 23 operating hydrogen fueling stations in 2017. These numbers are to be outnumbered by more than 50 as the country is constructing 25 more such stations, and at the end of 2017 around 60 stations are estimated to be operational. The National Organization Hydrogen and Fuel Cell Technology (NOW) coordinated Germany's National Innovation Programme (NIP) to establish 50 stations with $134 million. Public and private stakeholders are convened by the Clean Energy Partnership to create this initial network. H2Mobility, a consortium of Air Liquide, Daimler, Linde, OMV, Shell, and Total, is planning and constructing this network. The consortium plans to have 100 stations by 2019, with around 10 stations each in Hamburg, Berlin, Rhine-Ruhr, Frankfurt, Stuttgart, and Munich metropolitan areas, and the remaining 40 as connectors and destination stations. This infrastructure backbone supports both light-duty and light commercial fuel cell vehicles, with the additional stations expected to grow with the rising growth of the global market.
Since January 2016, the Research Centre for Gas Innovation (RCGI) has been working to offer technology for obtaining fuel cells in 5 years. The center has the mission to investigate the use of the resource in terms of increasing their partnership in the Brazilian energy matrix. It is also making a contribution to the mitigation of greenhouse gas emissions. They have also emphasized that Brazil along with the US, Japan, and Germany, advanced programs to produce hydrogen-operated buses. Hence, this project will support the development of such vehicles.
Request for Discount Pricing With Your Specific Research Needs At: https://www.polarismarketresearch.com/industry-analysis/hydrogen-fuel-cell-vehicle-market/request-for-discount-pricing
Polaris Market research has segmented the HFCV market report on the basis of:
Hydrogen Fuel Cell Vehicles Technology Outlook (Revenue, USD Billion, 2015 – 2026)
Proton Exchange Membrane Fuel Cell
Alkaline Fuel cell
Solid Oxide Fuel Cell
Hydrogen Fuel Cell Vehicles Vehicle Type Outlook (Revenue, USD Billion, 2015 – 2026)
Commercial Vehicle
Passenger Car
Hydrogen Fuel Cell Vehicles Regional Outlook (Revenue, USD Million, 2015 – 2026)
North America
Europe
Asia Pacific
Latin America
Middle East & Africa
Leading players in global Hydrogen Fuel Cell Vehicles Market
The Hyundai Motor Company
Toyota Motor Sales, USA, Inc.
Honda Motor Co., Ltd.
BMW
General Motors Company
Groupe Renault
Mazda Motor Corporation
Hydrogenics
Kia Motor Corporation
Daimler AG (Mercedes-Benz)
About Polaris Market Research
Polaris Market Research is a global market research and consulting company. The company specializes in providing exceptional market intelligence and in-depth business research services for our clientele spread across different enterprises. We at Polaris are obliged to serve our diverse customer base present across the industries of healthcare, technology, semi-conductors and chemicals among various other industries present around the world. We strive to provide our customers with updated information on innovative technologies, high growth markets, emerging business environments and latest business-centric applications, thereby helping them always to make informed decisions and leverage new opportunities. Adept with a highly competent, experienced and extremely qualified team of experts comprising SMEs, analysts and consultants, we at Polaris endeavour to deliver value-added business solutions to our customers.
Media Contact
Company Name: Polaris Market Research and Consulting
Contact Person: Mr.Likhil
Email: Send Email
Phone: +1-646-568-9980
Address:30 Wall Street 8th Floor
City: New York
State: New York 10005
Country: United States
Website: https://www.polarismarketresearch.com/industry-analysis/hydrogen-fuel-cell-vehicle-market