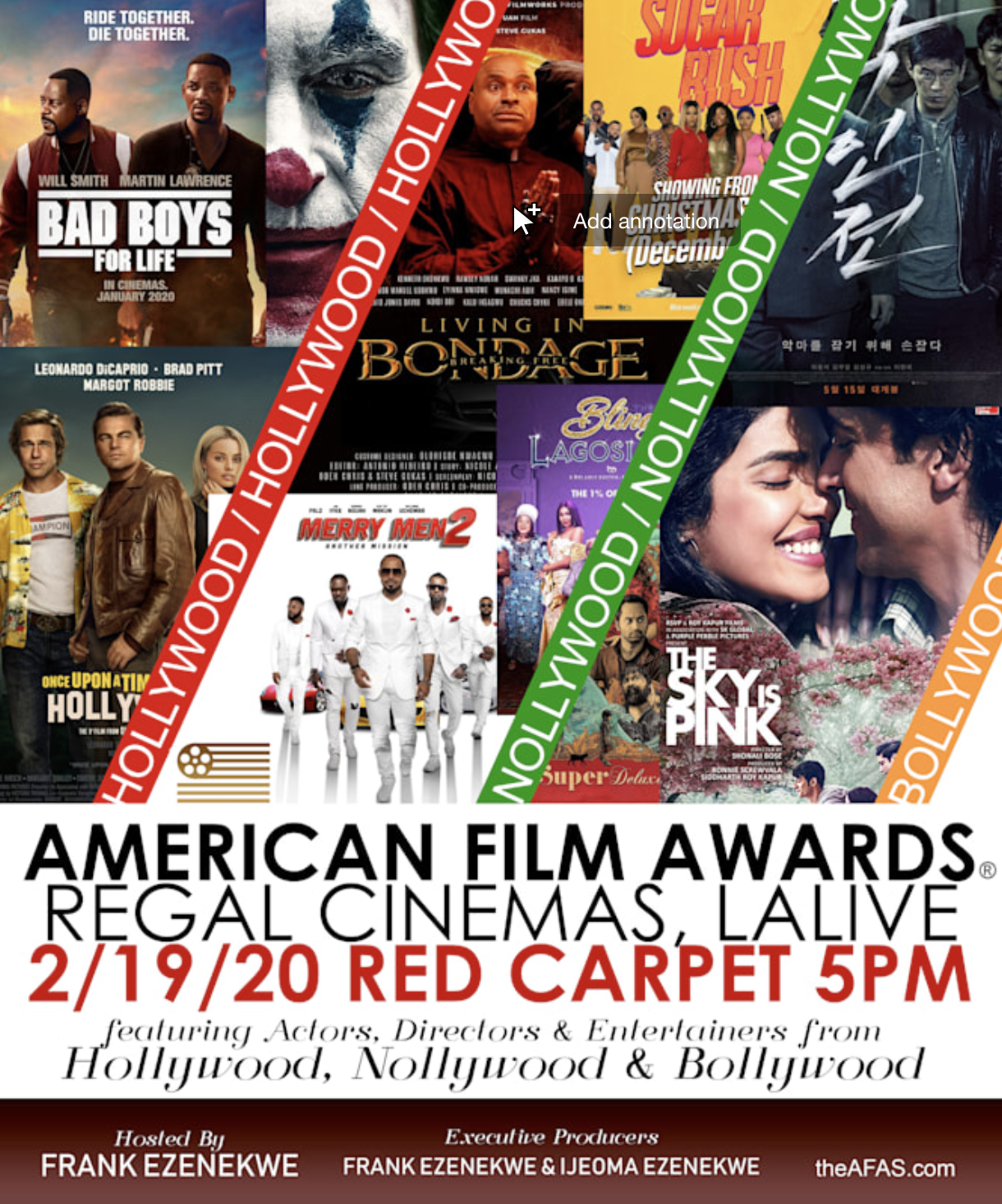 Los Angeles, CA – February 11, 2020 – Hollywood isn't the last word when it comes to great, riveting or relevant cinema. The American Film Awards® is pleased to announce its 2020 Edition to be held on February 19th at the Regal Cinemas LA LIVE. This evening will be even more memorable as the venue is next to Staples Center, where Kobe Bryant's memorial service will be held.
This year, the nominees derive from the global talent pool of artists and will leave the audience spellbound. The evening host will be Frank Ezenekwe. The red carpet will begin at 5 pm and will feature actors, directors, and entertainers from Hollywood, Nollywood, and Bollywood. The dress code is black tie and evening gown, and the television taping/streaming will begin at 7:30 pm.
The Best Action Film Nominees for American Film Awards® this year are 6 Underground, 1917, War, Bad Boys For Life, and Triple Frontier. The Best Actor nominees are Edward Norton, Eddie Murphy, Joaquin Phoenix, Daniel Kaluya, and Antonio Banderas. The Best Actress nominees are Scarlett Johanssen, Kristen Stewart, Cynthia Erivo, Rene Zellweger, Charlize Theron, and Lupita Nyongo.
"When was the last time you fell in love with a Film? Open your eyes to more, see the best films of the year at the American Film Awards®," says Frank Ezenekwe, Executive Producer.
The American Film Awards® aims to promote some fundamental, core values for the film industry. They aim to make everyone fall in love with the beauty of films, educate fans about what a good film looks and feels like, and show the pathways to break into the industry.
"Great films have a heartbeat. It's not about big stars and politics; cinema connects us to our humanity on a deeper level," says Ijeoma Ezenekwe, Executive Producer.
This year's Awards will see 50 Nollywood stars grace the occasion, aside from international guests, VIPs, innovations honors, and over 700 honored guests. In an intimate setting, the Awards night will feature musical performance, food and drinks, and Hollywood entertainers. For filmmakers in California / Hollywood, New York or Atlanta, this is a great opportunity to watch good cinema being honored.
Watch the introduction to the American Film Awards®:
The Awards also believe that it is new products and job opportunities that create actual diversity. The platform also serves to bridge the gap between the three big movie-making industries, Hollywood, Nollywood, and Bollywood.
The Nominees
THE NOMINEES FOR THE AMERICAN FILM AWARDS ® 2020
BEST ACTION FILM
6 UNDERGROUND, DIRECTOR MICHAEL BAY
1917, DIRECTOR SAM MENDES
WAR, DIRECTOR SIDDHARTH ANAND
BAD BOYS FOR LIFE, DIRECTOR ADIL ARBI BILALL FALLAH
TRIPLE FRONTIER, DIRECTOR J.C CHANDOR

BEST DRAMATIC FILM
THE KITCHEN, DIRECTOR ANDREA BERLOFF
MARRIAGE STORY, DIRECTOR NOAH BAUMBACH
THE FAREWELL, DIRECTOR LULU WANG
PARASITE, DIRECTOR BONG JOON HO
JOKER, DIRECTOR TODD PHILLIPS
AMERICAN SKIN, DIRECTOR NATE PARKER

BEST ROMANTIC FILM
LET IT SNOW, DIRECTOR LUKE SNELLIN
LAST CHRISTMAS, DIRECTOR PAUL FEIG
THE SKY IS PINK, DIRECTOR SHONALI BOSE
QUEEN AND SLIM, DIRECTOR
FALLING INN LOVE, DIRECTOR ROGER KUMBLE

BEST COMEDY
DOLOMITE IS MY NAME, DIRECTOR CRAIG BREWER
I GOT THE HOOK UP 2, DIRECTOR COREY GRANT
GOOD BOYS, DIRECTOR GENE STUPNITSKY
HUSTLERS, DIRECTOR LORENE SCAFARIA

BEST HORROR FILM
MIDSOMMAR, DIRECTOR ARI ASTER
US, DIRECTOR JORDAN PEELE
IT, CHAPTER 2, DIRECTOR ANDY MUSCHIETTI
POLAROID, DIRECTOR LARS KLEVBERG
WOUNDS, DIRECTOR BABAK ANVARI
THE SILENCE, DIRECTOR JOHN R. LEONETTI

BEST SCIENCE FICTION FILM
AD ASTRA, DIRECTOR JAMES GRAY
X-MEN: DARK PHEONIX, DIRECTOR SIMON KINBERG
LUCY IN THE SKY, DIRECTOR NOAH HAWLEY
I AM MOTHER, DIRECTOR GRANT SPUTORE
AVENGERS: ENDGAME, DIRECTOR ANTHONY RUSSO, JOE RUSSO

BEST ANIMATED FILM
I LOST MY BODY, DIRECTOR JEREMY CLAPIN
TOY STORY 4, DIRECTOR JOSH COOLEY
HOW TO TRAIN YOUR DRAGON – THE HIDDEN WORLD, DIRECTOR DEAN DEBLOIS
KLAUS, DIRECTOR SERGIO PABLOS, CARLOS MARTINEZ LOPEZ

BEST SHORT FILM
HAIRCUT (U.K) DIRECTOR KOBU ADOMO
GHOSTS OF SUGAR LAND, DIRECTOR BASSAM TARIQ
HAIL MARY COUNTRY, DIRECTOR TANNAZ HAZEMI
JESUS IS KING, A FILM BY KANYE WEST. DIRECTOR, NICK KNIGHT
SUC DE SINDRIA, IRENE MURAY

BEST DOCUMENTARY FILM
REMASTERED – THE TWO KILLINGS OF SAM COOKE, DIRECTOR KELLY DUANE
HONEYLAND, DIRECTOR TAMARA KOTEVSKA, LJUBOMIR STEFANOV
APOLLO 11, DIRECTOR TODD DOUGLAS MILLER
AMAZING GRACE, DIRECTOR ALAN ELLIOTT, SYDNEY POLLACK
AMERICAN FACTORY, DIRECTOR STEVEN BOGNAR, JULIA REICHERT
ONE CHILD NATION, DIRECTOR NANFU WANG, JIALING ZHANG

BEST ACTOR
EDWARD NORTON, MOTHERLESS BROOKLYN
EDDIE MURPHY, DOLEMITE IS MY NAME
JOAQUIN PHOENIX, JOKER
DANIEL KALUYA, QUEEN & SLIM
ANTONIO BANDERAS, PAIN AND GLORY

BEST ACTRESS
SCARLETT JOHANSSEN, MARRIAGE STORY
KRISTEN STEWART, SEBERG
CYNTHIA ERIVO, HARRIETT
RENE ZELLWEGER, JUDY
CHARLIZE THERON, BOMSHELL
LUPITA NYONGO, US

BEST SCREENPLAY
ONCE UPON A TIME IN HOLLYWOOD, QUINTIN TARANTINO
HUSTLERS, JESSICA PRESSLER, LORENE SCAFARIA
PAIN AND GLORY, PEDRO ALMODOVAR
A MILLION LITTLE PIECES, AARON TAYLOR-JOHNSON & SAM TAYLOR-JOHNSON (NOVEL BY JAMES FREY)
HARRIET, GREGORY ALLEN HOWARD, KASI LEMMONS

BEST DIRECTOR
TARANTINO, ONCE UPON A TIME IN HOLLYWOOD
SAM MENDES, 1917
MICHAEL BAY, 6 UNDERGROUND
LULU WANG, THE FAREWELL
MELINA MATSOUKAS, QUEEN & SLIM

BEST LATINO FILM
BACURAU, DIRECTORS JULIANO DORNELLES, KLEBER MENDOCA FILHO
EL HIJO, DIRECTOR SEBASTIAN SCHINDEL
DIECISIETE, DIRECTOR DANIEL SANCHEZ AREVALO
LA MALA NOCHE, DIRECTOR GABRIELA CALVACHE

BEST BLACK FILM
ATLANTICS, DIRECTOR MATI DIOP
WAVES, DIRECTOR TREY EDWARD SHULTS
THE BANKER, DIRECTOR GERGE NOLFI
AMERICAN SKIN, DIRECTOR NATE PARKER
THE LAST BLACK MAN IN SAN FRANCISCO, DIRECTOR JOE TALBOT

BEST ASIAN/PACIFIC ISLAND FILM
PARASITE, DIRECTOR BONG JOON HO
THE FAREWELL, DIRECTOR LULU WANG
THE THIRD WIFE, DIRECTOR ASH MAYFAIR
HAI PHUONG, DIRECTOR LE-VAN KIET

BEST NOLLYWOOD FILM
THE BLING LAGOSIANS, DIRECTOR BOLANLE AUSTIN-PETERS
LIVING IN BONDAGE- BREAKING FREE, DIRECTOR RAMSEY NOUAH
SUGAR RUSH, DIRECTOR KAYODE KASUM
MERRY MEN 2, DIRECTOR MOSES INWANG
OPEN MEMORY, DIRECTOR EJIOFOR CHUKWUDI JOHN

BEST BOLLYWOOD FILM
THE SKY IS PINK, DIRECTOR SHONALI BOSE
KALANK, DIRECTOR ABHISHEK VARMAN
HALA, DIRECTOR MINHAL BAIG
NAMMA VEETTU PILLAI, DIRECTOR PANDIRAG
MANIKARNIKA: THE QUEEN OF JHANSI, DIRECTORS RADHA KRISHNA JARLAMUD, KANGANA RANAUT

BEST PRODUCTION COMPANY/STUDIO
A24
NETFLIX
TYLER PERRY STUDIOS
LIONSGATE
SONY
PARAMOUNT
2OTH CENTURY FOX

BREAKTHROUGH ACTOR – EDY LEWIS (THE THESPIAN), DAMSON IDRIS (FARMING)
BREAKTHROUGH ACTRESS – MELANIE GAYLE, DREAMS AND FEARS, NATALIE PORTMAN
BREAKTHROUGH WRITER – EMMA THOMPSON, LAST CHRISTMAS
BREAKTHROUGH DIRECTOR – AVA DUVERNAY (WHEN THEY SEE US), EMMANUEL EHUMADU (LABISTA)
BREAKTHROUGH PRODUCER – CURTIS 50CENT JACKSON (POWER), JADA PINKETT SMITH (HALA)
BREAKTHROUGH FILM – FOREIGNER'S GOD, DIRECTOR IFAN IFEANYI MICHAEL
BEST FILMS OF THE YEAR
ONCE UPON A TIME IN HOLLYWOOD, DIRECTOR QUINTIN TARANTINO
1917, DIRECTOR SAM MENDES
JOKER, DIRECTOR TODD PHILLIPS
HALA, DIRECTOR MINHAL BAIG
AMERICAN SKIN, DIRECTOR NATE PARKER
6 UNDERGROUND, DIRECTOR MICHAEL BAY
BAD BOYS FOR LIFE, DIRECTORS ADIL EL ARBI, BILALL FALLAH
About
The American Film Awards® Brand and its platforms are focused on creating diverse opportunities and jobs for the marginalized and disenfranchised population among Hollywood's creative talent and for those in the recognized mainstream. Doors in Hollywood have always been shut. Every Hollywood studio is built like a fortress and its high walls and enormous gates are not a metaphor for keeping you out. The barriers to entry are real, dreams are broken every single day and great films fall through the cracks because the old system fails to see the beauty of unforced diversity. We are changing the way we should do business in Hollywood because our goal is to see the small story of an ordinary man or woman, make it to the bright lights of Tinseltown.
For more information, please visit: www.theafas.com
Media Contact
Company Name: American Film Awards®
Contact Person: Frank Ezenekwe, Ijeoma Ezenekwe, Executive Producers
Email: Send Email
Phone: (323) 503 6827
Address:963 North La Brea Avenue
City: Inglewood
State: CA 90302
Country: United States
Website: https://www.theafas.com/