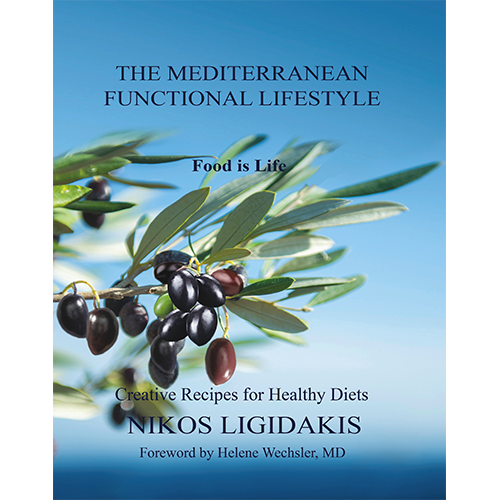 February 11, 2020 – The Mediterranean diet is more than a diet. Evolved over thousands of years, it is plant-based, nutrient-dense and includes limited amounts of meat. The diet is popular as it is considered equally good for maintaining health and as a medicinal treatment. Nationally recognized chef Nikos Ligidakis has published a valuable resource and cookbook for all lovers of this diet: "The Mediterranean Functional Lifestyle: Creative Recipes for Healthy Diets".
"The Mediterranean Functional Lifestyle" (with Foreword by Helene Wechsler, MD) is not just a cookbook, but it is about food for a lifetime. Chef Nikos has collected his amazing culinary knowledge to put together 250 original recipes that make this a must-buy recipe book for every modern kitchen. Every recipe has been carefully crafted and will be welcomed by the fans and followers of healthy diets including vegan, gluten-free, vegetarian. In addition, there are recipes to celebrate the special moments of life.
"The recipe book is packed with a lot of information that will help everyone improve their cooking skills. With these recipes, everyone can start eating healthy food without compromising on taste," says chef Ligidakis.
All recipes are accompanied by nutritional information of ingredients used, calorie counts for main ingredients, and notes on flavors and textures of food and the cooking techniques that enhance these flavors. Those interested in knowing the history of food items will find information on ancient grains and historical facts, as well as tips to simplify the cooking process or even create new tastes.
Nikos Ligidakis is not only a master chef, but the author of many historical fiction and biography books. His national fame rests on presenting the Mediterranean region in all its tantalizing flavors and with the full force of imagination. His cuisines are exotic and familiar, and his charitable work and idiosyncratic cooking style have made him a local legend.
Published by Inkwell Books, "The Mediterranean Functional Lifestyle: Creative Recipes for Healthy Diets" is now available for purchase.
About the author
Award-winning author Nikos Ligidakis writes with clarity and passion in an ardent voice, not to just recount adventures, but with an expression of feelings, to encourage the reader to think, to find hope in the eternal struggle for the meaning of life and the awareness of harmony. Nikos is the author of several historical fiction and biography books.
Media Contact
Company Name: The Mediterranean Functional Lifestyle
Contact Person: Nikos Ligidakis
Email: Send Email
Country: United States
Website: https://inkwellbooksllc.com/product/mediterranean-functional-lifestyle/