Living in an alternate reality, 'MARIONETTE' tells the story of a therapist who loses her grip on reality when a ten-year-old boy claims he can control her future.
Los Angeles, CA – Feb 11, 2020 – ROCK SALT RELEASING has boarded world sales for multi-award winning Dutch director, Elbert van Strien's gripping psychological thriller, 'MARIONETTE' (2019), launching worldwide sales at the upcoming EFM, learned Deadline exclusively.
"I immediately recognized its commercial appeal, so it's no surprise we're in bidding wars for key territories in Europe and throughout Asia. I'm excited for audiences to take this ride – MARIONETTE pulls you in and keeps you on the edge of your seat," said Daisy Hamilton of ROCK SALT RELEASING, after picking up rights at Frontières Platform at the Marché du Film – Festival de Cannes.
Written by Elbert van Strien (Two Eyes Staring, Forbidden Eyes) and Ben Hopkins, MARIONETTE is a new take on M. Night Shyamalan's The Sixth Sense (1999), starring Thekla Reuten (Red Sparrow, In Bruges, The American), Primetime Emmy nominee, Peter Mullan (Children of Men, Ozark, War Horse), Elijah Wolf (T2, Trainspotting), Rebecca Front (Transformers: The Last Knight, The Thick of It), and veteran actor, Bill Paterson (The Witches, Kingdom of Heaven).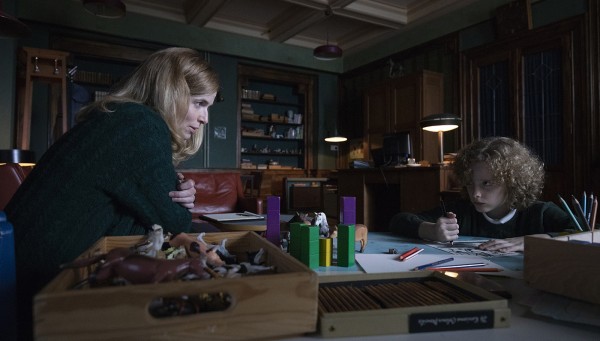 MARIONETTE tells the story of a child therapist, Marianne (Reuten), who moves to Scotland to start a new life after the tragic death of her husband. She begins to treat a disturbed ten-year-old boy, Manny (Elijah Wolf), who draws pictures of terrible events. But when Manny's drawings prove to be predictions of real, future events, Marianne begins an obsessive quest for the truth that will quickly derail her life.
Who is really pulling the strings? Watch the exclusive trailer on Deadline here: https://deadline.com/video/marionette-euro-thriller-starring-red-sparrow-actress-thekla-reuten-gets-sales-deal-first-trailer-efm/.
MARIONETTE will screen at EFM for buyers and programmers only, at CinemaxX 18 on Fri., Feb. 21st at 6:05 P.M. For press attendance, please contact jenna@tricoast.com
Produced by Accento Films & Bosbros, the highly anticipated psychological thriller also features Sam Hazeldine (The Hitman's Body Guard, The Huntsman: Winter's War), Emun Elliott (Prometheus, Star Wars: Episode VII – The Force Awakens), Marnie Baxter (Coronation Street, Shetland), Jochum ten Haaf (Dunkirk) and John Scougall (Lovesick, The Victim).
ROCK SALT RELEASING will represent additional rare indie gems at the 70th Berlin International Film Festival/EFM at Martin-Gropius-Bau, booth #166. To schedule a meeting, please contact Sales@RockSalt.com
MARIONETTE (2019, 112 min.) Directed by: Elbert van Strien. Written by: Elbert van Strien & Ben Hopkins. Producers: Claudia Brandt, Burny Bos, Elbert van Strien. Editor: Herman P. Koerts. Director of Photography: Guido van Gennep. Music: Han Otten, Maurits Overdulve. Netherlands and Scotland, English. Accento Films & Bosbros, ROCK SALT RELEASING.
Production companies: Accento Films & Bosbros (NL)
Co-producers: Samsa Films (LUX) & Black Camel Pictures (UK)
ABOUT ROCK SALT RELEASING:
Daisy Hamilton curates artistic, award winning auteur films for worldwide theatrical release. About TriCoast Worldwide: TriCoast Worldwide is a premium international sales agent, representing the best of US and international films at all the major film markets. Sister company to TriCoast Entertainment and TriCoast Studios, the company is located at the Studio facility in Culver City, Los Angeles.
Founded by: Strathford Hamilton and Marcy Levitas Hamilton.
Visit: https://www.rocksaltreleasing.com/.
Media Contact
Company Name: TriCoast Entertainment
Contact Person: Jenna Wilen
Email: Send Email
Phone: 3104587707
Address:11124 Washington Blvd.
City: Culver City
State: California
Country: United States
Website: http://www.tricoastworldwide.com