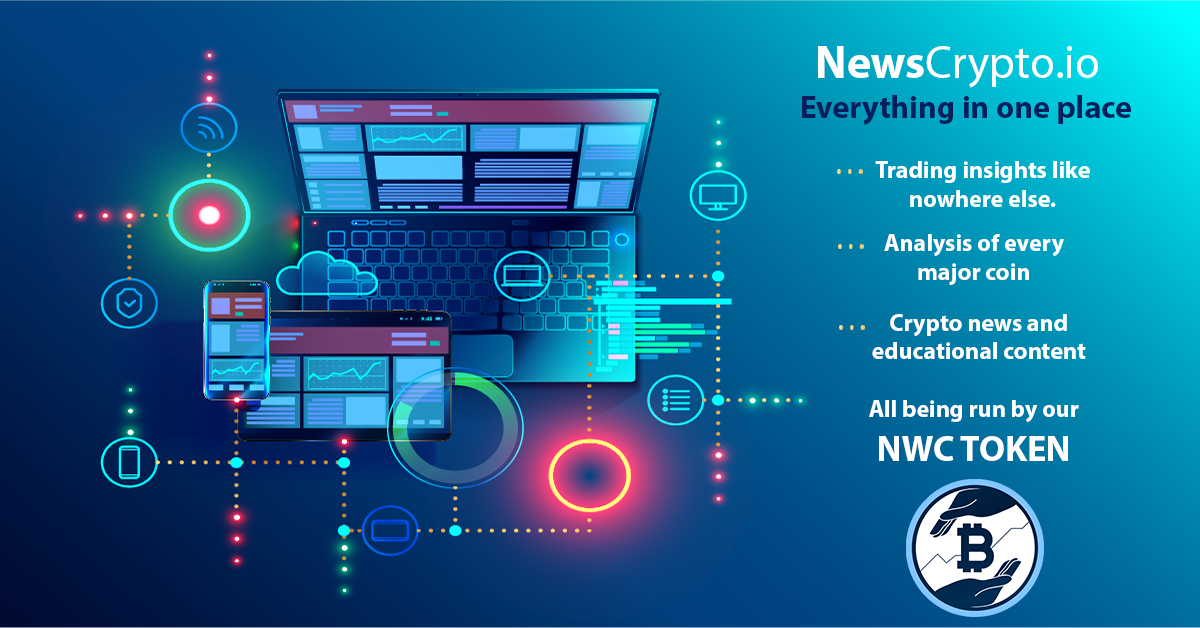 Countless people are intrigued to buy crypto assets and at the same time, there is a huge growth in internet sites containing information about cryptocurrencies. But how can a person know where to find the right information at the right time and know the basics to give him or her the best odds possible to make a profit? The answer is Newscrypto.io
What is Newscrypto?
Newscrypto.io is a blockchain-linked ecosystem for all the information regarding cryptocurrency. A go-to crypto platform appropriate for everyone seeking knowledge and trading advantages in the crypto world. It is designed to give you all the needed information and tools in one place.
Newscrypto: "The main focus of the platform is to solve the problem of finding the right information at the right time and guide people from blindly investing in making rational investment decisions."
Newscrypto platform provides data on buy and sell orders, best exchange rates, gives detailed information about smart money movements, fundamental and technical analysis and at the same time educates users to become better at understanding and participating in the crypto world. The platform allows its users to save time and energy in every aspect of the crypto world with advanced tools and features provided.
Platform features range from the basics to an expert level analysis, which allows its users to become masters in crypto investing. The platform includes features from the Beginner, Intermediate, and Advanced tier. Intermediate and Advanced tier can only be unlocked by paying with NWC token.
The NWC Token
The heart of the Newscrypto platform is the NWC token, a Stellar lumen compliant token that underpins all transactions for the Newscrypto network. It is a utility token used for unlocking needed information for profitable trading and complete market overview.
Token name: Newscrypto coin
Symbol: NWC
Total supply: 280.000.000 (which is being reduced due to token burning)
Exchanges: HitBTC, KuCoin, BigONE, Probit, Dcoin, Cat.Ex
NWC was recently listed on the Nr.1 crypto exchange rated by liquidity – HitBTC.
NWC Token Burning: The core of our future token development system is token burning – 20% of received membership fees are being burned. Token burning procedure reduces the total supply of tokens which results in the organic growth of our value benefiting our investors and token holders.
Newscrypto School: School program is suitable for beginners and those who want to expand their knowledge about trading cryptocurrencies. Newscrypto School contains subjects like crypto basics, charts, Newscrypto tools, Trading strategies, Economics, Crypto development and much more in the future.
Newscrypto Ecosystem: The ground base of the ecosystem is the Newscrypto token called NWC. If a member wants to use advanced services and indicators, which provide edge market information, they have to operate with NWC tokens, since they are the only currency in which our services can be paid. The ticker NWC initially issues 280.000.000 Newscrypto tokens.
Media Contact
Company Name: BestPR
Contact Person: Media Relations
Email: Send Email
Country: HongKong
Website: bestpr.io