Kate LoMedico Marriott, the 29-year-old artist behind history's most exhaustive reconstructions of heteromorph ammonites and multiple visual conservation projects, has been inducted into the world's most elite alliance for ocean artists, the Ocean Artists Society.
The Ocean Artists Society, or OAS, was founded by legendary ocean painter Wyland, whose breathtaking murals of whales are known and loved around the world. It exists as a highly elite professional network of diverse artists whose work aims to garner public support for conservation efforts. OAS includes such legends as Richard Ellis of AMNH Milstein Hall whale fame, and its scientific advisor is the preeminent Dr. Sylvia Earle. OAS defines itself as "unique alliance of the world's top marine life artists, sculptors, painters, photographers and film-makers to foster an interest in the ocean arts and marine life issues."
LoMedico Marriott is one of the few OAS artists whose work includes extinct prehistoric creatures, as well as one of the only artists in the organization who chooses to focus almost exclusively on invertebrates. A finalist in the 2018 International Award on Scientific Illustration, she is currently in the process of writing a roughly 200-page nonfiction book featuring her ammonite artwork, aimed at the popular-science audience while earning her MS in paleontology. LoMedico Marriott's close relatives include Thomas LoMedico, the sculptor responsible for the medallions presented to the Apollo 11 astronauts, and legendary mafioso Russell Bufalino: as a proud Italian-American, she says, choosing to study calamad was a no-brainer.
Kate is also known from the mermaiding scene, and her filmed performances have screened at MoMA and major international film festivals as part of Susan Rockefeller's Mission of Mermaids. In her spare time she volunteers with various invertebrate conservation projects to protect arachnids, insects, and corals.
Kate LoMedico Marriott intends to use her platform as a member of this highly elite alliance of artists to be a voice for invertebrates and wildlife everywhere.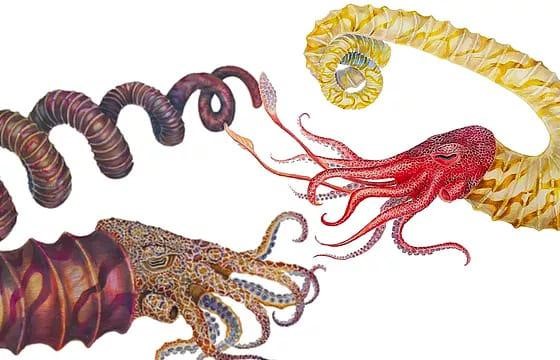 Media Contact
Contact Person: Kate LoMedico Marriott
Email: Send Email
Country: United States
Website: https://katelomedicomarriott.com/