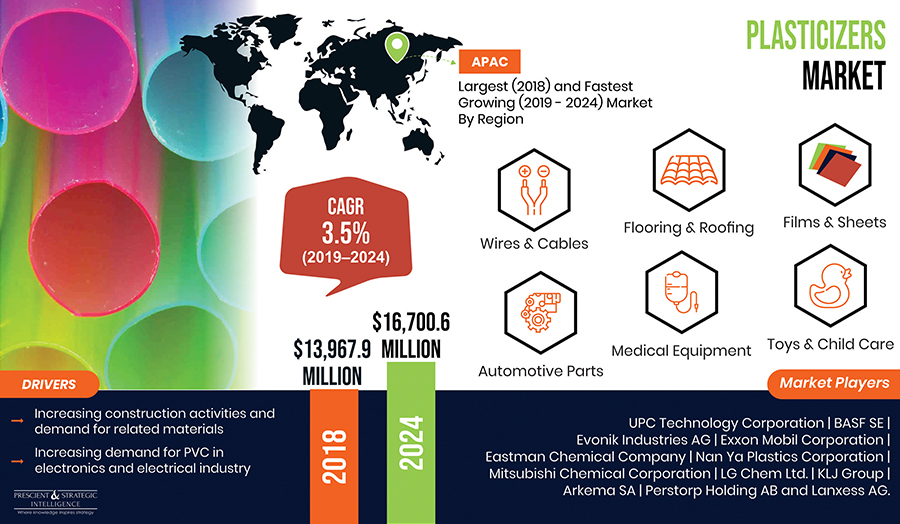 From $13,967.9 million in 2018, the plasticizers market is projected to grow to $16,700.6 million in 2024, witnessing a 3.5% CAGR during 2019–2024 (forecast period).
The phthalate category held the largest revenue share, of over 65.0%, in 2018, based on the product, as end-use sectors, including home appliances, coatings, and flexible machine tools, witness high consumption of such products. They are used to manufacture coatings, healthcare plastics, emulsifying agents, and anti-viscosity agents. Non-phthalate variants would observe faster growth, during the forecast period, as the requirement for environment-friendly products is rising in Europe and North America.
The expanding construction sector is one of the most important drivers for the plasticizers market. With the growth in this sector, the demand for construction material, such as wall and roof insulation, tubes, pipes, and building interiors, is also increasing. In the last five years, the domain has witnessed stable growth, after recovering from the economic slowdown. These factors, combined with the rapid urbanization and population boom, are leading to an increasing demand for plasticizers, which go into the production of construction material, such as roofing, cladding, and flooring.
Request to get a sample copy of market analysis: https://www.psmarketresearch.com/market-analysis/plasticizers-market/report-sample
The wires & cables category dominated the plasticizers market, in 2018, based on end use. During the forecast period, it is projected to witness considerable growth, due to the increasing usage of cables and wires, which have flexible polyvinylchloride (PVC) for insulation and protection, in end-use industries such as healthcare, construction, and packaging. Across the world, the market was led by Asia-Pacific (APAC), which held a 60.0% share in 2018. This was a result of the high productivity of end-use domains including chemicals, automotive, construction, and electrical & electronics.
Only one player in the plasticizers market — UPC Technology Corporation — had a double-digit share in 2018, thereby making the market nature extremely fragmented. This Taiwanese firm has a productive sales network in Southeast Asia, China, South Asia, Northeast Asia, Canada, the U.S., New Zealand, and the Middle East, apart from its home country. To cater to the rising demand for these products, market players are engaging in facility expansions, mergers, and acquisitions and launching new products.
For instance, a decision of expanding the production capacity of the Pevalen non-phthalate polyester plasticizer was announced by Perstorp Holding AB in 2018. The project, planned to begin in 2019, was for an increase in the manufacturing volume of the product to an annual 50,000 tons. The major players in the plasticizers market include BASF SE, UPC Technology Corporation, Exxon Mobil Corporation, Evonik Industries AG, Nan Ya Plastics Corporation, Eastman Chemical Company, LG Chem Ltd., Mitsubishi Chemical Corporation, Arkema SA, KLJ Group, Lanxess AG, and Perstorp Holding AB.
Browse More Reports By P&S Intelligence
The Indian metal bonding adhesives market stood at $198.9 million in 2019 and is projected to reach $343.6 million by 2030, registering a CAGR of 5.2% during the forecast period (2020–2030).
https://www.psmarketresearch.com/market-analysis/india-metal-bonding-adhesives-market
The global acrylates market is projected to surpass $12,593.8 million by 2024, demonstrating a CAGR of 4.9% between 2019 and 2024.
https://www.psmarketresearch.com/market-analysis/acrylates-market
Media Contact
Company Name: P&S Intelligence
Contact Person: Abhishek
Email: Send Email
Phone: +918887787886
Address:Noida Sector 2
City: Noida
State: UP
Country: India
Website: https://www.psmarketresearch.com/market-analysis/plasticizers-market