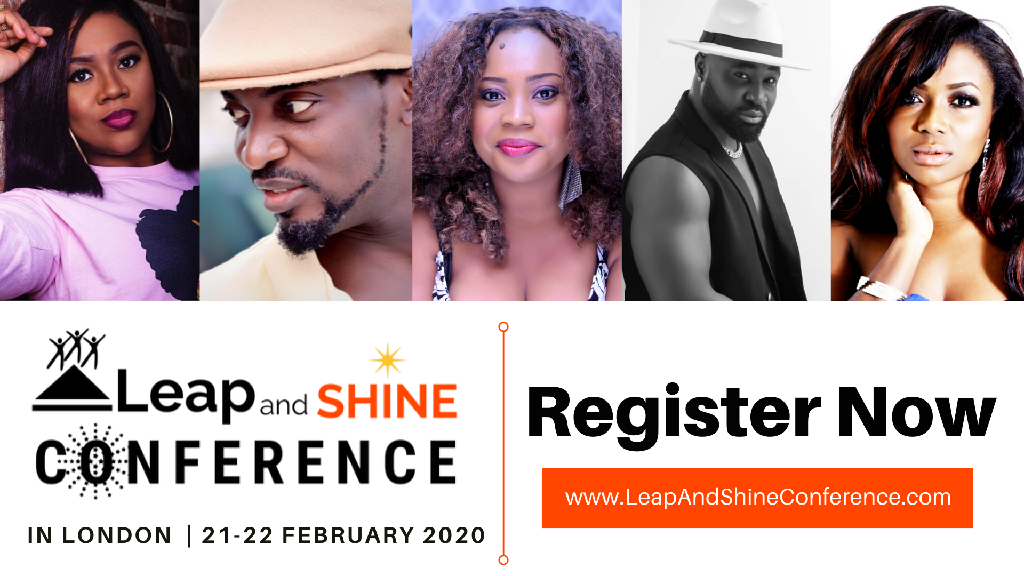 Excitement in the air as attendees and speakers from around the world gear up for the two-day event slated for 21-22 February 2020 at Jury's Inn Hotel, Croydon in London with celebrities like Award-Winning Singer & Songwriter, Harrysong, Lami Phillips, Humanitarian, Victoria Nkong and Nigerian Actor and Filmmaker – John Njamah leading the way with the Beautiful Award-WInning Actress & Singer – Stella Damasus as official host for this year's inaugural event.
The Leap and Shine Conference which started in 2016 as a Virtual Summit is an initiative founded by Clara Rufai, The Shine Strategist offering Creative, Interactive and Transformational opportunities by bringing together global Thought-leaders and Influencers for paradigm-shifting, life-defining discussions with the aim to inspire, equip and empower individuals to break free from their prisons of limitation and take a 'LEAP' into their 'SHINE ZONE'.
The two-day event with Conference Theme: "Ready to Shine" promises enlightenment, education, entertainment, and networking with a line-up of successful global achievers – targeted at individuals and business leaders seeking to grow momentum and build a network of fruitful collaborations.
Day 1 of the Leap And SHINE Conference will provide knowledge, information, tips, tools, and strategies to guide attendees and delegates into considering the options and alternatives for their lives so they can make more empowering and enabling choices.
Day 2 will witness the birth of the first edition of SHINE LEGACY AWARDS (SLA), as well as the official launch of SHINE! Magazine.
The speaker line-up which includes…
Founder of ViVo Nutrients, Erran Warden
Marketing Expert & Best-Selling Author, Leon Streete
Nigerian Actress and Award Winning Media Personality, Alex Okoroji
Creative Entrepreneur, Author & Speaker – Mark Pooler
International Speaker and Ambassador of Happiness, Maura Sweeney
Africa's Leading Productivity Expert, Cresta Durojaiye
Award-Winning Global Speaker and Leadership Coach ​Vaneese Johnson (The Boldness Coach)
NCAA All American Athlete and Motivational Speaker, Dr Corey Hicks
Growth Strategy and Business Coach, Deji DJ Sobanjo
Master Coach & CEO of How2Think Global Consulting, Kemi Oyesola (CoachKemi)
Author and Senior Pastor of Sanctuary of Praise Christian Assembly, Dr Jackie Gilbert-Grant
Coach and Mediator, Suki Laniado-Smith
Writing Coach and Business Leadership Strategist, Brandy M. Miller
Award-Winning Novelist, Poet and Public Speaker, Titi Horsfall
Connectivity Expert – Dr Yewande Okuleye
This year's conference and the award has attracted support and partnership from brands like Pinetree Organizers, Esther Austin Global, Lunar Orchid's, Cece Cakes, Lorin Raphael Cakes, BRAG Magazine, The BRAG Media Company – and ViVo Nutrient as the latest brand to join the list of Shine Sponsors.
ViVo Nutrients specialises in deploying cutting edge bio-communication technology to identify root issues and imbalances within the body, then employing nature's finest organic ingredients to target, restore order and create an environment conducive to speed up healing from within. The Non-invasive Body MOT Health Scan provides a detailed insight into the state of all organs and body systems, with an instant report containing recommendations for accelerated healing.
In a quick statement, Clara Rufai enthused…
"I feel particularly proud to have the support of brands like ViVo Nutrients and all the other brands who agreed to sponsor, support and partner with us. I am also grateful to have the pedigree of speakers and ambassadors at this year's Leap and Shine Conference happening LIVE in London – a very fine crop of global experts, professionals and influencers who have all distinguished themselves in diverse ways. I'm really excited about the combined value they will bring to the conference. Tickets are fast selling. So Attendees need to act fast, grab their tickets and join us in person or online from the comfort of their home."
Attendees can expect to get fresh insights and targeted help that they can implement to see immediate results in their careers, businesses, and life.
The conference will also honor its newly appointed SHINE Ambassadors below…
1. Jacqueline Francis
2. Ifeoluwa Iyaniwura
3. Nadine Silas-Richards
4. Godswill Ezeonyeka
5. Rachel Olowoporoku
6. Cordelia Gaffer
7. Imani Dokubo
8. Juliet Ukpabio Archibong
9. Elizabeth Lucas Afolalu
10. Doris Tochi
11. Gideon Mariochukwu
12. Nimi Adetiran
13. Makiba Semple
14. Chinyere Umeh
15. Efe Anaughe
16. Joy Kika
17. Alfred Joseph
18. Justina Godwin
19. Jennifer Nnamena
In a comment by Nigerian Actress, Multiple Award Winning Media Personality & CEO of The BRAG Media Company, Alex Okoroji…
"One of the reasons I'm really glad that my company agreed to partner is the powerful mission behind this conference. I know for a fact that this year belongs to those who will invest in themselves and take ACTION. Those who are ready to take a leap into their shine, so they can make 2020 their greatest year and Clara Rufai has created this amazing conference to serve as a conduit for those who really want to manifest their Greatness." – Alex Okoroji (CEO at The BRAG Media Company)
For In-Person and Online Tickets, Visit www.LeapAndShineConference.com to get yours NOW.
ABOUT CLARA RUFAI
Clara Rufai also known as THE SHINE STRATEGIST is a Globally Recognised Speaker, Corporate Lawyer, Compliance Manager, Book Consultant & Writing Coach, Author, StoryTeller, and Mentor. Clara uses her SHINE Philosophy to empower people to discover their SHINE Factor as they (S)tart (H)arness (I)dentify (N)etwork and (E)xpress their Brilliance, so they can travel on a more rewarding and personally fulfilling path in life. She is also the host of a weekly podcast called SHINE CAPSULES. Clara partners with global Thought leaders and Influencers, leveraging the extensive relationships she has built, in order to deliver valuable content that serves individuals, whether through her networking event – SHINE HAPPY HOUR, or The SHINE Mentoring Hub (TSMH) on WhatsApp or through her Facebook community called The Shine Zone. She is the President and Founder of THE SHINE ZONE a social enterprise which specialises in personal development and empowerment creating platforms, resources, and tools for individuals and company employees to find their shine zone(s) and thrive.
To contact Clara Rufai, please email Clara@ClaraRufai.com
ABOUT MEDIA PARTNERS
The BRAG Media Company is a global brand consulting, media content developing and creative agency providing digital solutions and creative services to clients worldwide. We help independent authors to self-publish their works and design strategic solutions for business owners while developing creative, authentic & expressive content and digital platforms – that deliver on both the Art & Science of powerful communication.
You can connect with us at www.TheBragMediaCompany.com
Media Contact
Company Name: The BRAG Media Company
Contact Person: Nicole Anthony
Address:329 South Oyster Bay Road #2084
City: Plainview
State: New York
Country: United States
Website: http://www.TheBRAGMediaCompany.com