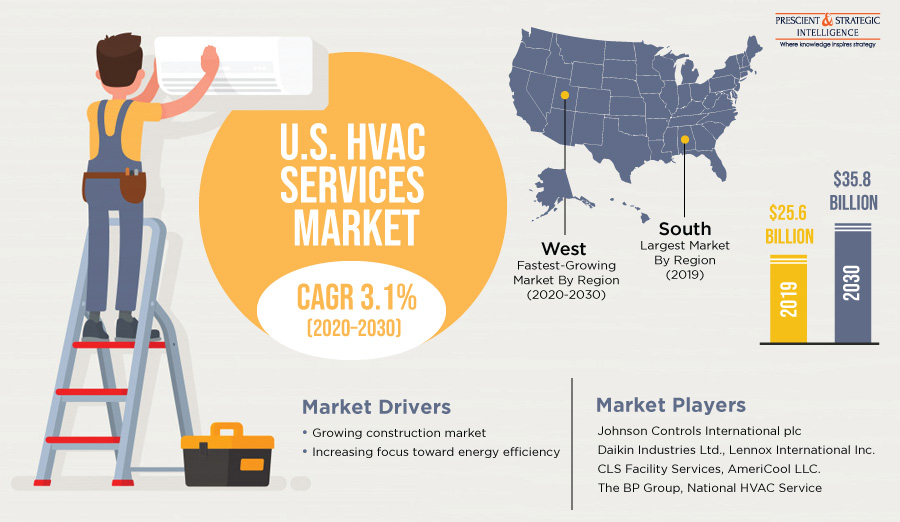 The growing manufacturing sector is offering lucrative opportunities to the players in the U.S. HVAC services market, as with an increase in production plants, the requirement for HVAC equipment and its servicing would also surge.
The expanding construction sector and rising focus on energy-efficiency are driving the demand for smoothly functioning heating, ventilation, and air conditioning (HVAC) equipment in the U.S. This is why, the U.S. HVAC services market, which generated $25.6 billion in 2019, is predicted to grow to $35.8 billion by 2030, at a 3.1% CAGR during 2020–2030 (forecast period).
Maintenance & repair, upgradation/replacement, consulting, and installation are the various services available. Among these, maintenance & repair services held a significant market share in 2019. This is credited to the fact that equipment which is regularly repaired and services leads to 20% less energy consumption than equipment which does not undergo regular maintenance.
Additionally, dirty filters and coils act as breeding grounds for bacteria, which leads to stale and infected air, which can, in turn, result in diseases. Further, with proper maintenance, HVAC systems can have a service life of up to 20 years, whereas without servicing, they need replacement after 10 years. Thus, all such advantages are driving the demand for maintenance & repair services in the U.S.
Based on equipment type, the U.S. HVAC services market is divided into ventilation, cooling, and heating. Among these, in 2019, the cooling division led the market, in terms of revenue. During the forecast period, the highest CAGR would be experienced by the ventilation category, owing to the implementation of strict regulations regarding air quality.
One of these regulations were implemented by the American Society of Heating, Refrigerating and Air-Conditioning Engineers (ASHRAE) in 2016, under Standard 62.2-2016.The key driver for the U.S. HVAC services market is the increase in the construction activities in the nation. On account of the population boom and rapid urbanization, new buildings and other structures for residential, commercial, and industrial use are being constructed. The U.S. Census Bureau reports an estimated 7% increase in the U.S. population between 2009 and 2029.
Request Sample Copy of Report : http://bit.ly/3bFQRXn
Apart from the rise in construction projects, which would generate the demand for HVAC systems and associated services, in due time, the strong focus on energy efficiency is another reason for the U.S. HVAC services market prosperity.
With governments mandating energy-efficient practices, apart from the awareness of people on the issue rising, HVAC servicing demand is increasing every year in the country. For instance, the standards set by the Department of Energy have mandated a minimum efficiency of the airflow from residential furnace fans, thereby creating the demand for regular servicing.
Read More Related Reports:
HVAC Market : https://www.psmarketresearch.com/market-analysis/hvac-market
India HVAC Market : https://www.psmarketresearch.com/market-analysis/india-hvac-market
Saudi Arabia HVAC Market : https://www.psmarketresearch.com/market-analysis/saudi-arabia-hvac-market
Media Contact
Company Name: P&S Intelligence
Contact Person: Abhishek
Email: Send Email
Phone: +918887787886
Address:Noida Sector 2
City: Noida
State: UP
Country: India
Website: https://www.psmarketresearch.com/market-analysis/us-hvac-services-market