Parents can help children cultivate a lifetime habit of gratitude and appreciation with the "I AM GRATEFUL: A 90-Day Gratitude Journal for Kids" that launched on February 3, 2020, as the #1 New Release
New York, NY – February 17, 2020 – American author, Peter J. Liang launched his 4th journal for kids, "I AM GRATEFUL: A 90-Day Gratitude Journal for Kids," on February 3, 2019, and it quickly topped the Amazon charts as the #1 New Release.
Liang told publisher Dr. Melissa Caudle from Absolute Author Publishing House, that he is not only thrilled but also humbled by the support. When asked why Liang is so passionate about kids' journals, he explains, "When we journal, we are tapping into three authentic powers. The Power of Now, as a way to enter into this present moment; the power of I AM, as a way to manifest life's purpose and aspirations; and the Power of Reflection, as a way to grow and learn from our mistakes."
"Be the author of your own life!" Liang added, "this is the message I have been teaching kids throughout the world for more than ten years."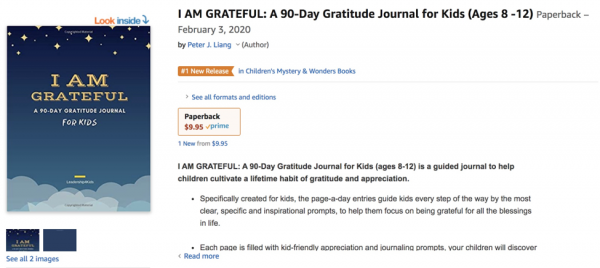 ABOUT THE BOOK
I AM GRATEFUL: A 90-Day Gratitude Journal for Kids (ages 8-12) is a guided journal to help children cultivate a lifetime habit of gratitude and appreciation. Specifically created for kids, the page-a-day entries guide kids every step of the way by the clearest, specific, and inspirational prompts to help them focus on being grateful for all the blessings in life.
Each page is filled with kid-friendly appreciation and journaling prompts; your children will discover what fills them with joy, gratitude, happiness, creativity, courage, wisdom, and inspiration.
This beautifully designed journal makes a perfect birthday, holiday, or school gift for kids. Not just for home, this journal is also great for school teachers and camp counselors, as part of a Social Emotional Learning curriculum.
The book is available on Amazon.
ABOUT THE AUTHOR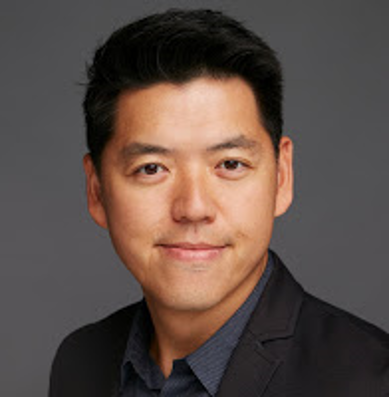 American business executive and best-selling author, Peter J. Liang is the founder of Leadership4Kids, a New York based company committed to helping kids cultivate authentic leadership skills (i.e. confidence, self-awareness, courage, grit, and gratitude), through the simple but mighty power of journaling.
Peter was exposed to Eastern mindfulness at an early age and integrates its teachings with Western leadership practices gained as business executive and tech entrepreneur. Using this unique blend of East and West, for the past ten years, Peter worked extensively with local communities to help kids develop leadership skills as self-awareness, confidence, courage, and gratitude so kids can flourish and live a radiant, abundant, and joyful life.
As the creator of Leadership4Kids Journals, Peter has been called "a master of the motivational" and lectures extensively on topic of children's leadership development and mindfulness practices, around the world.
Peter holds an M.B.A. from Columbia University and a Bachelor of Science degree from Stony Brook University. A long-time practitioner of Tai-Chi, which forms the foundation of his leadership embodiment practice, Peter has also been trained by Dr. Paul Linden and the Being-in-Movement method for integrated mind/body education, non-violent communication, compassionate power, and peacemaking.
AUTHR CONTACT
New York, NY
USA
516-858-5502
Media Contact
Company Name: Absolute Author Publishing House
Contact Person: Dr. Melissa Caudle
Email: Send Email
Phone: 504.467.7181
Address:1123 Williams Blvd
City: Kenner
State: LA
Country: United States
Website: www.absoluteauthor.com