Deltec Bank, Bahamas – "Fintech is a disruptive industry, one which has gained popularity amongst young people, particularly Millennials, who desire better value for money from their bank."
The term fintech is a portmanteau of 'financial technology' and denotes an industry that has exploded in popularity over the past five years. When examining Google Trends, we see that prior to 2015, the term fintech barely existed, whereas both 'digital banking' and 'financial technology' both enjoyed higher search rates.
In early 2015, fintech began a steady rise, one which soon surpassed even the increasing trend of digital banking. So, what is fintech exactly, and what is its role in the banking and finance sector?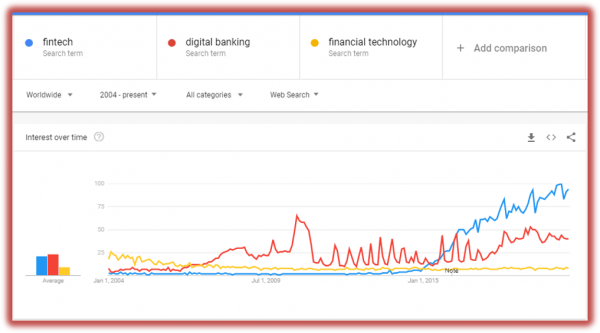 Source: Google Trends
A disruptive industry
According to Deltec Bank, Bahamas – "Fintech is a disruptive industry, one which has gained popularity amongst young people, particularly Millennials, who desire better value for money from their bank." Following the 2008 global financial crisis, banks and financial institutions around the world lost the trust of millions of customers, many of whom were left unemployed or with huge losses to their pensions, real estate value, and other investments. Around the same time, technological advancements began to reveal potential solutions to many of the problems that people believed existed within the global banking system. Many saw the system as too centrally controlled and so powerful that it was immune to government legislation, creating a situation where fraud, corruption, and insider trading went unchecked.
For the first time in history, fintech offered a solution to this by creating a means for small tech startups to compete with big banks. Previously, it would have been impossible for small, underfunded, and unknown companies to offer financial services and attract a sufficient number of customers to invest in them. However, in the wake of the financial crisis, the vacuum of trust that was left behind meant thousands of disillusioned citizens, especially the young and tech-savvy, were looking for new ways to manage their finances.
Widespread adoption
To say fintech only started in 2015 with the tech startups would be wrong since technology in finance has existed for decades – in fact, since the very first card machines were released in the 1950s. However, the curve at which technology has entered the finance industry since 2015 has been steep and it has taken many traditional financial institutions by surprise. Unprepared for the speed at which people have begun to adopt fintech, traditional banks now find themselves left behind and scrambling to try and match the products on offer by the tech startups. Peer-to-peer lending, low-fee international remittance, AI-assisted decisions, and 24/7 account access are just a few of the key benefits that have helped the fintech industry to secure a solid foothold in the financial landscape.
One of the earliest fintech startups, Paypal, took advantage of a gap in the market when it introduced digital payments in the early 2000s before merging with digital auction giant eBay. What followed was a revolution in e-commerce, online trading, and the retail sector. However, rather than compete with the banking system, PayPal and similar companies worked in conjunction with banks, providing them with a service rather than a challenge.

Source: Juniper Research
The new role of fintech
Today, the fintech industry occupies a far more disruptive role in the banking and finance sector. Its ability to challenge the status quo means that banks can no longer sit back and ignore financially-focused tech startups, many of which are achieving valuations in the multi-billions. Between 2017 and 2018, total venture capital funding for the fintech industry increased by 120%, a stark contrast to the overall 9% drop seen amongst other industries the following year.
Blockchain, the nascent technology behind Bitcoin and many other cryptocurrencies has helped to boost interest in the fintech industry and further drive investment. It represents one of the most economically disruptive developments that mankind has witnessed since the invention of money itself. The ability for two complete strangers to safely and securely transfer money to each other, from anywhere in the world, without the need for a trusted third-party, raises the question of whether there is any need for banks at all?
It is here that fintech finds its true role in the banking and finance sector: having stripped the banks of the very attributes that give them a purpose they are now forced to merge with fintechs and adopt new technology or be left to the annals of history.
Disclaimer: The author of this text, Robin Trehan, has an Undergraduate degree in economics, Masters in international business and finance and MBA in electronic business. Trehan is Senior VP at Deltec International www.deltecbank.com. The views, thoughts, and opinions expressed in this text are solely the views of the author, and not necessarily reflecting the views of Deltec International Group, its subsidiaries and/or employees.
About Deltec Bank
Headquartered in The Bahamas, Deltec is an independent financial services group that delivers bespoke solutions to meet clients' unique needs. The Deltec group of companies includes Deltec Bank & Trust Limited, Deltec Fund Services Limited, and Deltec Investment Advisers Limited, Deltec Securities Ltd. and Long Cay Captive Management.
Media Contact
Company Name: Deltec International Group
Contact Person: Media Manager
Email: Send Email
Phone: 242 302 4100
Country: Bahamas
Website: https://www.deltecbank.com/