Kolhapur, Maharashtra – Nowadays, life has become very stressful. In a current scenario which is full of competition, though students are putting their best in order to educate themselves and get a degree, but they are unsure whether they will get a job of their choice or not. Therefore, they are getting distracted and opting for different paths. Such youngsters need to start their own business without being disturbed. Keeping this in mind, Mr. Uppal Shah, a school dropout and now a successful serial entrepreneur, has commenced a "Chai Station" in association with JK Group and Rishabh developers.
"Chai" means tea in Indian language. Indians prefer chai from a local cart (called a chai walla) as it is for Americans to grab a coffee from Starbucks and other outlets.
Addressing a press conference, Mr. Uppal Shah, co-founder of Chai Station Services Pvt Ltd, said, "With this startup, we aim to provide employment to thousands of youngsters."
The "Chai Station" was officially launched on 14th February, 2020 at Dabholkar Corner in Kolhapur, Maharashtra (India). Shah said, "In the upcoming six months, various branches of "Chai Station" will be launched across the Maharashtra state. Chai Station will provide many accompanying food items that go with tea in a very reasonable price ranging from Rs 10 to Rs 30. It is an ISO 9001-2015, ISO 22000:2018 and FSSAI certified. It is a Chai Cafe Franchise chain and also a registered Trademark of Chai Station, therefore no other entity can use this brand name."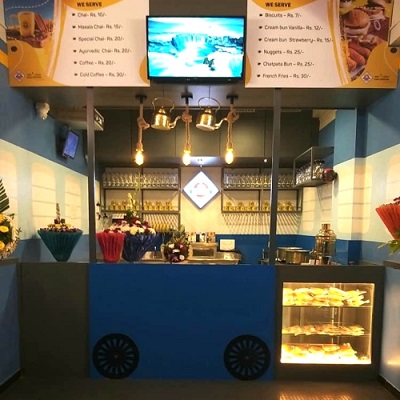 "We have a facility of on-call instant surrounding delivery of tea within 30 minutes. Also, one can make easy online ordering. Apart from this, we have the best inhouse chefs who will be making all foods meeting high standards of hygiene and cleanliness. Also, the youngsters who are getting into this business will be trained about all constructive aspects along with making new dishes," Shah further added.
At "Chai Station", one can easily access Chai, Masala Chai, Special Chai, Ayurvedic Chai, Biscuits, Cream Bum, Nuggets, Bombay Tikki, French Fries and many more at very affordable rates.

Shah is also active in social causes under a charitable trust which he runs. He intends to uplift society and poor by giving instead of making a living by just earning. Looking at the current scenario, he took one more steps through "Chai Station", which is really commendable.
Uppal has been awarded several times by various organisations amongst which some are Maharashtra Gaurav Award, Most Successful Businessman, Fastest Growing Indian Company Excellence Award, Top Influencer Amazon Agency, Man of the Sugar Conclave, Web Summit Pitch Award – Portugal, Outstanding Achievement Award, Paul Harris Fellow by Rotary International.
During the inauguration of "Chai Station" Sanjay D Patil, Former MLA Sujit Minchekar, NCP's city president Raju Latkar, Jayesh Oswal, Jitu K. Shah, Mahavir Gaath, Vaibhav Oswal, Shailesh Oswal, Hemant Shah and others were present.
Media Contact
Company Name: Chai Station
Contact Person: Rex Zee
Email: Send Email
Phone: 8655329843
Country: India
Website: http://www.chaistation.in/