Bhutan officially known as "The Kingdom of Bhutan" is a small Buddhist county on the Himalayas. It is well known for its monasteries, fortresses (or dzongs) and landscapes. Bhutan Sharing their borders with China in north and rest with India. The population of Bhutan is about 736000 (2018).
Culture and Tradition of Bhutan
Bhutanese culture is very much influenced by Buddhist values. The Bhutanese are physically similar to the Tibetans and their languages are closely related to Tibetan. The official language of Bhutan is Dzongkha.
Bhutanese culture mandates that the traditional dress be worn on special occasions and in government offices. A Bhutanese man wears 'Gho' and women wear 'Kira'.
Bhutan's traditions and uniqueness are the main attractions, just ahead of its spectacular and mostly unspoiled natural beauty.
Religious Festivals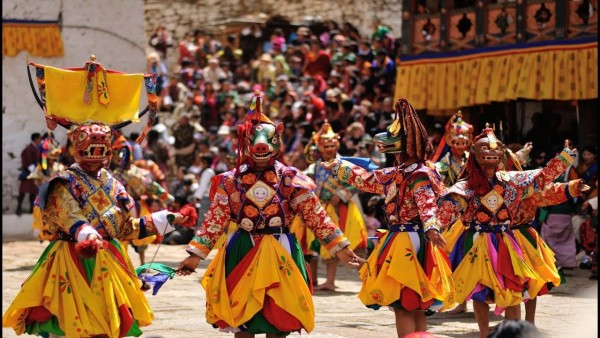 Festivals in Bhutan are known for their richness, vibrancy and happiness. Most of their festivals are dedicated to "Guru Rimpoche" the saint who introduces Bhutan to Buddhism.
The festivals of Bhutan include mystical dance, brave fire events, enlightening re-creations engaging performances. The popular festivals of Bhutan are Tshechu, Thimphu Tshechu, Paro Tshechu, Jambay Lhakhang Drup, Punakha Drubchen.
Places to Visit in Bhutan
Bhutan is famous for its rich traditions and ancient culture and for that museums are a great source of knowledge here. Places to visit in Bhutan include Tiger's Nest monastery, Punakha Dzong, Zuri Dzong Hike some what a national symbol. There is much more to explore Bhutan. So, scroll down to know the tourist places:
• Rinpu Dzong
• Phobjikha valley
• Hidden valleys of Bumthang
• Tower of Trongsa
• Royal Manas National park
Apart from these, there are many more attractions to discover. Bhutan has a heritage of "Nature Beauty".
Best time to visit Bhutan
The best time to visit Bhutan is during the months of Spring from March to May when the valleys come alive with flowers in bloom. In the months of winter October to December air is clear and the central time for trekking. The winter month is a great time to head for The Himalayan kingdom and experience the ancient and modern life. June to September the Monsoon season is considered the low season due to the rains. You can Opt DrukAsia which offers Best travel Packages for Bhutan.
How To Reach Bhutan
Bhutan can be easily reached by air, train and road from various countries.But the fastest and easiest way to reach Bhutan is via plane. Around the world many countries have direct flights for Bhutan. You can opt Drukair or Bhutan Airlines for your trip to Bhutan. They have flights frequently from Kolkata, Dhaka, Kathmandu, Bangkok and Singapore to Paro International Airport.
By land, there are two entry roads through Phuentsholing and Gelephu, linking with the Indian states of West Bengal and Assam respectively.
Note: All foreign citizens except Indians, Bangladeshis, and Maldivians require a visa to enter into Bhutan and must book their holiday through a Bhutanese tour operator or one of their international partners.
Media Contact
Company Name: Druk Asia
Contact Person: Joni Herison
Email: Send Email
Phone: +65 6338-9909
Address:60 Albert St OG Albert Complex, #12-03/04
Country: Singapore
Website: www.DrukAsia.com