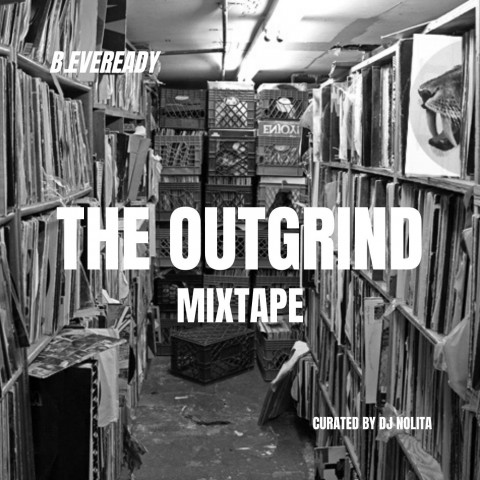 B. Eveready is bringing a fresh new wave in the Hip Hop and rap music scene with his remarkable vocal and songwriting skills. He has entered the new year 2020 with a bang with the release of his new mixtape "OutGrind" featuring 10 amazing tracks. The album is produced by talented producers like The Alchemist, E.Jones (of the Soul Council), Christo & Childish Major, Danger Mouse, Inflo, & Paul Butler, MG, BIG DRAWWZ, SoSpecial, SouLess, & Woodys Produce, while those lending their vocal talents to the project are Torae, Michael Kiwanuka, BrownSkinz, & B-Nice.
B.Eveready was born and brought up in Boston, and currently living in Baltimore. He is highly influenced by Hip Hop legends like Nas and B.I.G. as well as soul artists like James Brown, Stevie Wonder, and Marvin Gaye. He also draws his musical inspiration from artists like Tupac, Jay Z, Kanye, and The Roots among others. B's music is a blend of old school knock, social commentary, hard-hitting punch lines that keeps the listener captivated throughout the song.
After graduating from Carnegie Mellon University, B. Eveready decided to follow his lifelong passion for music. So far in his journey, he's gotten the chance to record and perform with artists like Cappadonna (of the Wu-Tang Clan), Talib Kweli, Jin the MC, Skyzoo, Torae, Red Café, The Last Poets, Daru Jones, and Chen Lo among others. His previously released singles and EPs have also received great response from the public.
One of the most popular of his work was the C.P.T. Mixtape in 2008, that was downloaded over 10,000 times. In 2011, he released the "Guns & Butta" EP/Mixtape, followed by the EP "A Cold Summer's Day" and the compilation album "#INeedAManager" in 2012. His EP "#GrindSeason" released in 2015 was an instant hit (with the track "Drippin' Swagu streamed over 100k times), and inspired by the success of his 2012 album #INeedAManager, he released an updated version with 6 bonus tracks for the DSPs in 2017. He then released the "#GS2" EP in 2018, which spawned the track "Always Major", which has been streamed over 150k times. All of his work was well-received by both the fans and critics alike.
His latest project, the #OutGrind Mixtape is one of his most anticipated bodies of work and now that it was finally released in January this year, it has started to gain rapid popularity among the fans. A few tracks from the album like 'Have Mercy' and 'The Show Must Go On' have already gained thousands of streams and growing.
Listen to B.Eveready's latest album #OutGrind on BEveready.Bandcamp.com & Soundcloud.com.
More information about him can be found on his official website.
Media Contact
Company Name: Checkmate Entertainment, LLC
Contact Person: B.Eveready
Email: Send Email
Country: United States
Website: BEvereadyRap.com