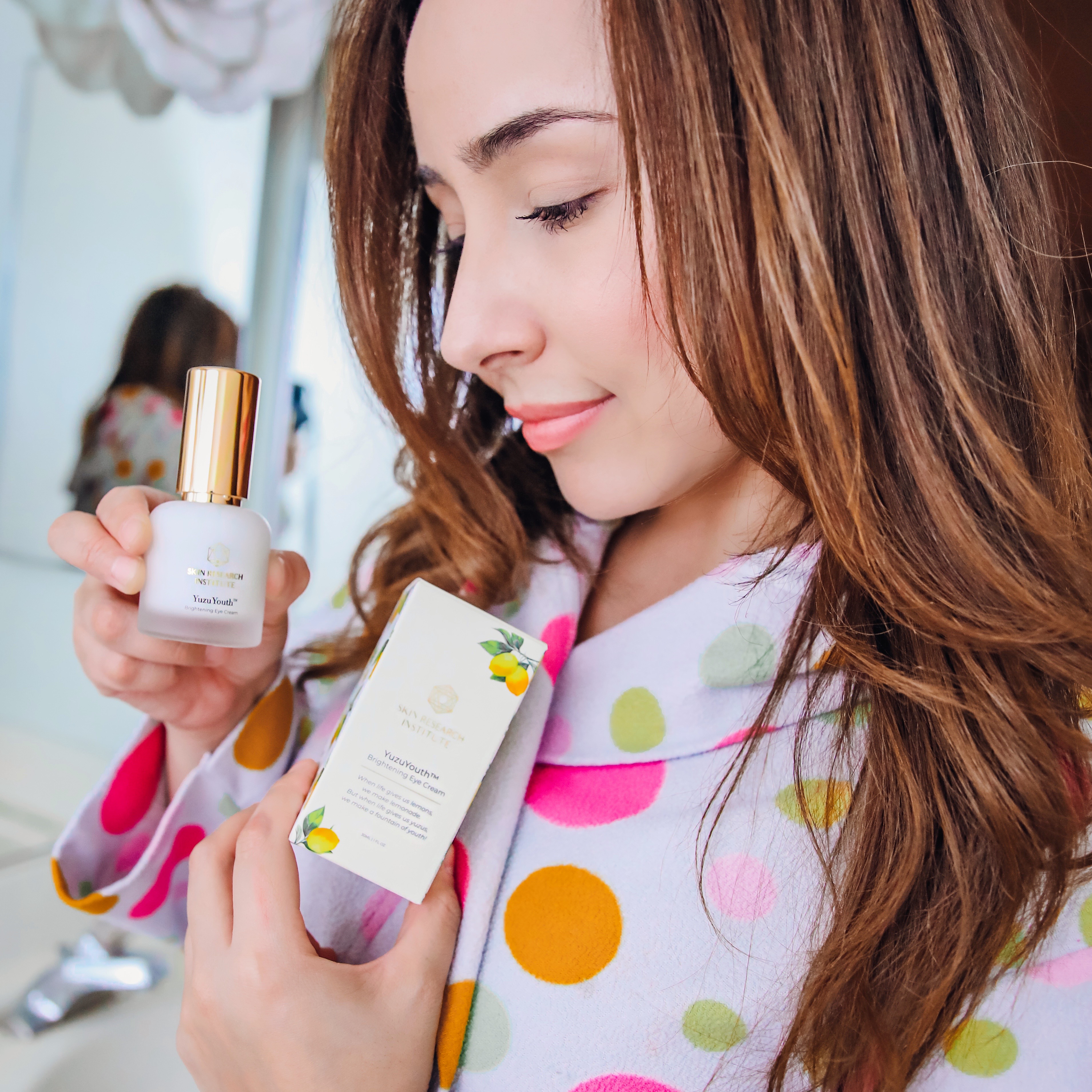 The Skin Research Institute provides consumers with the best in skin and hair health. The health-focused brand has released numerous highly rated skincare and beauty products over the years and are known for their commitment to safe, healthy, all-natural skin and hair care solutions. SRI consistently ranks highly for customer satisfaction, and their new YuzuYouth™ eye cream is no exception.
What makes YuzuYouth™ different from other eye creams I've used before?
Most eye creams on the market today use ingredients that temporarily hydrate the first layer of skin, the epidermis, for instant, yet temporary, results. YuzuYouth™ is different because it's a serum-infused eye cream that stimulates the synthesis of collagen deep in the dermis, the second layer of your skin, for noticeable results that last and get exponentially better with continued use. Our medical-grade peptide complex in combination with our unique vitamin C complex specifically targets the three big signs of visible aging in the under eye area — dark circles, crow's feet and thinning skin.
How do I use YuzuYouth™ Brightening Eye Cream?
After cleansing, dispense 1-2 pumps onto the back of your hand. Use your ring finger to gently pat eye cream all around the eyes. Use morning and night for best results. YuzuYouth™ is non-comedogenic (does not clog pores) and wears beautifully under makeup.
Yuzu
A yuzu is a cherished golden Korean citrus fruit that has three times more Vitamin C than lemons! Its soothing and distinctive aroma of citrus and floral notes are said to help melt away stress.
Yuzu-yu
Yuzu-yu is the ancient Asian beauty ritual of relaxing in a bath filled with golden yuzu during winter to restore skin's youthful glow, and boost health for the year ahead.
Modern use of Yuzu
The high levels of antioxidants that yuzus provide are perfect for anti-aging skincare. Vitamin C boosts the production of collagen, despite sun exposure, making it an anti-aging GOLD mine.
Can I use this all over the eye area or just under the eyes?
We encourage you to use YuzuYouth™ all around the eyes. Our formulas are safe enough to use all around the brow bone and even on the eyelids, which we encourage you to do. The thin skin just above the eyebrow is very thin, as the collagen in this area degrades with age. While YuzuYouth™ was specifically formulated for your eyes, it is in fact a multifunctional product. You can get the most out of its anti-aging benefits by using it on any especially dry areas.
YuzuYouth™ is a 100% vegan formula and our eco-friendly bottles are made from recycled glass to reduce plastic pollution in the ocean and minimize our carbon footprint. Glass bottles are 100% recyclable and about 80% of them are made into new glass bottles, so we encourage you to please recycle your empty bottle of YuzuYouth™.
Here's where to order: http://yuzuyouth.com/
Media Contact
Company Name: Skin Research Institute
Contact Person: Media Relations
Email: Send Email
Phone: (800) 958-1094
Country: United States
Website: http://skinresearchinstitute.com