According to the latest published report by Polaris Market Research, the Global EV Charging Cables Market size is anticipated to reach USD 1,992.5 million by 2026 and growing at a CAGR of 33.2% from 2020 to 2026
The Global EV Charging Cables Marketsize is expected to reach USD 1,992.5 million by 2026 according to a new study by Polaris Market Research. The report "EV Charging Cables Market Share, Size, Trends, Industry Analysis Report, By Charging Level (Level 1, Level 2, Level 3); By Cable Length (Up to 5 Meters, 6 Meters to 10 Meters, Above 10 Meters); By Application (Public, Private); By Power Supply (Alternate, Direct); By Shape (Coiled, Straight) By Regions; Segment Forecast, 2020 – 2026" gives a detailed insight into current market dynamics and provides analysis on future market growth.
Governments all across the world are taking initiatives to promote the adoption of electric vehicles. Countries such as China, India, France, and the U.S. have invested significantly in the development of charging infrastructure to support market growth. Governments have also introduced stringent regulations regarding vehicular emissions to encourage the use of electric vehicles, which further drives the growth of the market. Market players are introducing technologically advanced EV charging cables in the market to appeal to a range of consumers. Innovations in the market have resulted in the launch of charging cables with reduced charge time and low overall costs. Technological advancement in terms of miniaturization and improvement of components has encouraged established organizations, and small and medium enterprises to invest in EV charging cables.
Request A Sample Report At: https://www.polarismarketresearch.com/industry-analysis/ev-charging-cables/request-for-sample
The different charging levels used in the global market include level 1, level 2, and level 3. Level 1 is a single-phase cable that provides battery recharge through an alternating-current plug and a dedicated circuit. It does not require the installation of charging equipment. It usually requires 8 to 12 hours to completely charge a battery, and is usually used for home purposes.
On the basis of application, the market is segmented into public and private. The governments across the world are investing significantly in deployment of public charging infrastructure by subsidizing the construction of charging stations. France has declared its goal to deploy 7 million outlets by 2030 for the cars to recharge. In 2016, Korea upgraded its former target of deploying publicly accessible fast chargers from 1,400 to 3,000 by 2020 to increase the adoption of electric vehicles. Norway provides public funding for construction of fast-charging stations every 50 km on main roads. In the United Kingdom, $650 is offered for the installation of a dedicated home charger for an electric car.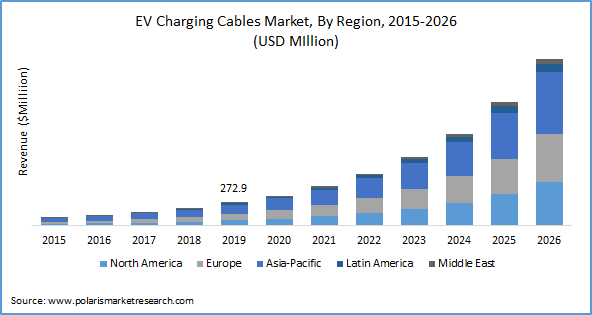 Get Full Research Summary on Global EV Charging Cables Market Analysis Available At: https://www.polarismarketresearch.com/industry-analysis/ev-charging-cables
The market is segmented into Alternate, and Direct Charging based on power supply. AC transforms the incoming AC and into DC, and then forwarded to the battery pack. AC stations are widespread and offer vehicle recharge at affordable rates. However, the demand for DC is increasing owing to faster charging duration. BMW has launched its BMW Digital Charging Service (DCS), which is an intelligent cost-effective service optimizing charging technology for BMW i and BMW iPerformance vehicles. After activation of DCS, the recharge process is carried out independently and autonomously. DCS is based on principles on Tariff and solar optimised vehicle recharge. On the basis of shape, the market is segmented into straight and coiled. In 2019, the straight EV charging cables dominated the global market.
Asia Pacific emerged as the largest market in 2019 and is expected to maintain its dominance over the forecast period. Growing concerns regarding air pollution and increasing need of fuel efficient vehicles have increased the number of electric cars in countries, such as China, U.S., India, and Japan, driving the growth of market. The National Electric Mobility Mission Plan (NEMMP) 2020 in India projects sales of 6–7 million units of electric vehicles, and a subsequent fossil fuel saving of 2.2 – 2.5 million tons. This would result in considerable reduction in vehicular emissions, and decrease in carbon dioxide emissions by up to 1.5% by 2020. The increasing penetration of electric vehicles is expected to fuel development of enhanced charging infrastructure, further increasing the demand for EV charging cables.
Some of the major market participants include :
Phoenix Contact, Dyden Corporation, TE Connectivity, Coroplast, Leoni AG, BESEN International Group, Sinbon Electronics, Systems Wire and Cable, General Cable Technologies Corporation, Chengdu Khons Technology Co., Ltd., Manlon Polymers, Eland Cables, EV Teison, Aptiv Plc., and Brugg Group.
Request for Discount Pricing With Your Specific Research Needs At: https://www.polarismarketresearch.com/industry-analysis/ev-charging-cables/request-for-discount-pricing
Polaris Market research has segmented the EV Charging Cables market report on the basis of Charging Level, Cable Length, Application, Power Supply, Shape, and Region
EV Charging Cables Charging Level Outlook (Revenue, USD Million, 2015 – 2026)
Level 1
Level 2
Level 3
EV Charging Cables Cable Length Outlook (Revenue, USD Million, 2015 – 2026)
Upto 5 Meters
6 Meters to 10 Meters
Above 10 Meters
EV Charging Cables Application Outlook (Revenue, USD Million, 2015 – 2026)
Public
Private
EV Charging Cables Power Supply Outlook (Revenue, USD Million, 2015 – 2026)
Alternate
Direct
EV Charging Cables Shape Outlook (Revenue, USD Million, 2015 – 2026)
Straight
Coiled
EV Charging Cables Regional Outlook (Revenue, USD Million, 2015 – 2026)
North America (U.S., Canada)
Europe (Germany, UK, France, Italy, Spain, RoE)
Asia Pacific (China, India, Japan, South Korea, RoAPAC)
Latin America (Brazil, Mexico, Colombia, RoLATAM)
MEA (Saudi Arabia, South Africa, Israel, UAE, RoMEA)
Other Studies Relevant to this industry:
Electric Vehicles (EV) Market By Product Type (Battery Electric Vehicle, Hybrid Electric Vehicle, Plug-in Hybrid Electric Vehicle, Fuel Cell Electric Vehicle); By Vehicle Type (Two-Wheelers, Passenger Cars, Commercial Vehicles); By Power Source (Stored Electricity, On-Board Electric Generator); By Regions, Segments & forecast, 2018 – 2026
Electric Vehicle Charging Stations Market By Charger Type (Slow Charger, Fast Charger); By Connector Protocol (CHAdeMO, Combined Charging System, Others); By Charging Method (AC Charging, DC Charging); By Application (Commercial, Home); By Regions – Segment Forecast, 2020 – 2026
About Polaris Market Research
Polaris Market Research is a global market research and consulting company. The company specializes in providing exceptional market intelligence and in-depth business research services for our clientele spread across different enterprises. We at Polaris are obliged to serve our diverse customer base present across the industries of healthcare, technology, semi-conductors and chemicals among various other industries present around the world. We strive to provide our customers with updated information on innovative technologies, high growth markets, emerging business environments and latest business-centric applications, thereby helping them always to make informed decisions and leverage new opportunities. Adept with a highly competent, experienced and extremely qualified team of experts comprising SMEs, analysts and consultants, we at Polaris endeavour to deliver value-added business solutions to our customers.
Media Contact
Company Name: Polaris Market Research and Consulting
Contact Person: Mr.Likhil
Email: Send Email
Phone: +1-646-568-9980
Address:30 Wall Street 8th Floor
City: New York
State: New York 10005
Country: United States
Website: https://www.polarismarketresearch.com/industry-analysis/ev-charging-cables