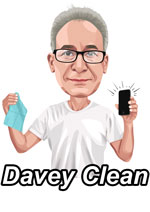 February 25, 2020 – In about one minute, we can get our smartphones clean enough to be taken into bed! Introducing the innovative Davey Cloth, the safest, easiest way to clean a cell phone. Not only is the Davey Cloth the most effective way to clean a cell phone, the process involves no chemicals, just water. The cleaning cloths are manufactured in New York, USA.
Everyone understands how our cell phones can become dirtier than flush toilets. Public health and safety are a critically important issue. This makes inventions like the Davey Cloth all the more significant.
The Davey Cloth is the most effective way to remove germs, bacteria, and other contaminants from cell phones, one of the most used devices around the world. All it takes is the Davey Cloth, water, and an easy-to-follow process that will take about a minute. The cloth is not discarded and is reusable!
The inventor of Davey Cloth is David Davey Chartoff, a certified industrial environmentalist, and an expert in detecting, measuring, and reporting on contaminants. David holds over a decade of industry experience as a mold inspector, remediation expert, fabric expert, and developing protocols to remove contaminants. He also holds 13 certifications by the IICRC.
"I combined my skills of measuring contaminants, my knowledge of removing contaminants, along with my expertise of fabrics, mix in creativity, experimentation, and the Davey Cloth was born, the most effective way to clean contaminants from a cell phone," says David.
Along with the cloth comes the Davey Clean system, a factual, measurable standard to determine cleanliness. The standard is measured by the Hygiena system, an industry standard for measuring how clean the surroundings are, and is used in hospitals, hotels, and gyms. The score, for instance, of a public area in a Hospital should be below 50. A cell phone can sometimes be dirty enough to give a score of over 2,000. The Davey Cloth is capable to hit scores under the 10 mark, the acceptable level of cleanliness for hospital operating rooms.
The Davey Cloth has been under development and testing for over a year before reaching perfection. This includes hours of design, re-design, and testing. The perfected cloth retains its cleaning power over time.
For more information, please visit: www.daveyclean.com
Media Contact
Company Name: Davey Clean
Contact Person: David Chartoff
Email: Send Email
Country: United States
Website: https://daveyclean.com/